Hacked Garnet cardigan (free pattern • Mood Sewciety)
This Garnet cardigan is almost Methuselah old already as it's from April! But hey, no time to post, no longer the right weather ☁︎☀︎☂︎ to post and here comes the time again of the falling leaves.
It allows me to give you a direct " wear & use " feedback : I wear it a lot, its practicality is not to be demonstrated but the fabric (although expensive and luxurious) holds up quite badly. Boo hoo.
The Garnet cardigan pattern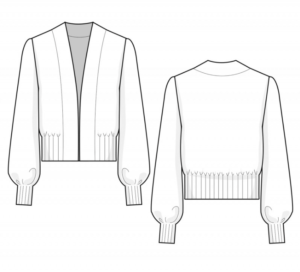 This Garnet cardigan is my 2nd version of this very nice free pattern from Mood Sewciety, the famous and plethoric New York fabric shop. 
This site is an almost inexhaustible source of free patterns and I find that the quality seems to be increasing lately.
And when you say American site, you say wide range of sizes: from 2 to 30 (American sizes).
The Garnet cardigan is a loose-fitting cardigan whose waistband and cuffs are tightened with a loooong series of inverted pin tucks.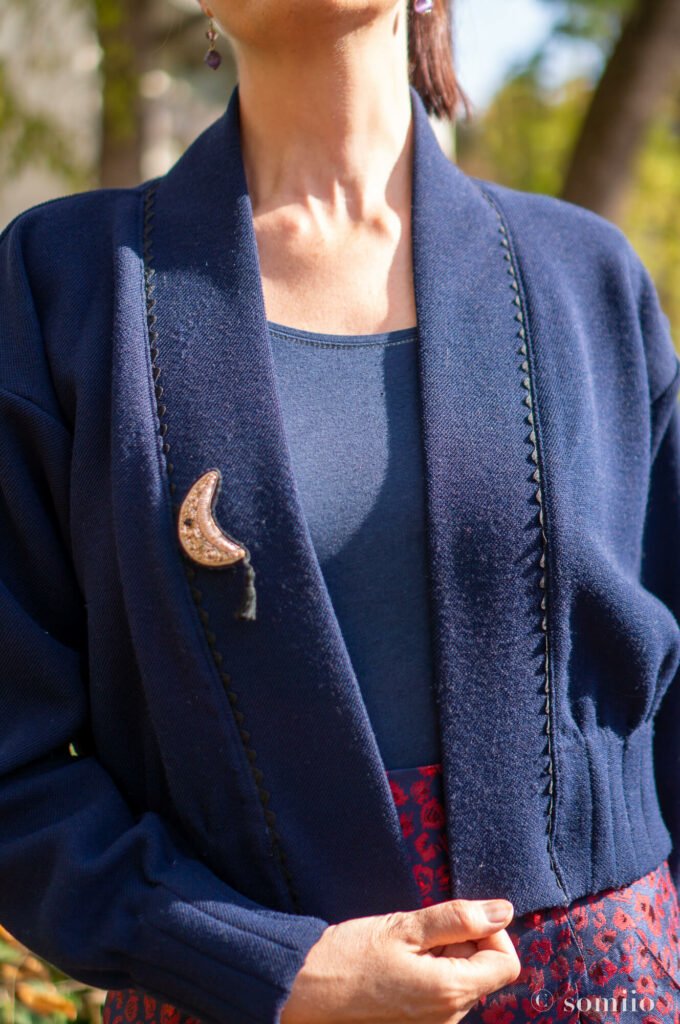 This means that the pleat is sewn 2-3 mm from the fold. The pin tucks created are then positioned on the inside, so you only see the equivalent of a dart.
Here you go! A hack idea would be to make these pin tucks visible (like on my Joseph jacket from Ready To Sew)! 
The neck band is wide and goes well up the back of the neck. Ideal for the cold weather, should it arrive this year in Paris. It's still 24°C out there.
But that doesn't stop the leaves from falling.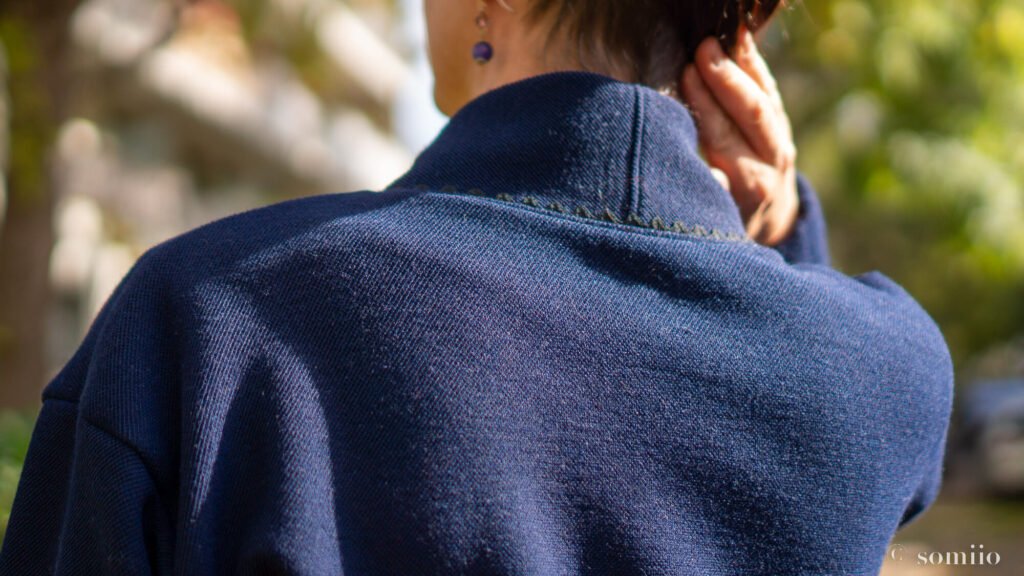 Please note: the instructions are correct on this Mood pattern. This is not always the case… beware!
As with all the patterns on this site, they are in the form of a photo tutorial directly on the blog post where the download link is located.
Sewing the Garnet cardigan
The fabric
For this second cardigan, I had to look again for the right fabric. I wanted something warmer for the cold season.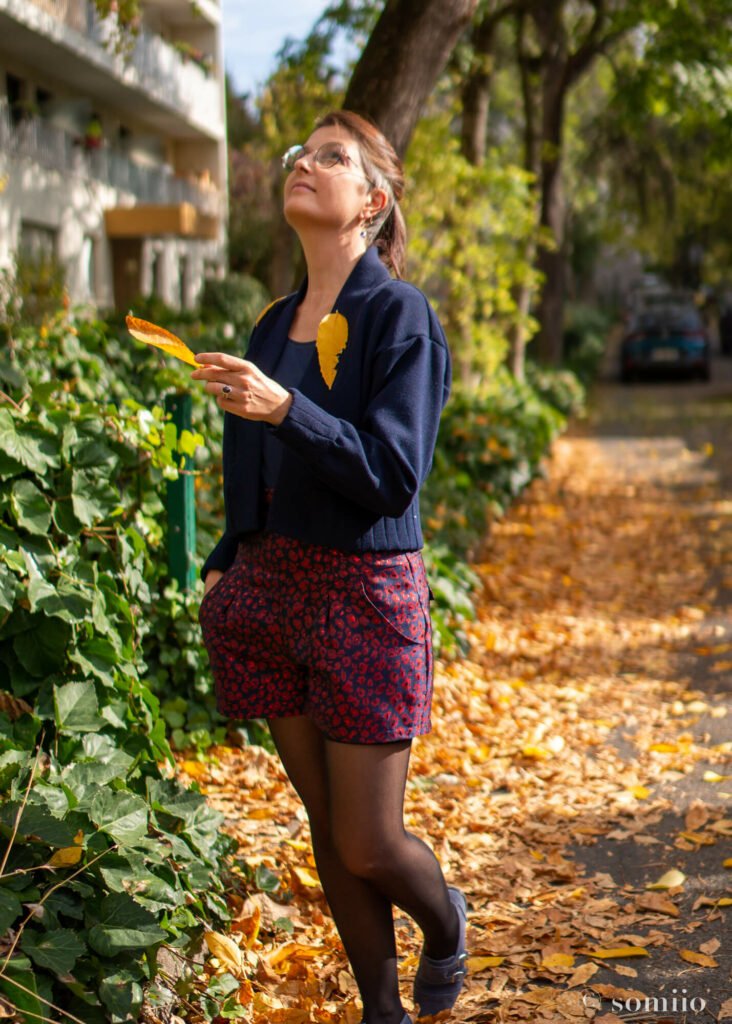 I had spotted the Tissumarket boutique several times during my excursions in the Sentier in Paris, alongside Tissus de Rêves, Toto Réaumur & Fil 2000. But the prices had, um, how can I put it… dissuaded me from further exploration.
But they opened their website with some nice promos and, after a phone call, the owner confirmed that he would give me the prices of the website in shop.
So I went to feel the fabrics I spotted online and I left with 2 beauties: this textured viscose & wool jersey and a boiled cashmere wool (ouh la la! → you'll see it on the blog soon… well, as soon as it's cold enough to take the pictures).
This knit is much thicker than the jersey of my first Garnet cardigan and was very pleasant to sew. It is thicker, more stable and gives a more structured look.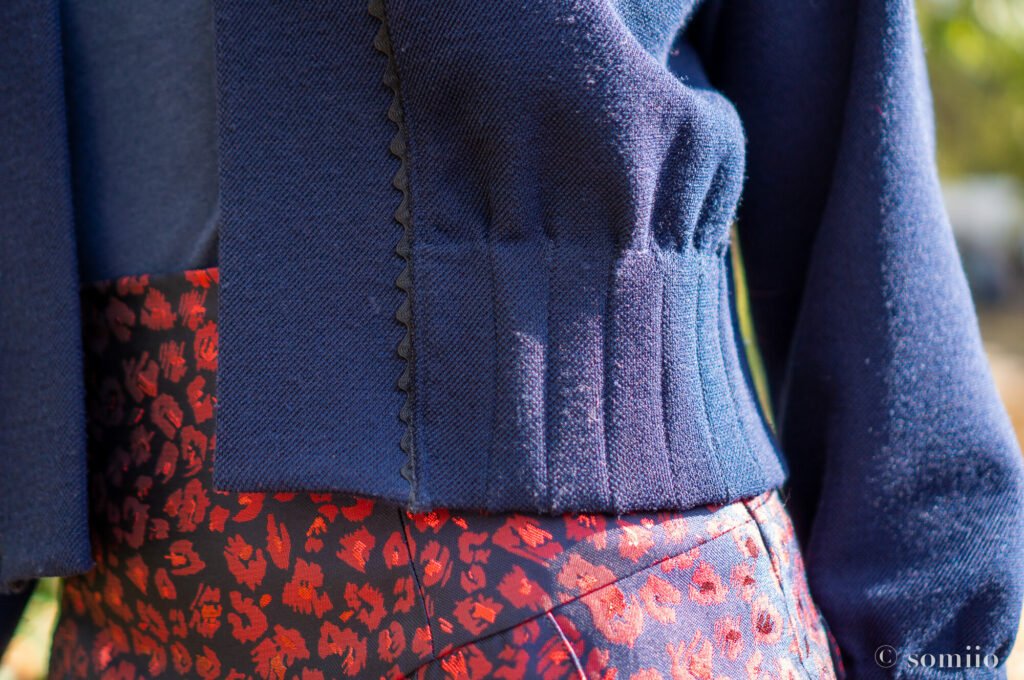 Unfortunately, as you can see from the photo above, this fabric also ages quite badly. It pills a bit and is quite fragile with threads that pull easily.
In short, it's a bit of a disappointment considering the price per metre of the beast (even on sale!).
To finish on a positive note: this knit stays warm enough and doesn't itch… not always easy with wool on my skin! 
The mods
My first version of this Garnet cardigan was a bit too long all over, both in the bust and the arms. As a matter of fact, I always wear the sleeves very rolled up (even though I also wear the first version a lot).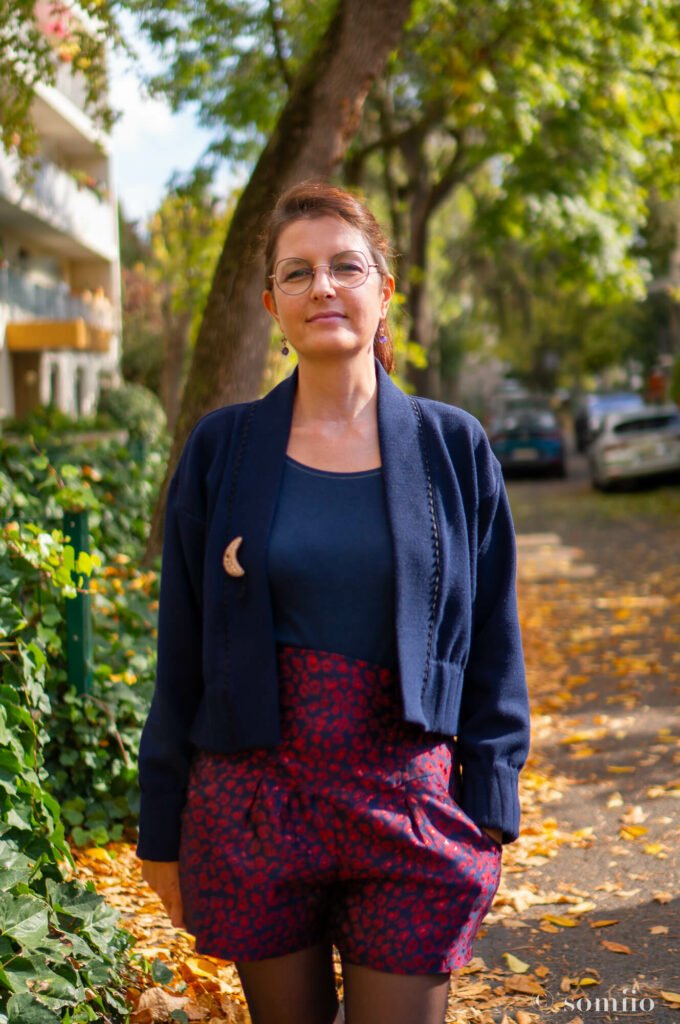 As a result, this second Garnet cardigan has been shortened by 10 cm for the bust and sleeves… Yes, yes! 10 cm, just that!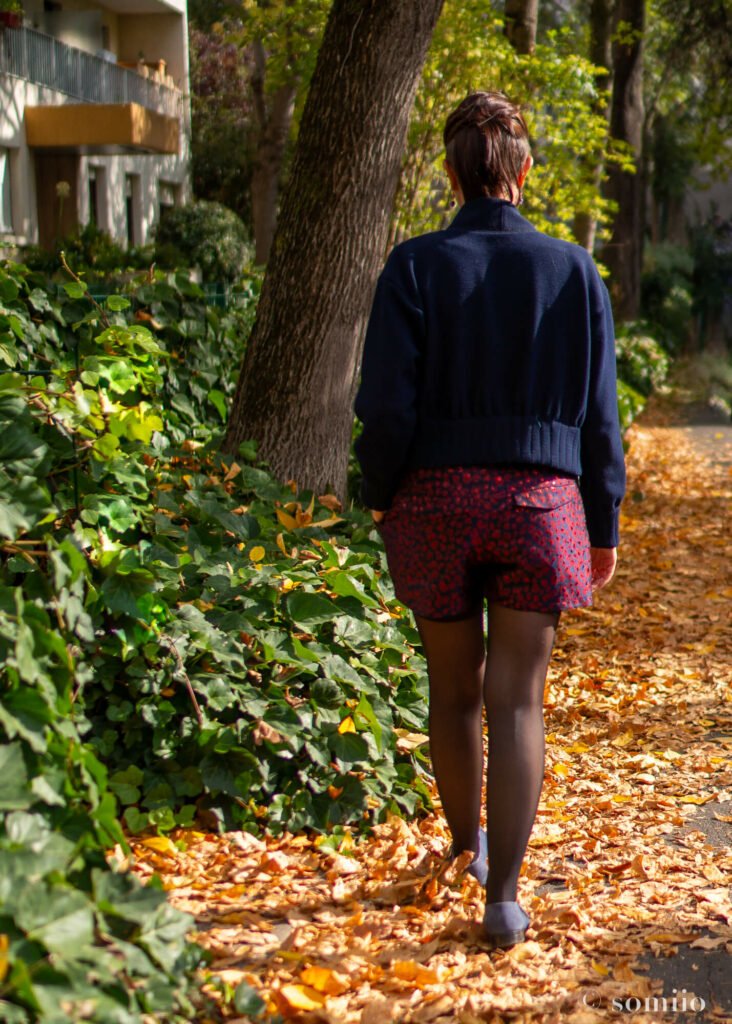 To do this, as the bottom of the sleeves & bust are straight, I simply cut 10cm off the pattern pieces and bang!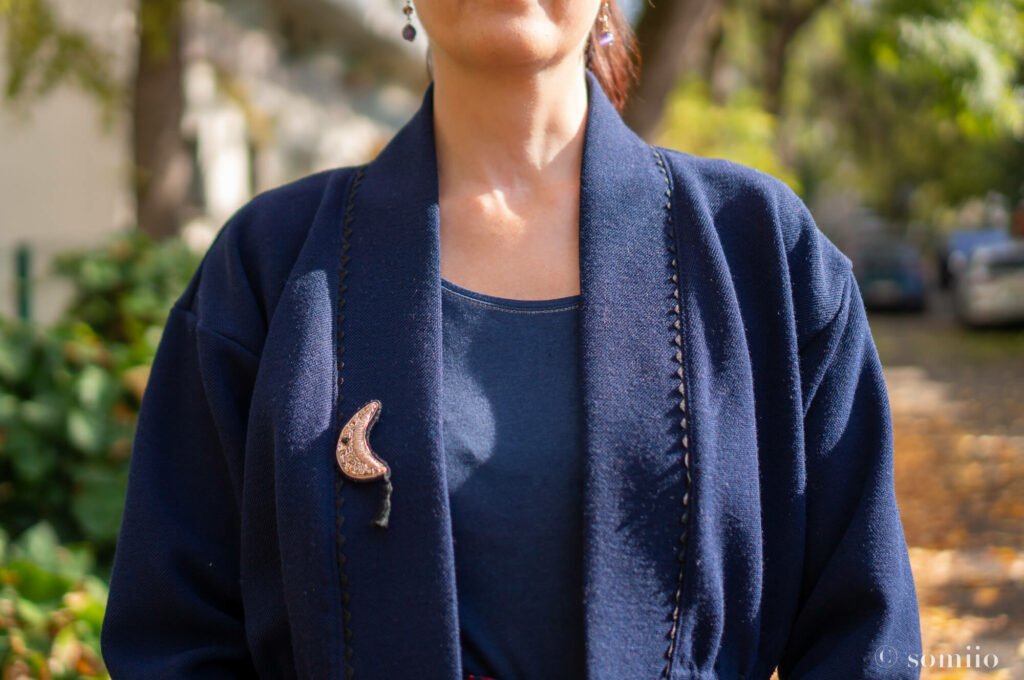 The collar on the first cardigan is a bit annoying as it doesn't hold its shape at all. For this one, even with this more structured knit, I fusible interfaced the collar to ensure it held its shape.
And I couldn't resist adding a little black rik rak to underline the line of the neck band.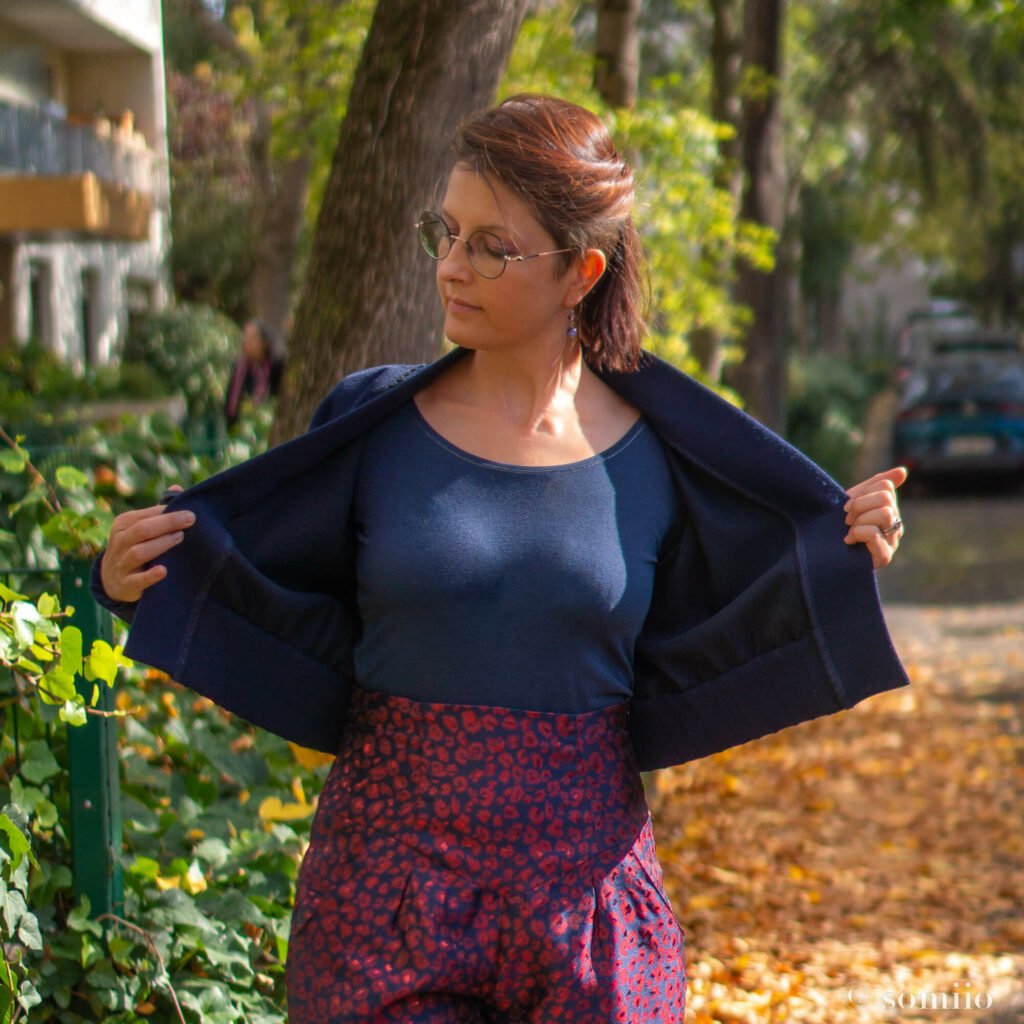 The instructions offer 2 options for sewing the bust and sleeve hems: invisibly by hand or visibly by machine.
As for the first one, I did it by hand. #teaminvisiblestitch
And while I was sitting there with my butt on the sofa, needle in hand, in front of my show, I took the opportunity to secure the collar band seam allowances with an invisible cross stitch. 
And clearly, invisible stitches are much easier to achieve in a slightly chunky textured knit.
Conclusion
As I wear this Garnet cardigan very often, I'm particularly annoyed by the accelerated ageing of this knit… barely 6-7 months of life and it already looks like it's been through a war.
So I'm already on the lookout for a new knit to fit this pattern… I love it that much!
This pattern will definitely stay on my shortlist. It works really well with my wardrobe.
As for TissuMarket, I'm not sure what to make of them. They have outstanding fabrics at prices that are no less outstanding… Buying fabrics is often uncertain. You gamble, sometimes you win, sometimes you lose. But when you have this kind of price, I expect a minimum guarantee of quality and durability…
I'll leave you with the hope of having the time and energy to write an article next week. It wasn't the case last week and I still don't have the pictures of the next one…
Come on, let's go to bed with a "free" hour tonight, yippee! 
Save on Pinterest