Fanny pack XXL Bauch Laden (Leni Pepunkt)
This XXL fanny pack, the Bauch.laden model by Leni Pepunkt… I dreamt about it, I sewed it twice for Christmas for my oldest nephews and I didn't even sew one for myself (◔_◔) Rhâ la la.
I'll just have to add it to my list. In the meantime, the presentations of my version n°1.
Luckily I have my mini fanny pack Etta in zebra fabric!
| | | | |
| --- | --- | --- | --- |
| ITEM | BOUTIQUE | QUANTITÉ | PRIX |
| Patron de la banane XXL Bauch Laden | Leni Pepunkt | 1 | 4,50 € |
| Chutes de lainage bouclette | Bennytex | 0,40 m | 0 € |
| Cupro bleu | Les Coupons de St-Pierre | 0,40 m | 4,00 € |
| Sangle & quincaillerie | La Réserve des Arts | — | 2,00 € |
| Zip double curseurs | IDM Paris | 3 m | 3,00 € |
| Fil classique & fil mousse polyamide | Stock | — | 0 € |
| Total | | |  13,50 € |
The pattern of the Bauch.laden XXL fanny pack 
The pattern of this XXL fanny pack is a German pattern… German, the language I have never been able to speak despite my admiration for its grammatical structure.
So Google Translate gave me a serious if imperfect helping hand to translate the instructions.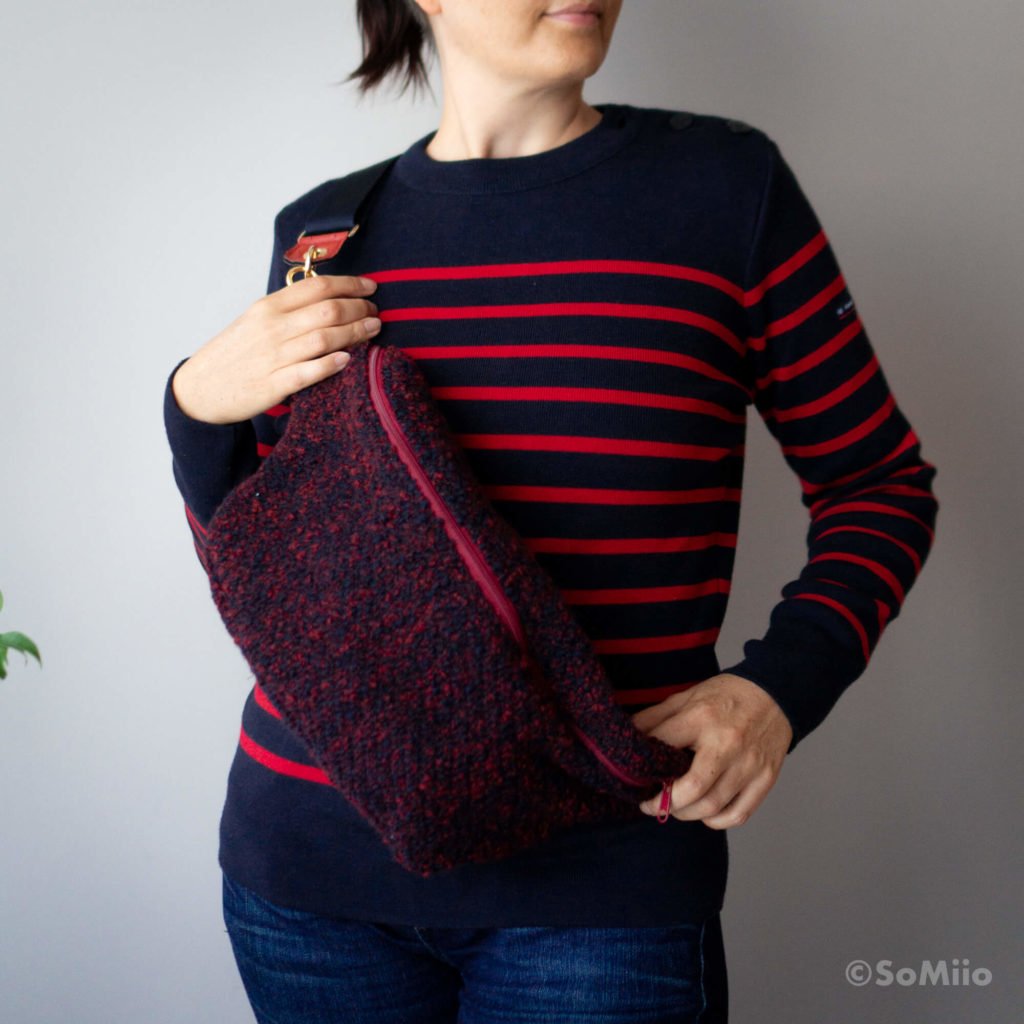 The instructions are illustrated with photos. I don't really like photos in explanations because I often find them less readable than diagrams.
These photos are no exception, in my opinion, even if an effort has been made to take contrasting fabrics.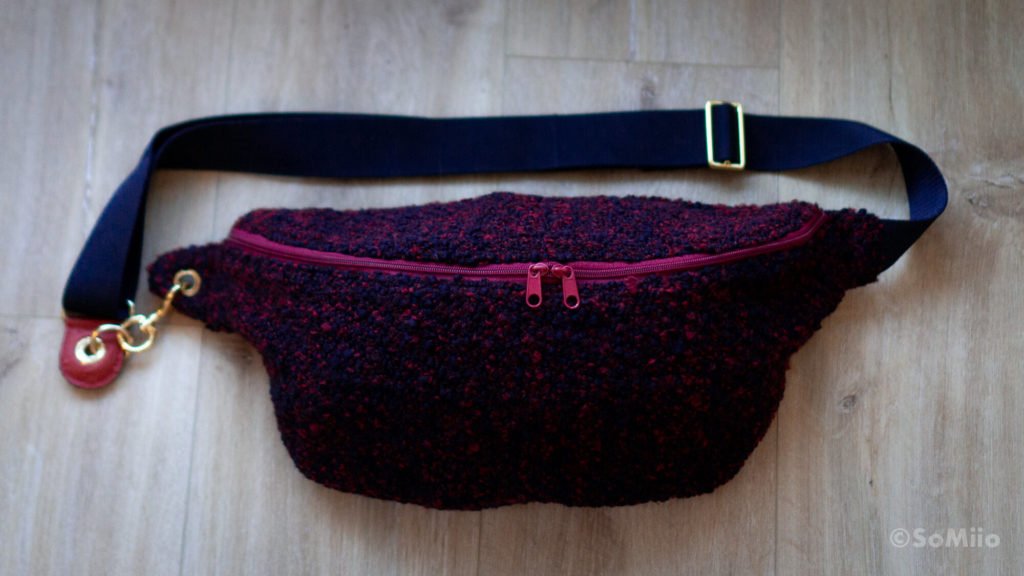 The 6 pieces of this XXL fanny pack fit into 3 A4 pages with the large pieces on the fold.
The pattern suggests variations to add a lining, use an eyelet tab or triangle buckle and add a front pocket.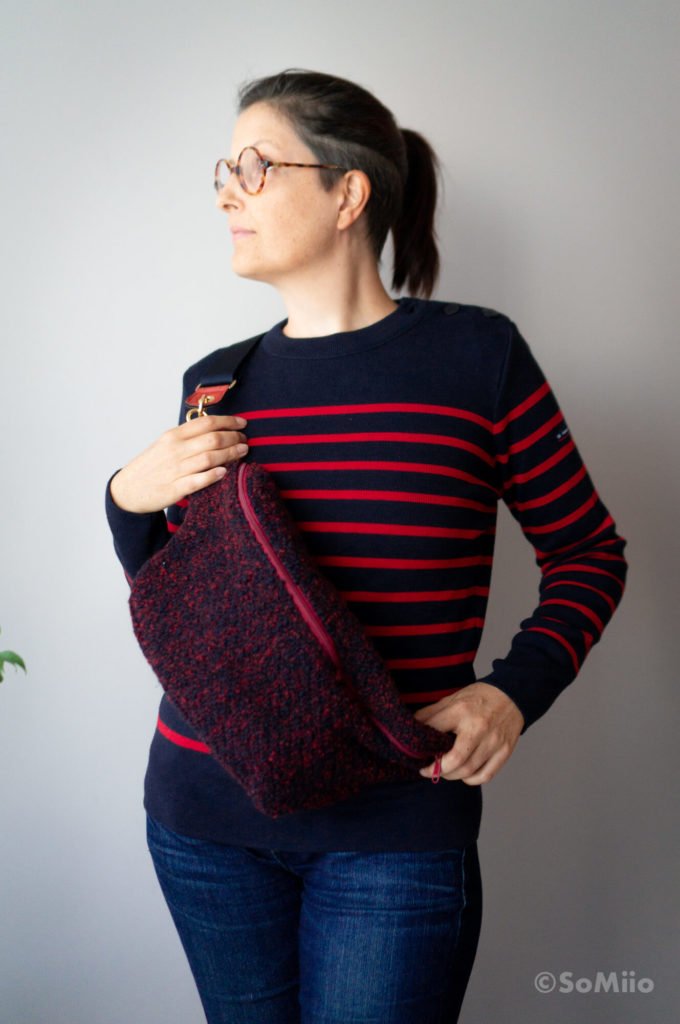 I can't pass judgment on the explanations themselves since they came to me via the imperfect Google Translate filter. 
However, I owe a great deal to @sophiesavigny who got me out of a dead end in which I locked myself up.
---
This being said, whatever the language, I have only one thing to say to the creators of patterns: number your pieces and refer to them by their number in the instructions. Frankly: 200,000 times clearer to follow.
---
Sewing the fanny pack XXL Bauch.laden
As loop wool is a soft and stretchy fabric, I interfaced all the pieces.
Surprisingly (or not), fusible interfacing holds particularly quickly and easily on thick, textured fabrics. 
Otherwise, this fanny pack caused me a lot of brainstorming. 
To start with, I confused the front with the back… which didn't work all that well. I still managed to put my pieces together, though. By absorbing quite a fair amount of ease… and ended up telling myself that it was really weird.
So I went to Instagram for help.
That's when Sophie told me "nah, you must have mixed up the pieces my dear" (well, not quite in those words but the substance of the message was there).
Hop, un-sewing.
Then, I found the assembly of the back with the front-upper-and-bottom-pieces a little complicated, with corners that were not easy to manage.
Let's just say that I didn't make it easy either by using this not very readable fabric.
And a little warning, for the zip, think about using a double slider zip that opens from the centre outwards. For my everyday backpack – which I have never blogged (oops!) -, I made the beginner's mistake and the sliders open from the outside to the centre … Totally ineffective, I must say!
Finally, I racked my brains endlessly to make my hardware work with the pattern.
Normally, the pattern asks for a swivel snap hook on a square base. But my snap hook had a round base. And no time to order… not to mention that I prefer to use what I have in stock.
I ended up creating this little red faux leather to connect the strap to the snap hook, and the snap hook to the fanny pack tab. Rhâââ.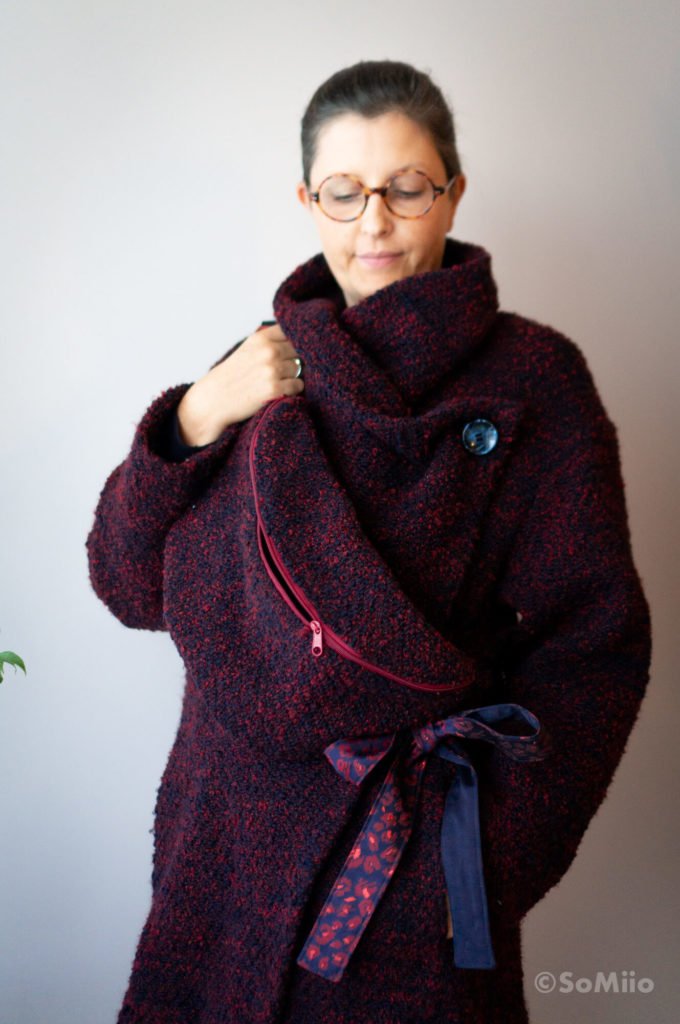 And hop, this version, although it perfectly matched my Burda coat, went into my niece's arms.
Version n°2: smaller & zebra fabric (again)
A second very very different version came out of the workshop of Mother Christmas in a rush… aaaaand I just forgot about taking some photos. 
If I don't have a photo, my nephew assures me that he uses it daily ❤︎❤︎❤︎
The second one was printed smaller (75-80%) to follow the recipient's wishes.
Warning: do not repeat this experience at home… or at least for clothes. For some accessories, it can be done, but you may have to adapt certain points.
In the photo above, you can see that I have re-sized the width of the short sides to the original size. This allows the strap tabs to be inserted correctly as the strap has not been reduced to 75%. 
Conclusion
Well, I have to sew this XXL fanny pack for me already! After wearing it around my waist in the 90′, I converted to the fanny pack as a shoulder bag for the 20′.
That being said, when you've sewn Sacôtin once in your life (no, I'm not melodramatic at all), it's hard to be satisfied with the explanations of other brands of accessories' patterns.
So, I'm not necessarily ultra-fan of the pattern in that sense. On the other hand, I love the style, the XXL proportions and the kits proposed by Leni Pepunkt on her website are excellent.
When I see what I paid for the zips alone, the kits become less overpriced.