Keyhole add-on x Darcey bra x Envol panties = subtraction
While I've already sewn all the styles of the Darcey bra, the Keyhole addon was missing from the collection. Adding a hole or subtracting fabric, that's to be seen….
But as long as I was in the theme, I sewed an Envol panty by Étoffe Malicieuse with its delicious cutout on the backside! Des p'tits trous, des p'tits trous, toujours des p'tits trous.
---
Have a look on the other styles of the Darcey Bra
---
| | | | |
| --- | --- | --- | --- |
| ITEM | SHOP | QUANTITY | PRICE |
| Darcey bra pattern | Evie La Luve | 1 | — € |
| Keyhole addon pattern | Evie La Luve | 1 | 3,00 € |
| Envol panty pattern | Étoffe Malicieuse | 1 | 3,00 € |
| Scuba | Evie La Luve | 0,4 m | 4,20  € |
| Black lingerie knit | Mercerie Extra | 0,4 m | 2,20 € |
| White powernet | Stock | 0,2 m | 2,20 € |
| Black FOE | La Réserve des Arts | 4 m | 0,15 € |
| Straps elastic | ? | 4 m | 2,40 € |
| Scalloped band elastic | Mercerie Extra | 1 m | 0,65 € |
| Ribbon pleated elastic | Mercerie Extra | 1 m | 0,85 € |
| Rings and adjusters | Aliexpress | 10 | 1,00 € |
| Hook and eye | Aliexpress | 1 | 0,20 € |
| Thread | Stock | 0 | 0 € |
| Total | | | 16,85 € |
Keyhole addon pattern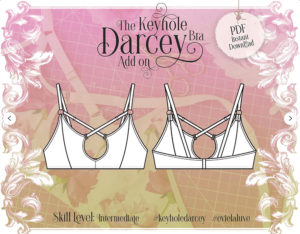 In order to use this Keyhole add-on, you obviously need to have the Darcey bra pattern. 
It's a pattern I've already sewn a lot and I haven't shown all the versions in my lingerie drawer. It fits me particularly well and I am very comfortable in it… sometimes more than without a bra at all!
Finally comfortable for most of the 5 proposed styles: at home, the style 2 tends to let the twins escape at the slightest movement. Too bad, it is very pretty!
So, 5 different styles but I wanted a little change.
The Keyhole extension is a new variant for the Darcey bra which, while opening the bra on the center, maintains the boobs very well, thanks to a system of crossed straps.
Even for a wide-rooted breast, very spread out on the bust and that easily overflows some bras too open-bar …
The explanations are always very well presented and clear in Evie La Luve's patterns. However, I was annoyed to have to go back and forth with the explanations of the original Darcey.
Honestly, would it have been really complicated to put back the whole step-by-step for a better reading comfort?
Sewing the Darcey x Keyhole x Envol set
Sewing the Darcey bra Keyhole addon
Sewing this addon is not recommended for lingerie beginners. Honestly, it's best to get your feet wet with foldover elastics before jumping in on those sharp curves.
So start with the Darcey version 1: a safe and easy to sew value.
The foldover elastic can't be replaced by anything else for this version.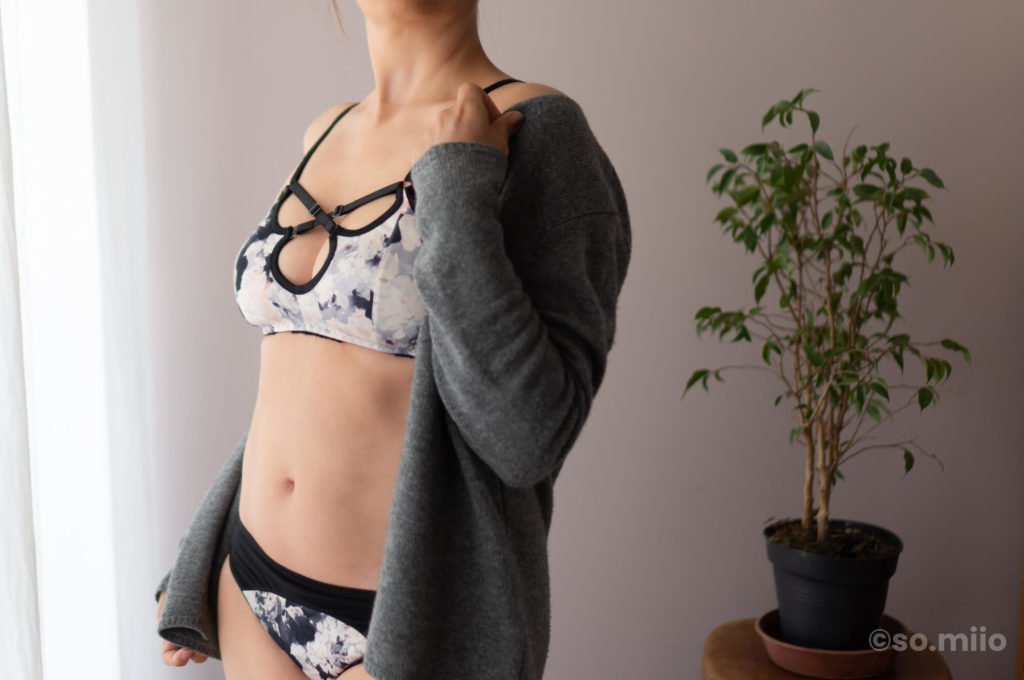 Due to the firmness of the scuba, I lined only the center pieces of this Darcey with powernet in order to enclose the seams.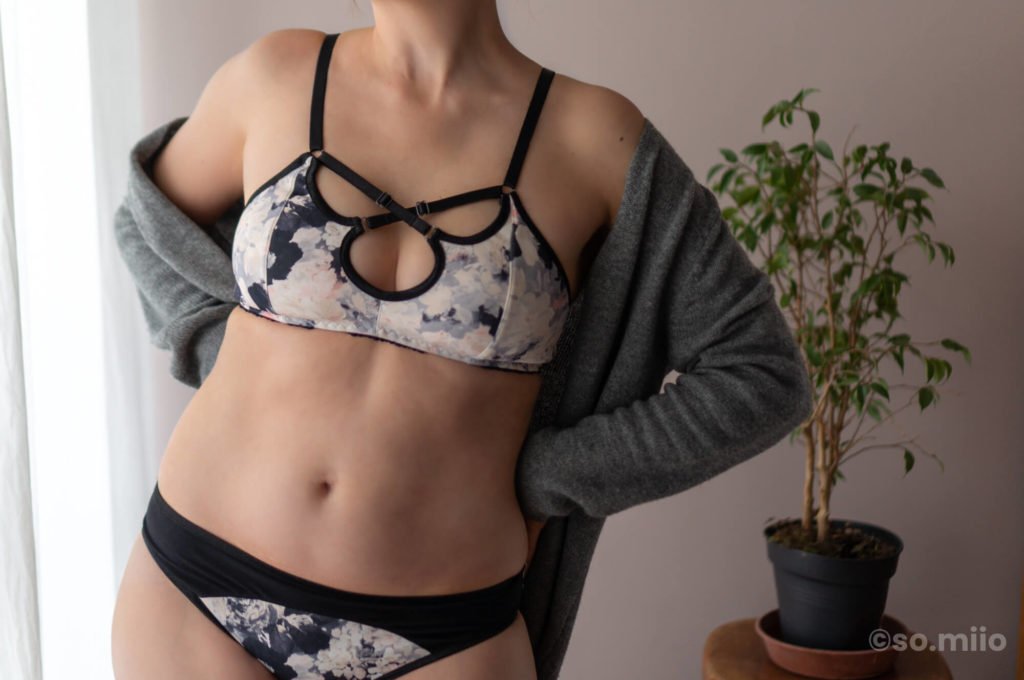 The Darcey Bra Keyhole Extension requires additional rings and straps… but more importantly, it normally requires 2 x 15mm rings to accommodate all the straps in the front.
I only use 10 and 12 mm straps, so I don't have 15 mm rings. And I didn't buy any. Because I admit I'm a little tired of having to create a stock of material worthy of a haberdashery to make my projects. Especially for 2 rings.
So they are in 12 mm and that's it. That's enough.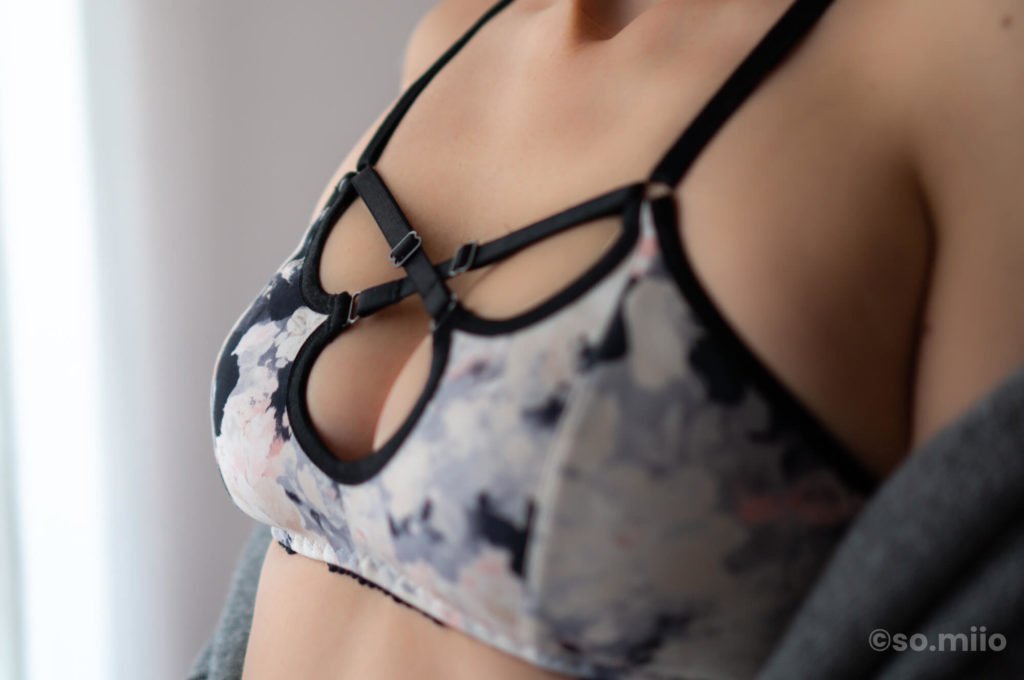 My only regret is the poor quality of the elastic straps, which are almost only elastic in name. Unfortunately, I don't know where this one comes from.
Sewing of the Envol II panties
After the first version of these Envol panties in size 42 which fit me but I would have liked more comfort, I graded this version in size 43. And it is very comfortable.
I have to admit that I love the elastic band with a pleated ribbon… which I can't see very easily since I sewed it on my ass. 
On the other hand, who spends their day admiring their panties?
Not much else to say about these panties which are very easy to sew.
Conclusion 
This version of the Darcey bra with the Keyhole extension is very sexy (and the important thing is to love yourself, right?) without giving up on breast support.
However, as I had anticipated, I will not pretend that the straps on the neckline are at the top of the ideal of comfort. Especially since these elastics are pretty lame with very little "fluff" on the wrong side.
On the other hand, the Envol panties perfectly fulfills the contract by being sexy AND very comfortable.
And that's a nice set of lingerie ! And that's all folks !
Save on Pinterest