Orlando pants: 1940's comfort (P&M Patterns)
As is often the case, the Orlando pants have been lingering in a corner of my head and Pinterest for a long time.
And then someone mentioned a beautiful viscose twill at Bennytex that looked perfect for this pattern.
I vaguely wondered if I rrrrreally needed a new pair of navy wide pants. The answer is apparently yes.
---
---
| | | | |
| --- | --- | --- | --- |
| ITEM | BOUTIQUE | QUANTITÉ | PRIX |
| Patron pochette du pantalon Orlando de P&M Patterns | Ma Petite Mercerie | 1 | Offert (sinon 15,90 €) |
| Sergé viscose bleu marine moucheté | Bennytex | 2 m | 13,44 € |
| Brocard soie / viscose (chutes) | DIY District | 0,20 m | 0 € |
| Biais coton bleu | Stock | 0,90 m | 0,50 € |
| Bouton | Stock | 1 | 0,10 € |
| Fil | Stock | 1 | 0 € |
| Total | | | 17,58 € |
The Orlando pants pattern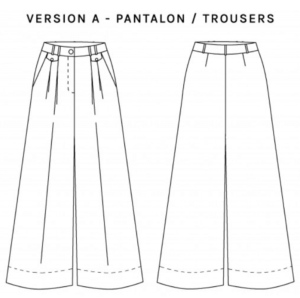 The Orlando pant is a long pant or a 3/4 skirt-panties very loose that fits slightly below the waist.
It proposes:
Italian pockets,
4 flat pleats in the front to add volume,
back darts & a shaped belt (curved) to better fit the lower back,
and a low crotch that avoids complicated adjustments.
It is inspired by the men's wardrobe of the 1940s with its wide pants, darts.
An option to add a false cuff at the bottom of the Orlando pants is also available.
For once, I took the paper pattern. The envelope is A4, with an A4 explanation booklet as well and a pattern sheet without overlays with 1 cm seam allowances.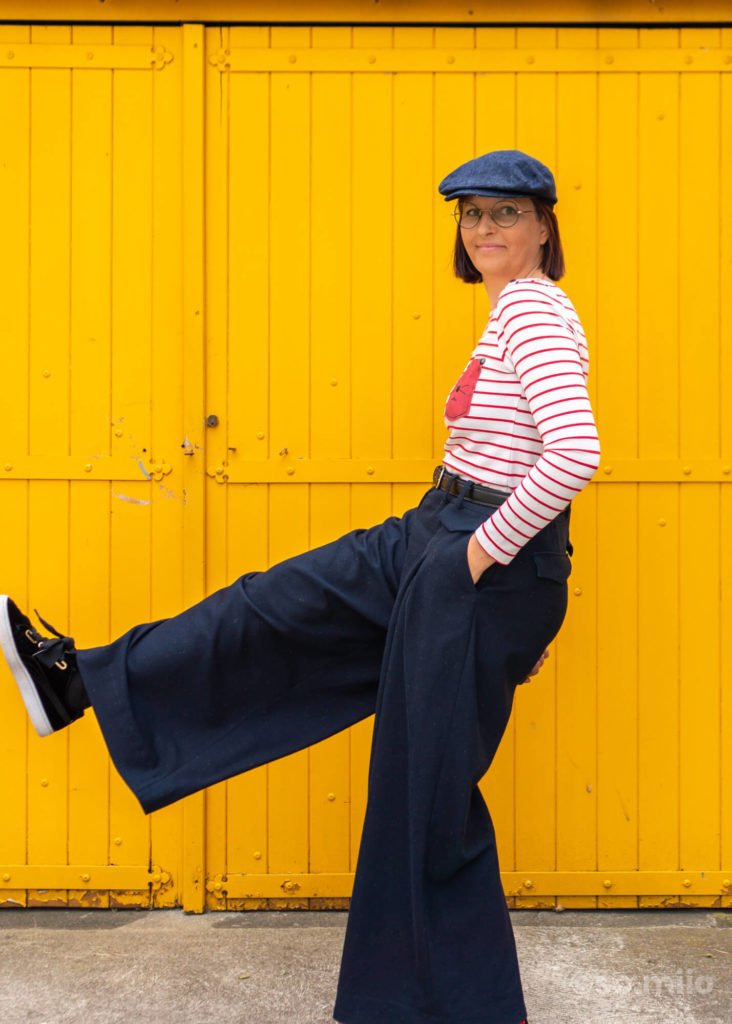 The assembly instructions are very detailed and carefully illustrated.
In particular, there is a very complete section concerning the modifications of the stature and of the crotch. 
The Orlando pants are available in sizes 34 to 52 and, according to the brand itself, they run a little large.
Which might have saved me from sewing it too big if I had read that on the P&M Patterns website before.
And by the way, let's talk about sewing and fitting.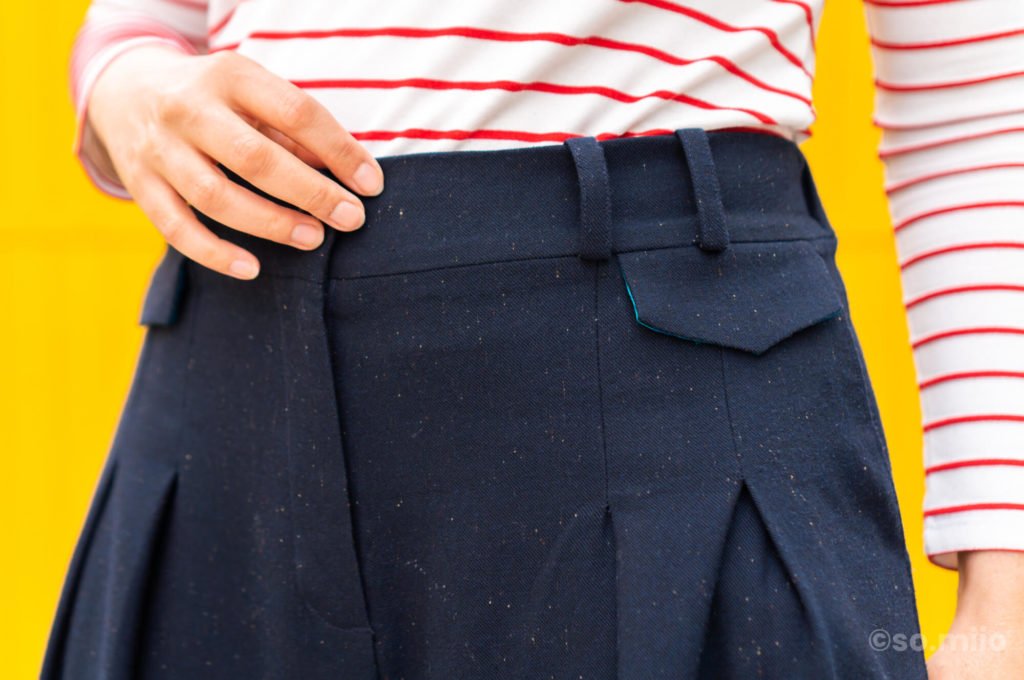 Sewing the Orlando pants
These pants require almost no adjustments because of its width and ease. You just need to adjust the waist. Which I didn't manage to do.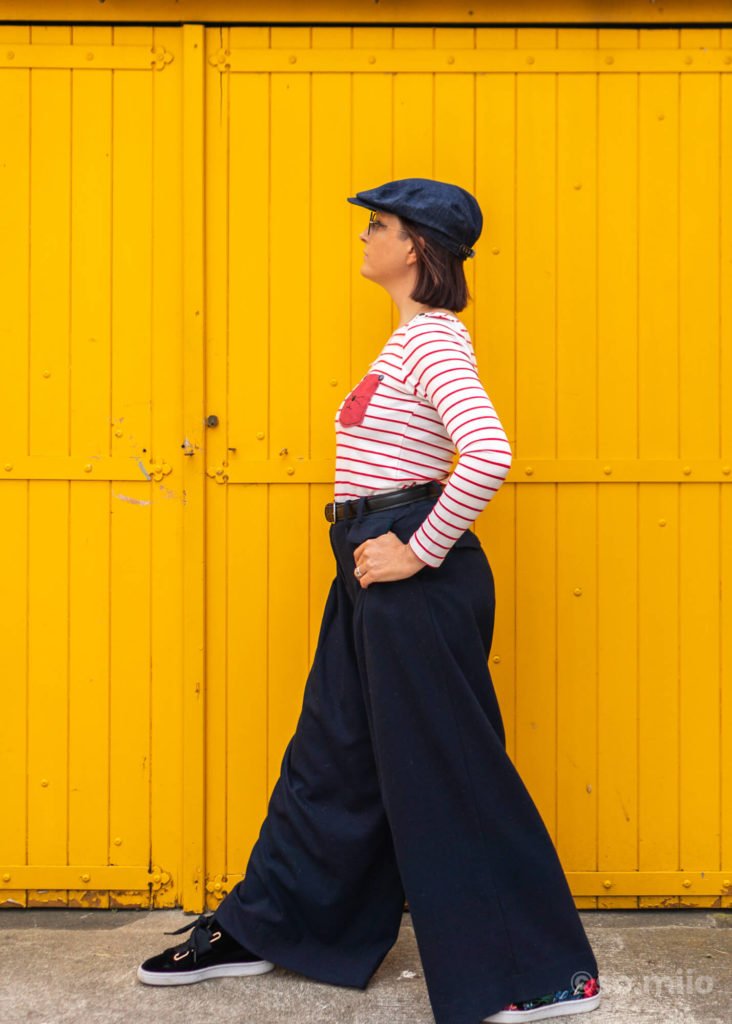 The size of the pants
To start with, I sewed these pants in 42 based on the waist size: it's way too big. 
Because of the italian pockets, the darts and the fly, it was not really possible to take back the sides or the middle front.
So I took 2 cm in the middle back and added an elastic.
I wonder if the 40 would not be a little big too…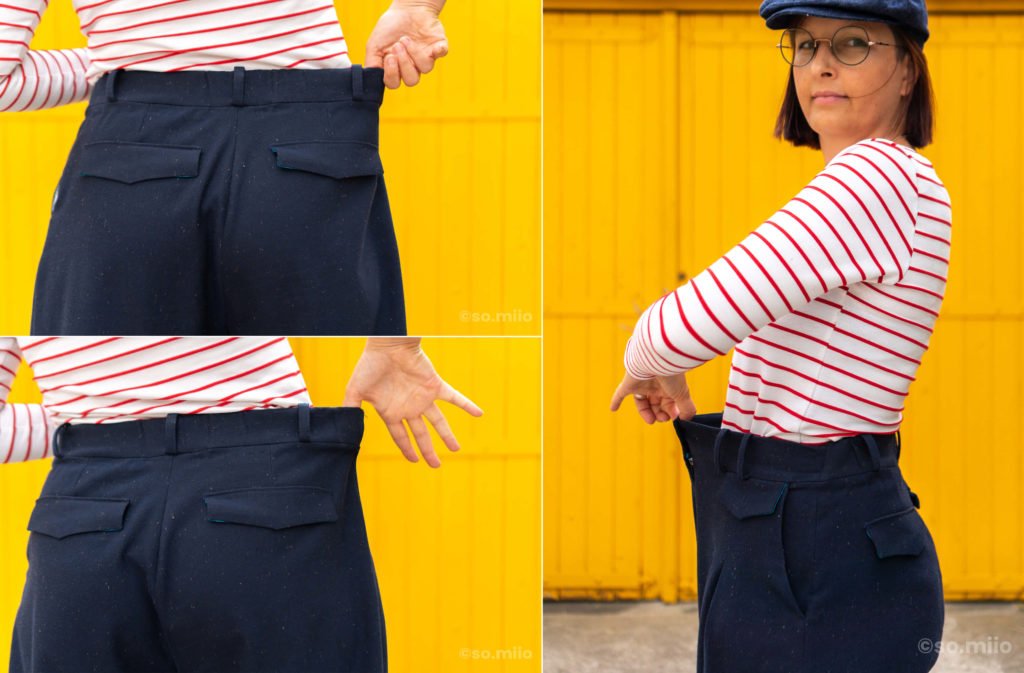 Granted, I admit that the elastic in the back doesn't make my butt look great.
On the other hand, on days when I'm as puffed up as a fart balloon, these pants are perfect.
The length of the pants
I had done all my homework before sewing.
I had read everything well and drew the calculator for the stature adjustments to be made:
-1 cm on the fork,
-4.5 cm on the thigh,
-4.5 cm on the tibia.
This seemed logical for a pattern stature of 170 cm versus my height of 160 cm.
Unfortunately, a few days weeks went by before I started tracing and cutting.
I guess you can see it coming: I totally skipped the changes when I cut. And once cut, too late! 
Tanpiche. I sewed like this.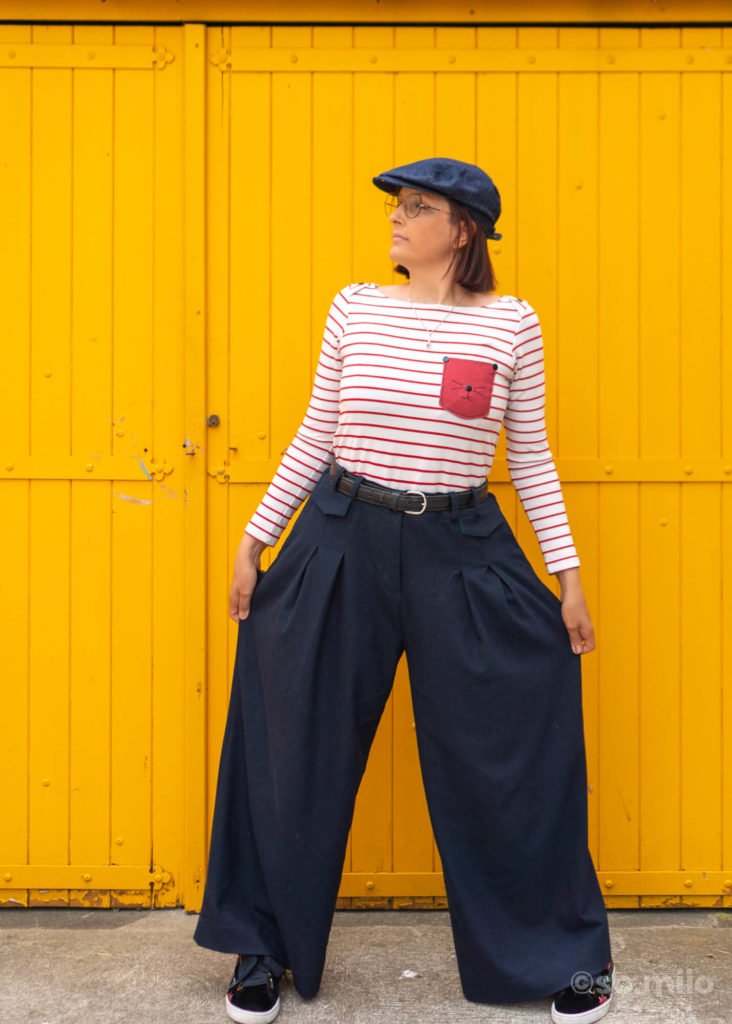 In the end, I'm glad I didn't make these modifications because I only made a 6 cm hem (only 2 cm more than planned). Which I think is perfect for a large, heavy and heavy hem, necessary for this type of pants.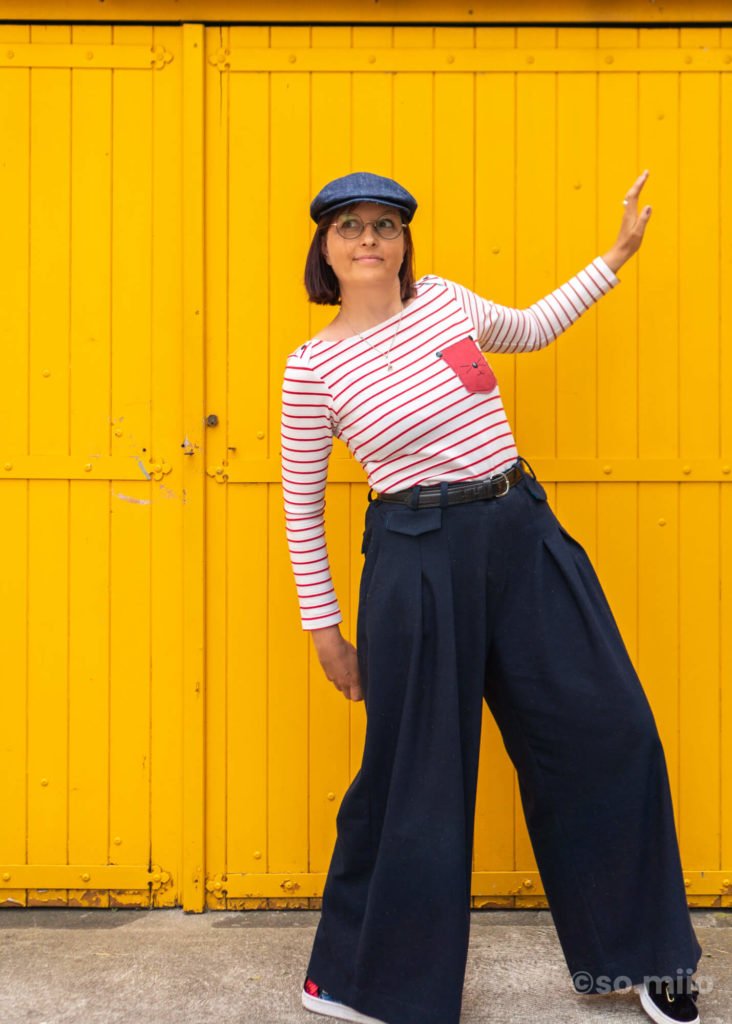 Pockets & small details
Otherwise, the pockets are way too small. I can't put my hands all the way in. It's really a shame not to have pockets as generous as the pants.
We will also note the presence of "Instagram" type pocket flaps in front and back: 100% fake, to look good.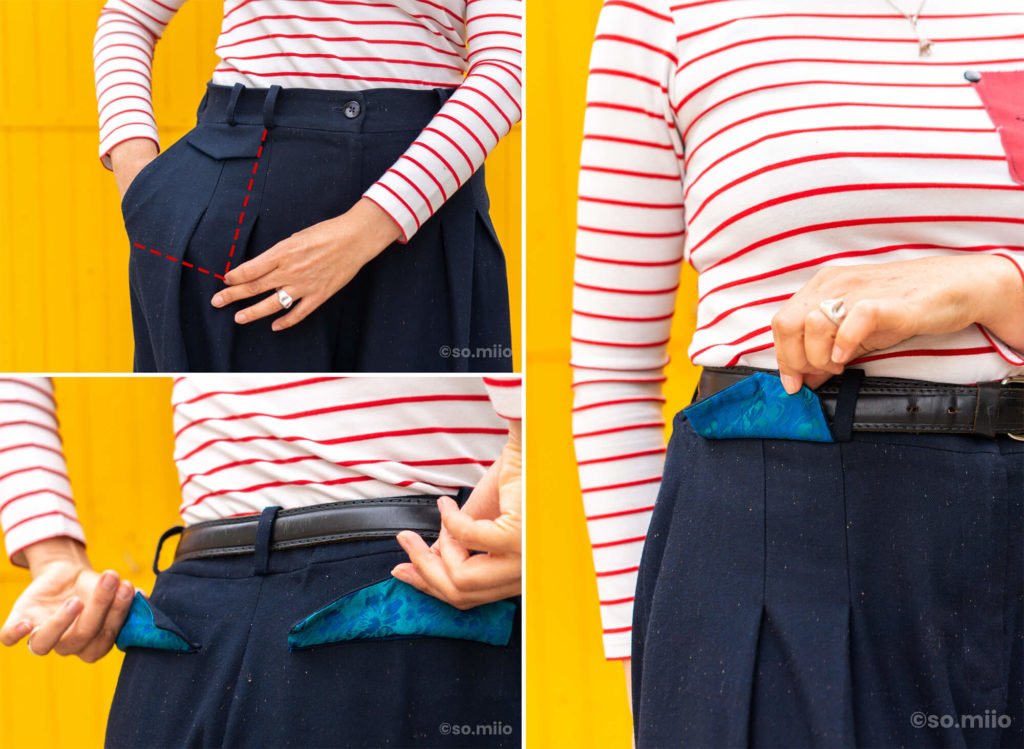 The interior finishings are simple but effective: overlocked seam allowances & the bottom of the inner waistband is edged with bias. I totally followed the pattern instructions for this.
Conclusion
These Orlando pants have already been well worn. If I find the blue a bit dull, it matches the vast majority of my tops. And I can never resist the comfort of a wide-leg pant for long.
This Bennytex viscose twill has just the right combo of fluidity and fall for these pants. Viscose twill is also very easy to sew. That being said, a nice suiting wool drape would work just as well.
Since my closet isn't exactly in short supply of #peachywidepants, I don't think I'd make another pair just yet.
Note to self if/when I do:
Go one size down to the corresponding size on the measurement chart.
Save to Pinterest