The Shift Tee: from witch to viper (Misusu)
The Shift Tee is the 3rd pattern from Misusu on which I jumped on as soon as it was released. The 1st one was the Geo Tank, the free pattern (for the Facebook group members) that introduced me to this awesome pattern brand. The 2nd one was the Stereo sweater.
This one really caught my eye for its wearability combined with a pattern construction that looked really interesting… and it delivers!
| | | | |
| --- | --- | --- | --- |
| ITEM | SHOP | PRICE | QUANTITY |
| Shift Tee PDF pattern | Misusu Patterns | 1 | 7,50 € |
| Black modal jersey knit (remnants from the t-shirt 118 Burda 11/2019) | Bennytex | 3 m | 0 € |
| Snake print viscose jersey | Bennytex | 3 | 9,00 € |
| Thread | Stock | 0 | 0 € |
| Total | | | 16,50 € |
The Shift Tee pattern
Misusu's models always have an original construction & details while remaining hyper casual and easy to wear.
Usually, they also offer several versions and the Shift Tee is no exception.
The Shift Tee is a t-shirt with asymmetrical seamlines where you can choose between long and short raglan sleeves (which are really different pieces) in 2 parts, a straight or slit hem and 2 lengths: normal and cropped.
The explanations are very detailed, with tables of finished measurements, specific explanations for each pattern for adjustments, a table of pages to print according to the version and super clear and detailed illustrations.
There are even coloring sheets to match fabrics.
Misusu also offers 2 versions of the neckband depending on the fabric used: ribbed knit versus jersey fabric.
The printed PDF comes together great.
Each piece is also precisely referenced and described with even a little diagram so you don't get mixed up. 
Sewing the Shift Tee
I had absolutely no problems sewing the Shift Tee.
Rhâââ ! Fun for the neurons and rest for the seamstress. It's been a long time.
Well, I admit that I was a little worried about choosing the right size and the final fall… for nothing!
It fits perfectly.
I sewed a DD size with no alterations. Yes, you read that right.
Finally, I could notice that the sleeves are rather long and that I have extended the hem by 1 cm to absorb some of it.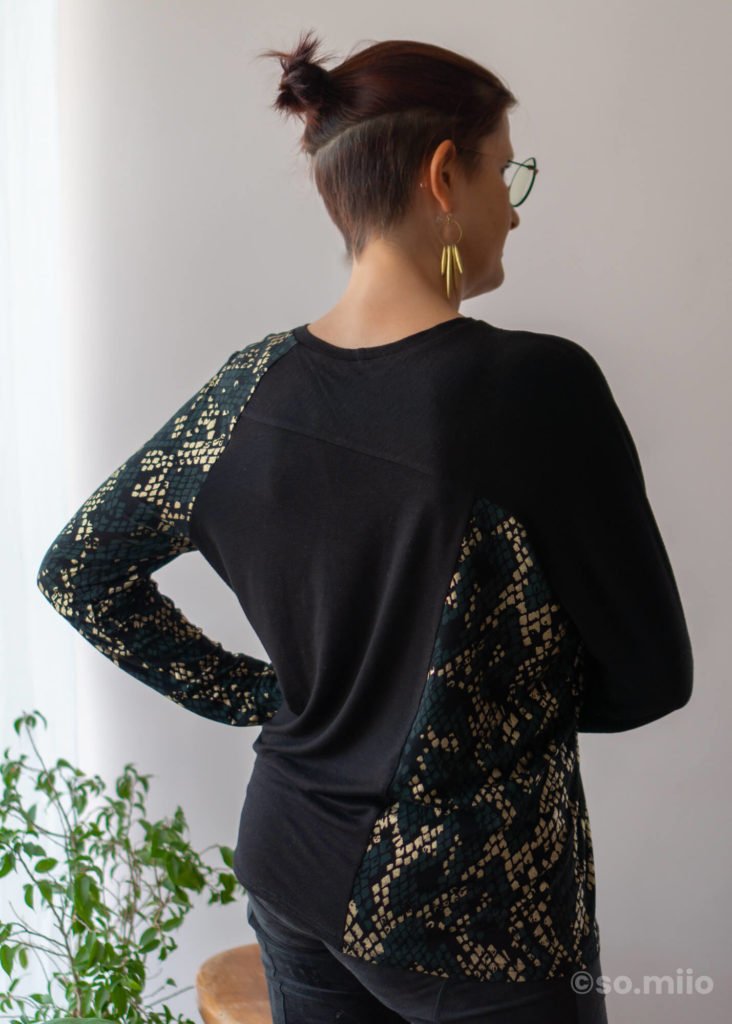 That's about all I have to tell you!
Because sewing, like love songs, only extends when it ends badly or when the road is full of pitfalls. No problem = short blog post!
The matching Molly leggings
The leggings date from before the tee-shirt in reality, and from several months.
I had even bought this fabric specifically FOR sewing leggings.
It turned out to be a questionable choice. This fabric is not very stretchy and especially not very elastic.
So even though the leggings fit me and are quite comfortable, they do bag a little here and there. 
And most importantly, I haven't really embraced it in public yet… not counting the Sunday market. I think I need a long black flared top to go with it… because clearly, I won't be wearing the whole thing! XD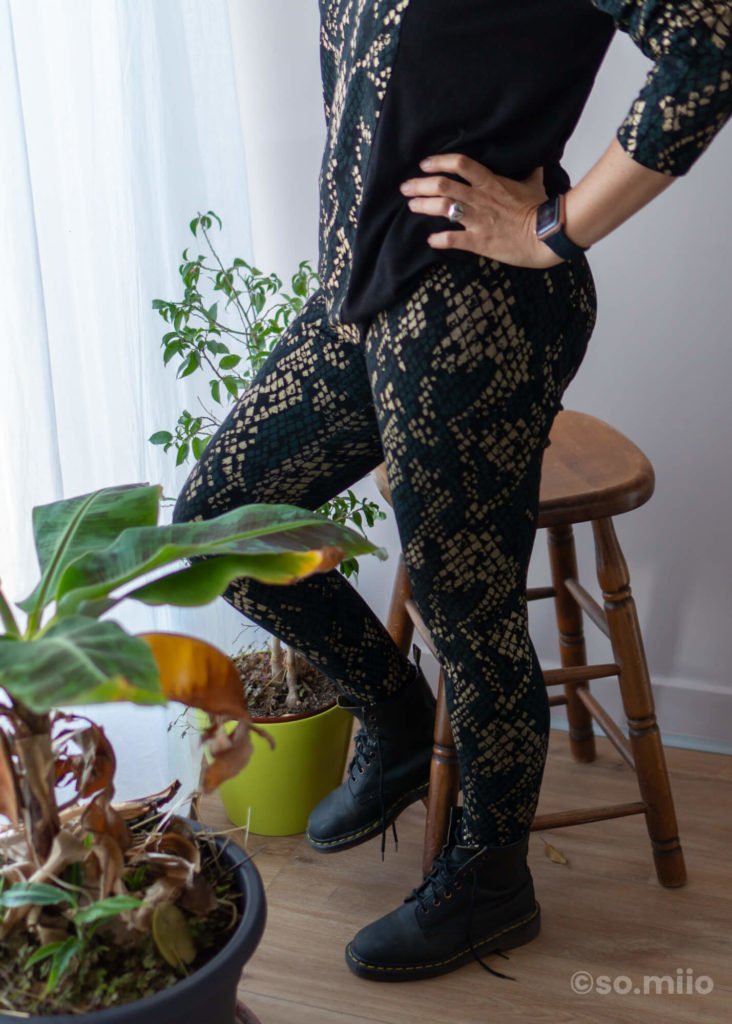 Conclusion
Here's a sewing project that went off without a hitch!
I could have submitted it for the Thread and Needles Piece Game contest but frankly, it was too easy, it would have been cheating 😉 So I did something else, which I'll show in more detail soon.
Need I say that I recommend the Shift Tee pattern in particular and Misusu in general? The Shift Tee will probably have little adelphs (= brothers or sisters in inclusive mode).
Otherwise, a good plan before we part: the Rowan Tee from Misusu and its extension "Christmas tree" both free for a nice Christmas gift.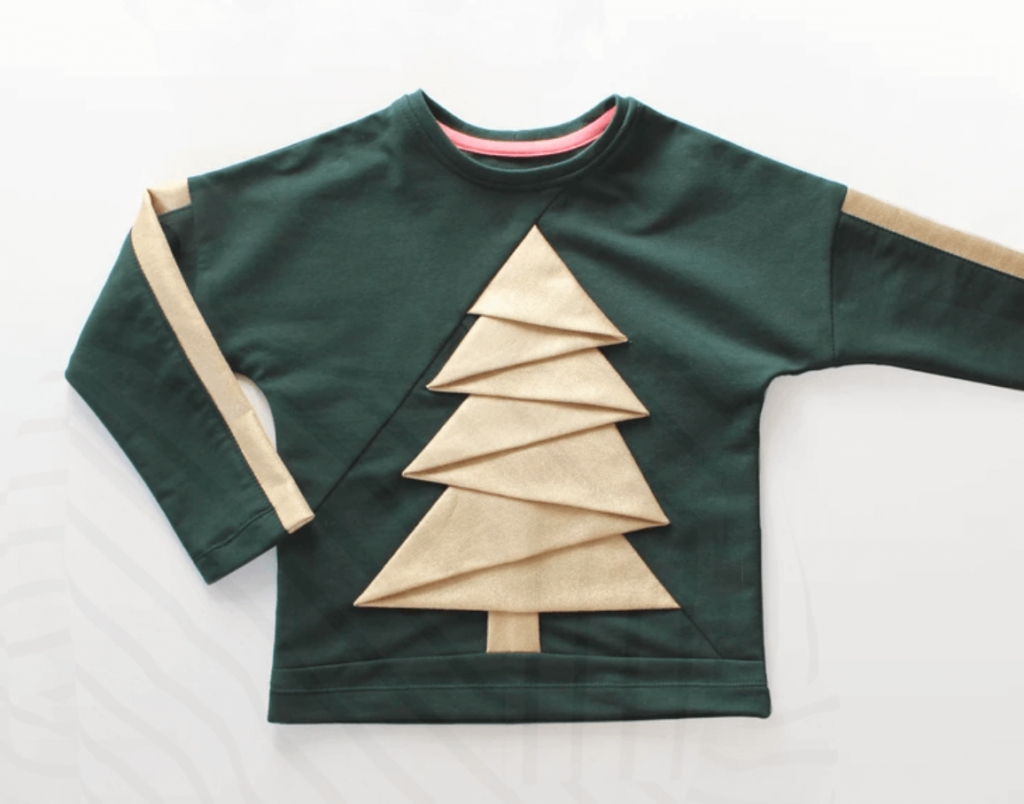 Share on Pinterest