Claudia Tank (Just Patterns): with and without shoulder pads
Happy New Year to all! So the Claudia Tank will be the last pattern I'll be featuring for 2021 (since I'm writing this from my couch just before the stroke of 12).
You may have noticed that I haven't been prolific in the last few weeks… That's because I've been totally overwhelmed with sewing Christmas gifts for the whole family… and I'm still in it to be honest.
So I'm totally on the fence about showing you my entry for the "Piece Game Contest" on Thread and Needles. On the other hand, this festive craft is perfect for the occasion!
| | | | |
| --- | --- | --- | --- |
| ITEM | SHOP | QUANTITY | PRICE |
| Claudia Tank PDF pattern | Misusu Patterns | 1 | 7,50 € |
| Acid green milano knit | Bennytex | 1 m | 1 € |
| Shoulder pads | La Réserve des Arts | 2 | 0,30 € |
| Black cotton jersey (scraps from a summer mess) | ? | 1 m | 0 € |
| Quilted copper fabric | Mercerine | 0,3 m | 9,00 € |
| Fleece | Stock | 0,3 m | 0 € |
| Thread | Stock | 0 | 0 € |
| Total | | | 17,80 € |
The Claudia Tank pattern
But before I get to my contest version, a few lines about the pattern.
Just Patterns is a French pattern brand (as its name does not indicate) created by Delphine and aimed at seamstresses who already have some notions of sewing. She presents her story in detail on her website.
The Claudia Tank features a relaxed fit, shoulder pads (yes, yes!) and a crew neckline.
Just plain and simple!
That being said, if someone had told me a year or two ago that I would be wearing an epaulet shirt…. Ha ha ha. But then again, tastes and colors change and only fools never change their mind and never say never, etc., etc.
Do you have any more? No, let's move on.
The Claudia Tank booklet is particularly clear and complete. The patterns and all the measurements and information are very nicely laid out, easy to read and understand.
I'm looking forward to my Milton Pinafore project, the free pattern from Just Pattern in collaboration with Peppermint Magazine.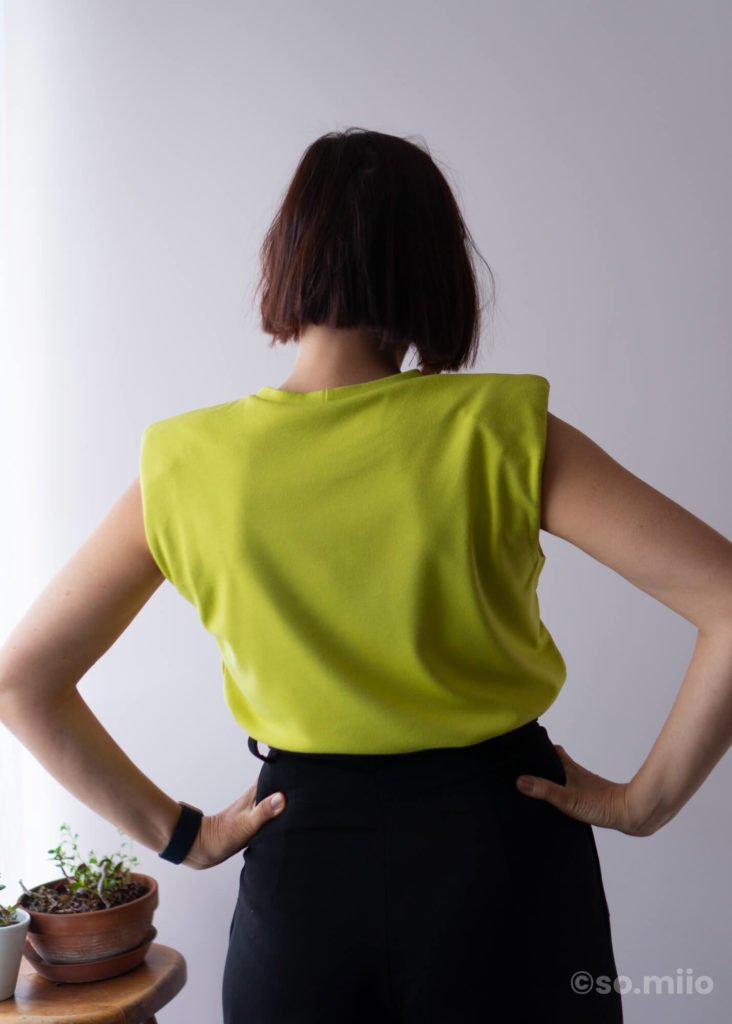 Le projet de Claudia Tank pour le concours
The slightly furious 80's side of the Claudia Tank and the touch of disco bling seemed ideal to celebrate (finally) the arrival of my Slades quad rollers ordered in early 2021 during a crowdfunding financing. A long wait that deserved to be celebrated with dignity.
And this idea having germinated more or less in sync with the announcement of the contest…
… I carefully watered it for a few weeks before moving on to the realization. 
Honestly, who is the chicken or the egg? What about the contest, the fabric, the pattern or the rollerblades gave me the idea for this top? Who can say? Not me!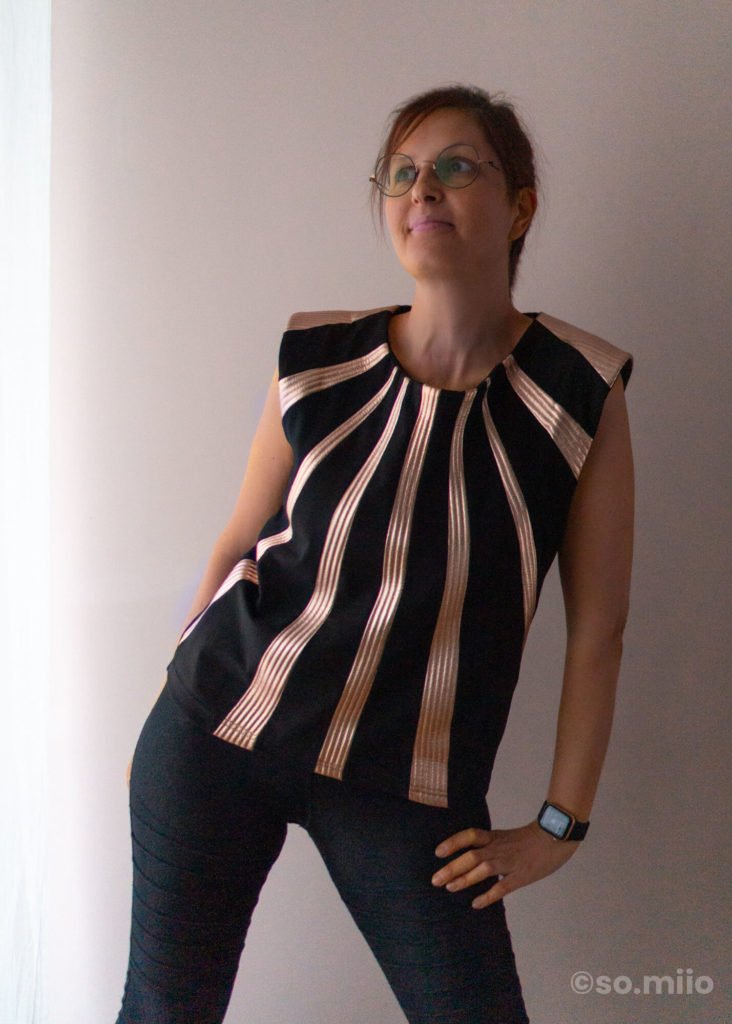 The idea was to change the shoulder pad system to a quilted yoke… and then it went to hell as I was sewing.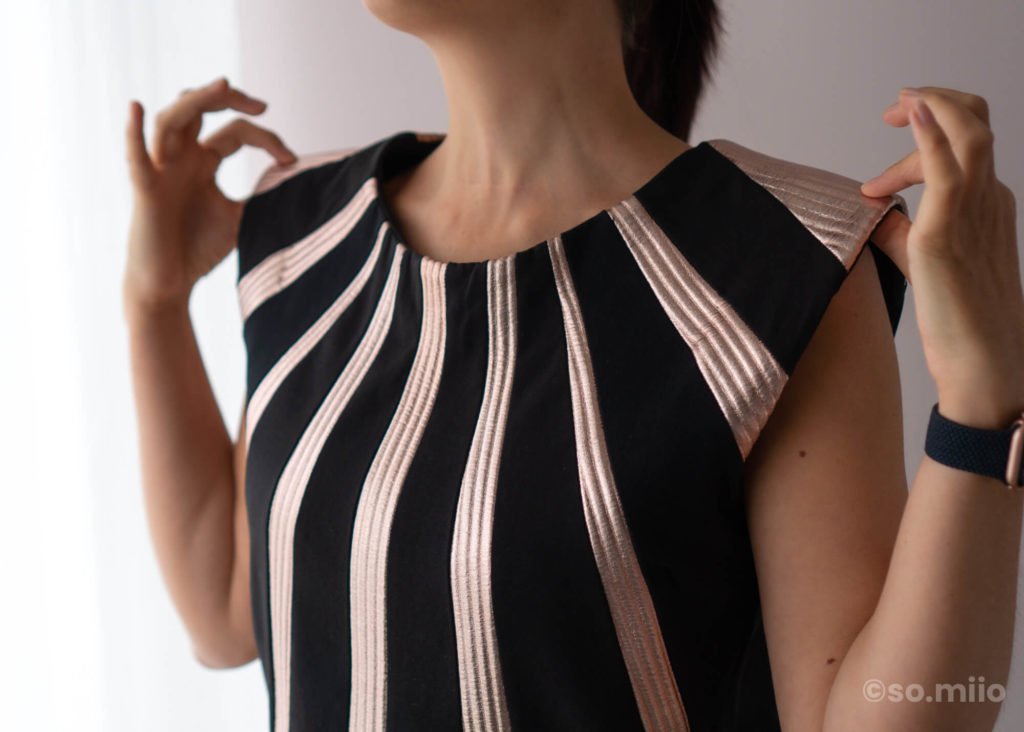 Sewing the Claudia Tank
The base version
The Claudia Tank is no problem to sew.
In the interest of science, I started this summer with a toile of the Claudia Tank in a cheap milano that pills as soon as you look at it. But interesting color, no?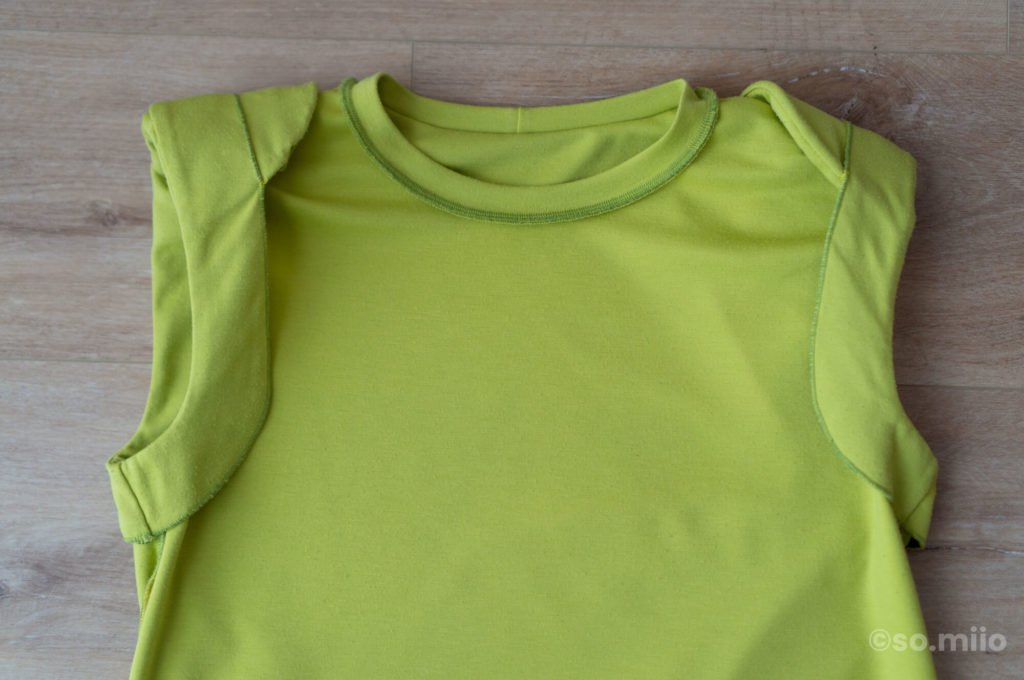 Seam allowances are 1 cm and the neck band is designed for ribbing.
Shoulder pads are sandwiched between the shirt and an armhole facing.
For the neckline band, I stayed with my milano instead of the ribbing.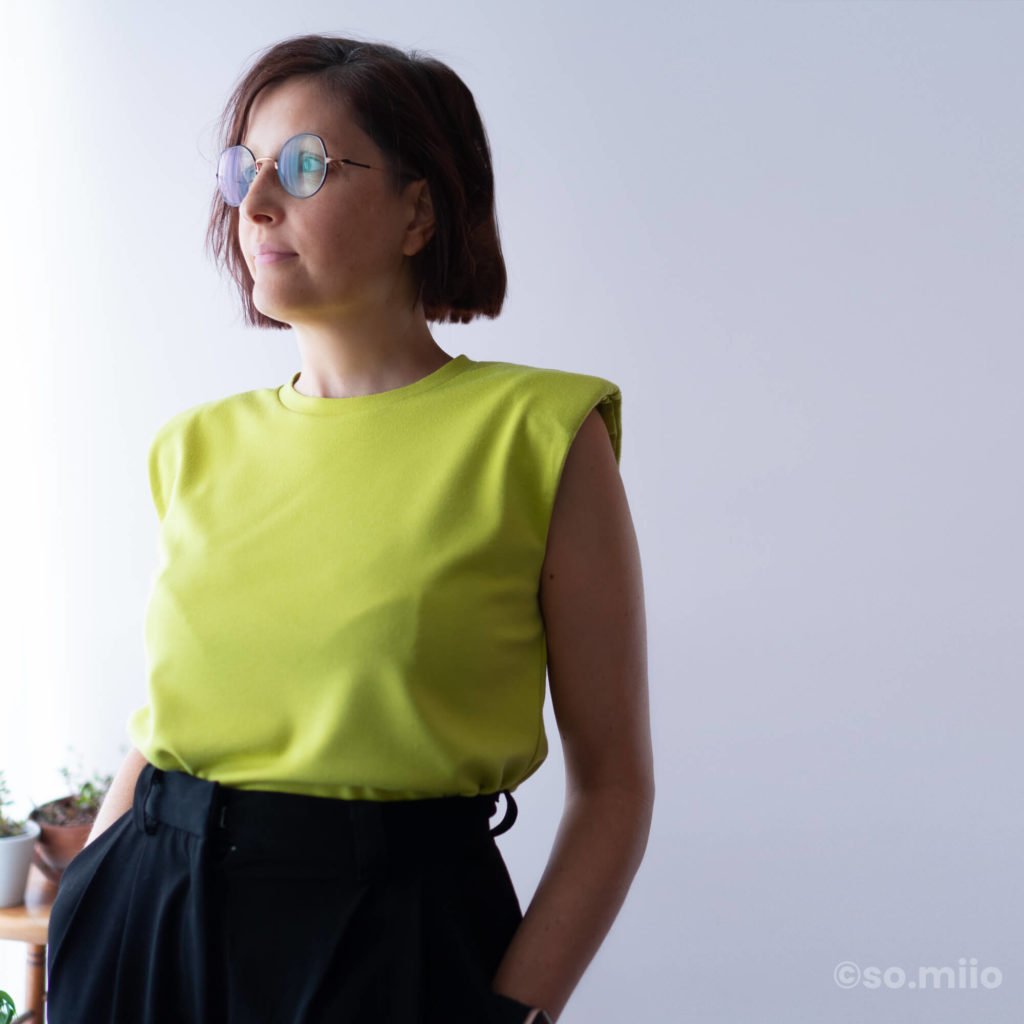 I sewed mine in size 38, expanding to 40 for the hips.
And it's perfect.
Sewing of the contest version
For the contest version, I traced my pieces to do my fiddling.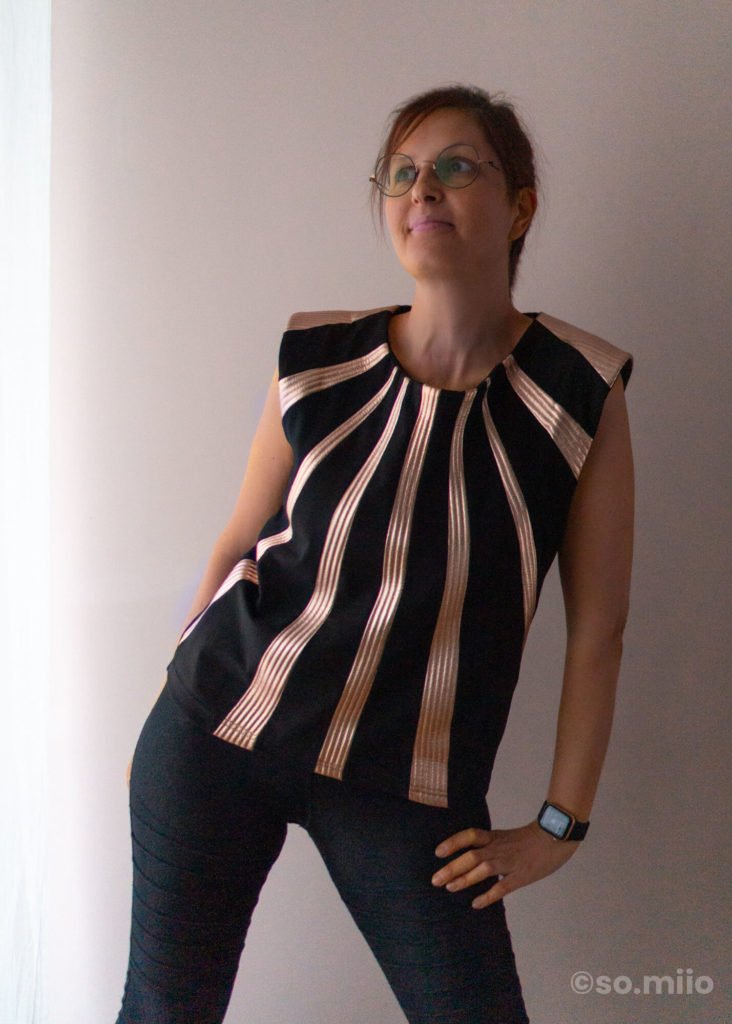 At first, I was just thinking about creating the quilted shoulders… and then it got out of hand. Some "sunburst" cutouts appeared in my project and it was off!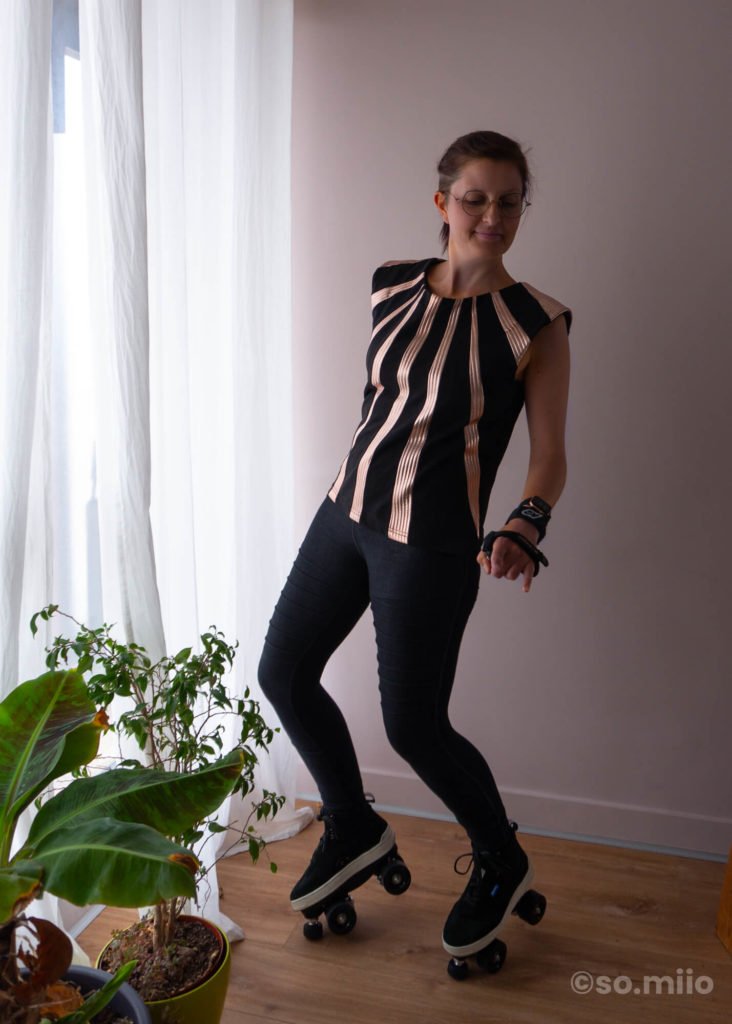 The seam allowances were added directly when cutting the fabrics because I was too lazy to make clean pattern pieces after cutting.
Hence a finished project that is more approximate & wider than the original version.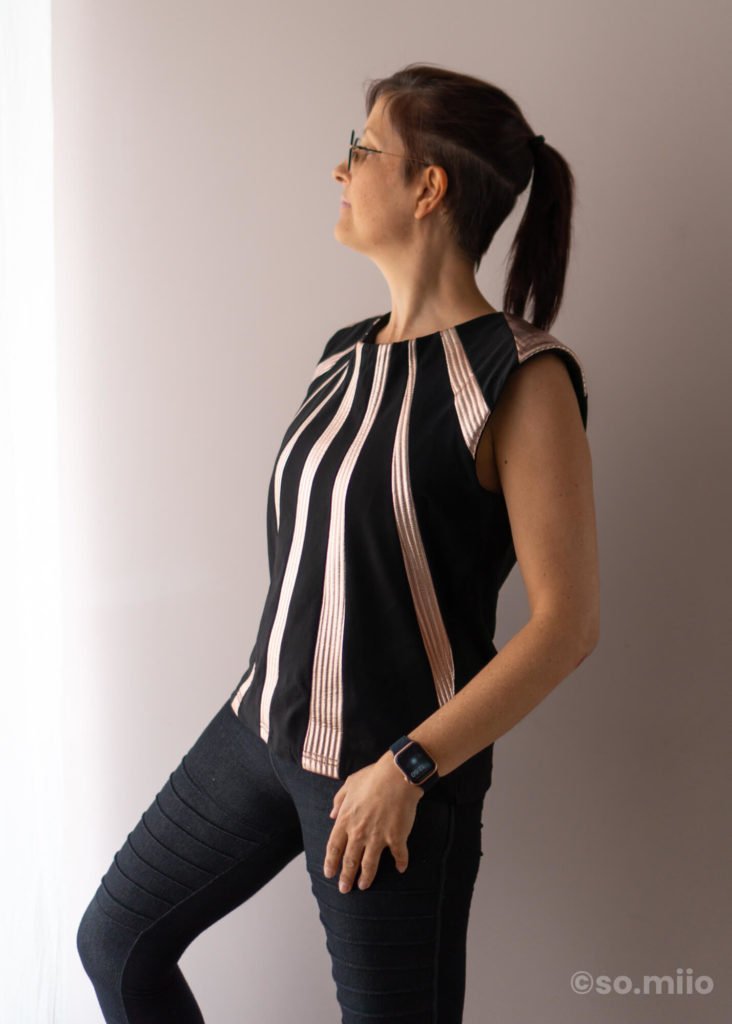 On the fabric side, I actually salvaged the black cotton jersey from a dress mishap this summer. This is where the multiple pieces come in handy for recycling.
The quilted fabric (purchased for something else) is a small 40cm piece cut from the cross-grain to take advantage of the quilting in its length to form the sunbursts.
Bonus, I still have enough for the original project, here is a well used mini coupon.
I had to make a few adaptations along the way because the neck band refused to play along on this version.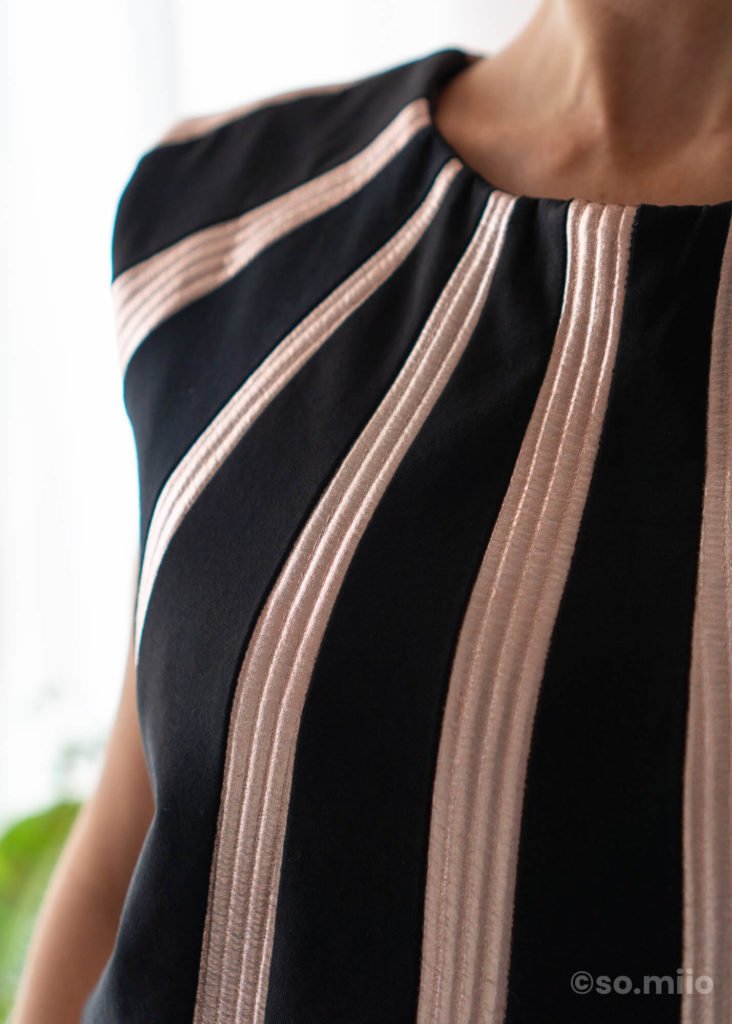 So it was replaced by a facing. And then the all black back looked too sad… so hop! A little band for fun.
And that's it! The song Dernier Jour du Disco by Juliette Armanet suits it perfectly I think (and, vice-versa, it suits it much better than Juju's clothes in the video, no?).
So I put it to work for the pictures and I leave it in your head for you to wiggle too 😉 La, la la !
Conclusion
I am very impressed with how well this pattern fit. I might do it again a few times in the future, removing the shoulder pad detail to be more passe-partout.
I am also generally delighted by the high quality of the pattern in the presentation of the booklet and the explanations. A brand to remember.
And I end by wishing you again a great year of sewing, embroidery, knitting according to what makes you happy! I'll see you soon to show you what I sewed for Christmas and my plans for 2022. Kisses, kisses, kisses!