Sewing the Stereo sweater (Misusu Patterns)
For once, I bought the pattern of the Stereo sweatshirt right on the day of its release after waiting for it after the first announcements. Misusu had published a few preview photos and I really liked it.
Misusu Patterns had already more than convinced me with the Geo tank top last summer… so I was an easy target 😉
| | | | |
| --- | --- | --- | --- |
| ITEM | SHOP | QUANTITY | PRICE |
| Sweat Stereo Pattern (release discount) | Misusu Patterns | 1 | 9 € |
| Blue and silver organic knit by Hamburger Liebe | Tissus.net | 1,5 m | 36 € |
| Organic padded jersey by Lebenskeidung | Metermeter.dk | 0,5 m | 14,20 € |
| Sparkly rib knit | ? | 0,5 m | 4 € |
| Elastic | Stock | 1 m | 0 € |
| Thread | Stock | 0 | 0 € |
| Total | | | 63,20 € |
The Stereo sweater pattern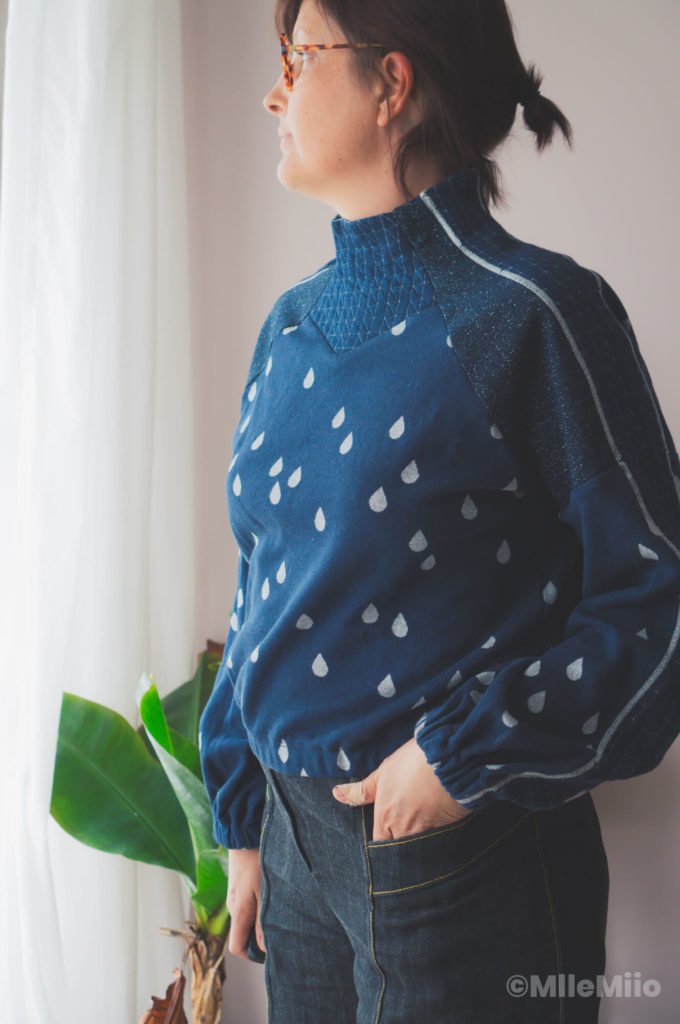 Misusu is a brand of patterns that specializes in designs with geometric cutouts. No ruffles to be found here.
Ideal to use remnants, Misusu patterns also always offer several options.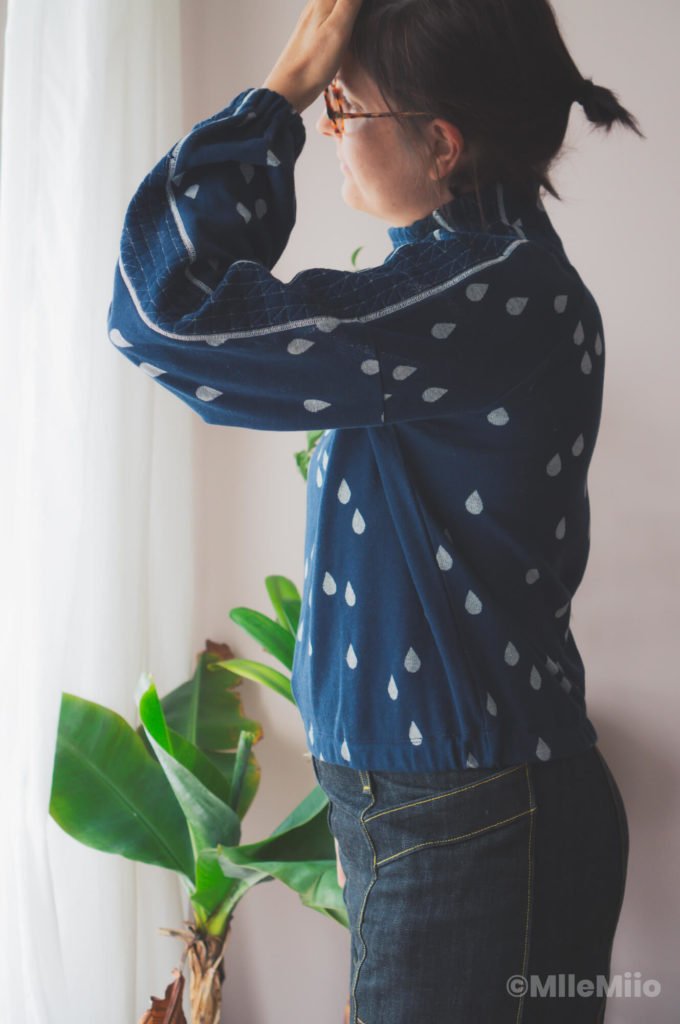 The explanations are nicely & clearly laid out and very detailed.
A table is available to know which pages to print and which pieces to cut according to the options chosen.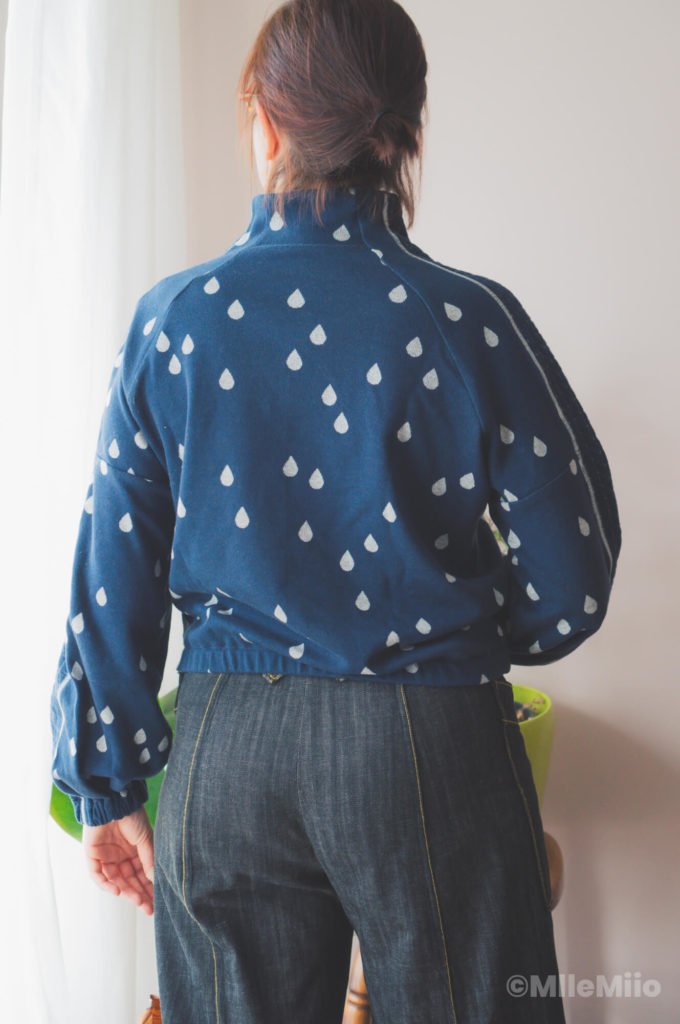 There are also the measurements of the finished garment (cm & inches), the layered pdf (to print the desired size), a cutting plan for the 5 versions, coloring sheets to imagine the project, detailed tutorials to modify the sizing … SO! It is very comprehensive.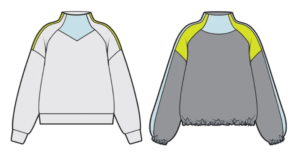 The Stereo sweatshirt is therefore a sweater with geometric cut-outs on a collar with raglan sleeves.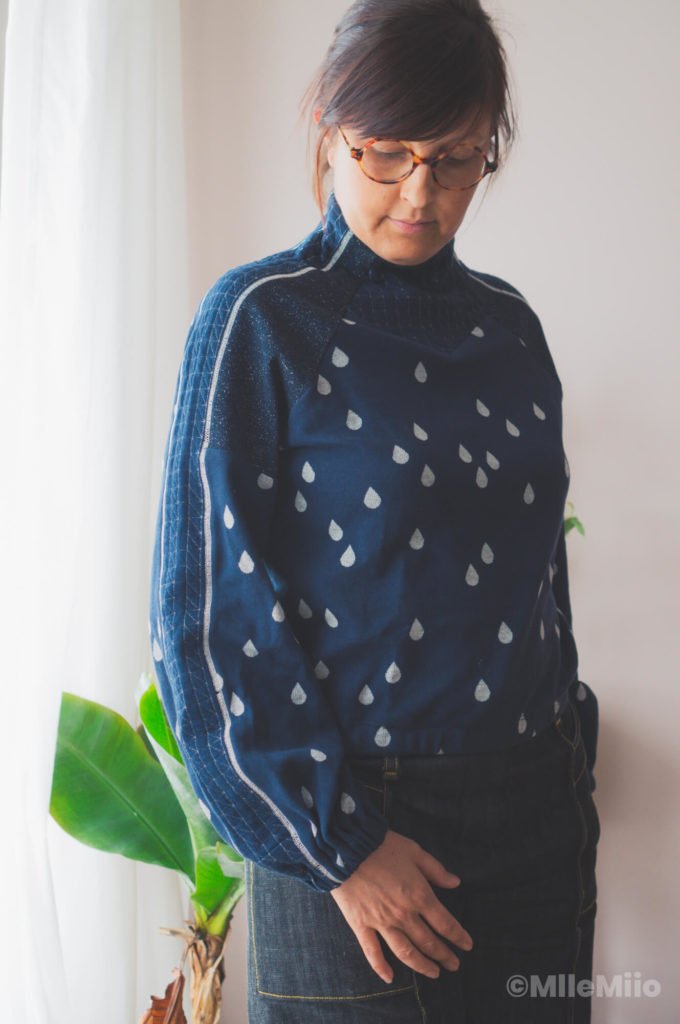 Le patron annonce 5 versions mais c'est en fait beaucoup plus quand on mixe le tout :
version normale ou "cropped" (courte),
finitions avec bandes de poignets & d'ourlet ou avec des élastiques pour un effet bouffant,
le col en pointe ou en rond,
avec ou sans empiècement sur les manches,
avec ou sans bande sur les manches.
The Stereo sweater pattern announces 5 versions but it's actually a lot more when we mix everything:
normal or cropped version,
rib knit cuffs & hem or casings with elastic bands for a puff effect,
the angled or round yoke at the neck,
with or without yoke on the sleeves,
with or without band on the sleeves.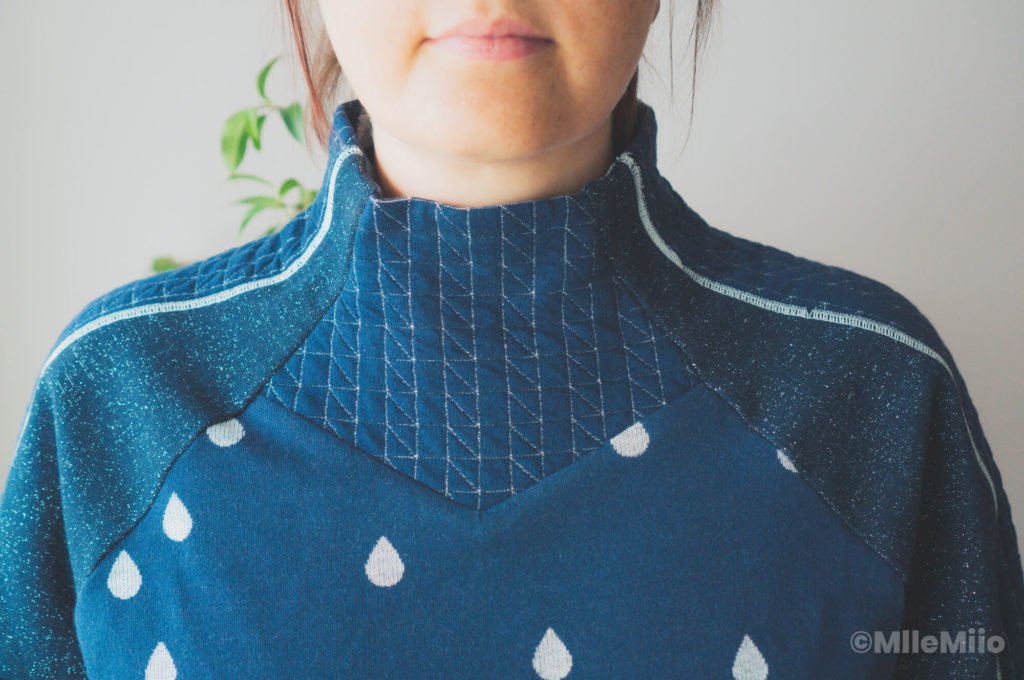 Sewing the Stereo sweater
As my happy face may hints: everything went well.
Or more exactly, everything that depended on the pattern went well. My coversticher slightly pissed me off at a few times …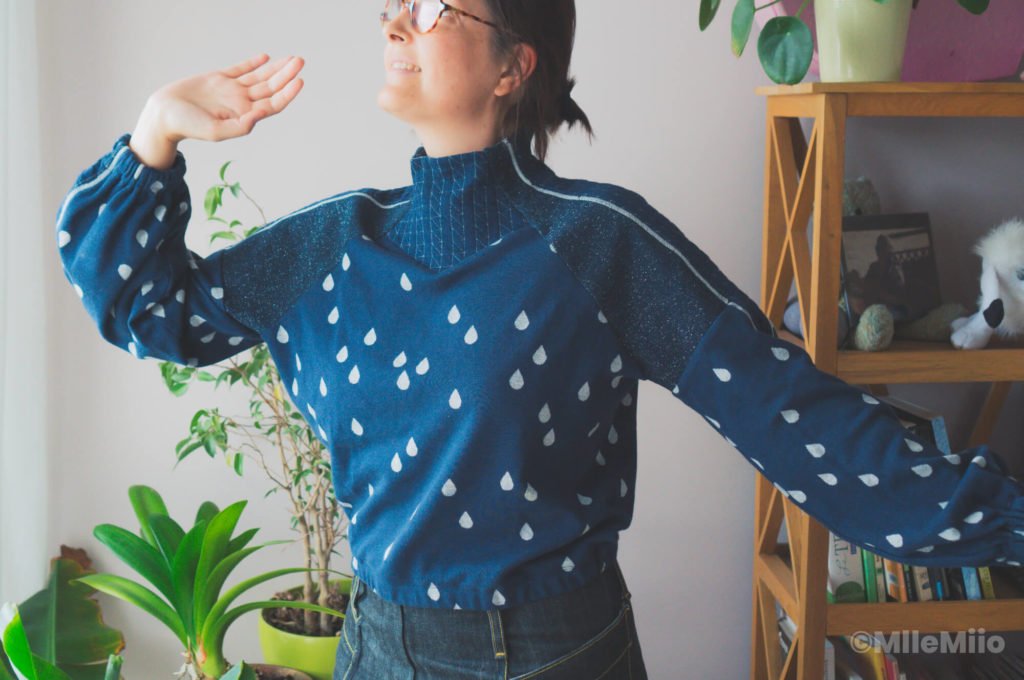 For the fabric, I carried out with myself an ideation workshop (that's how we jargon in my job).
So I took out of my stash all my knits, jerseys & affiliate fabrics.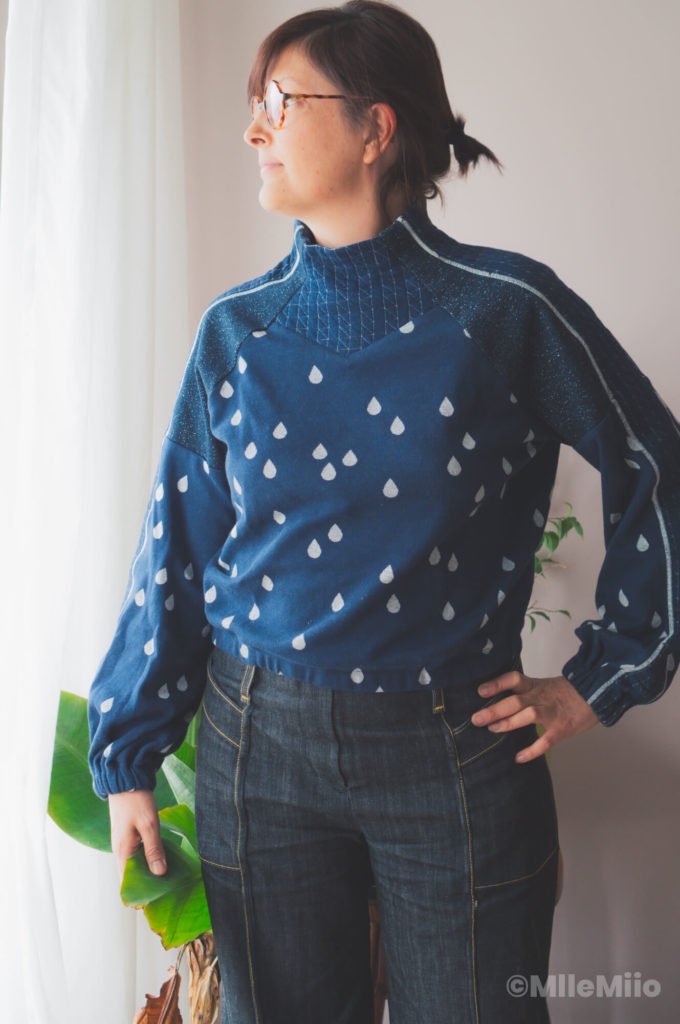 In the end we have:
a blue knitted organic sweater with silver drops by Hamburger Liebe x Albstoffe
a navy blue organic quilted jersey by Lebenskeidung bought at Metermeter.dk of which I had bought the last 50 cm (why did I do that, I don't know. Fortunately, this pattern allows you to finish silly scraps like that)
a smooth silver glitter knit ribbing

The quilted jersey did not have the recommended stretch for the neckline.
However, I thought that the ribbing and the blue & silver knit on the back would counterbalance this problem and it worked.
I can get my head through without any problem.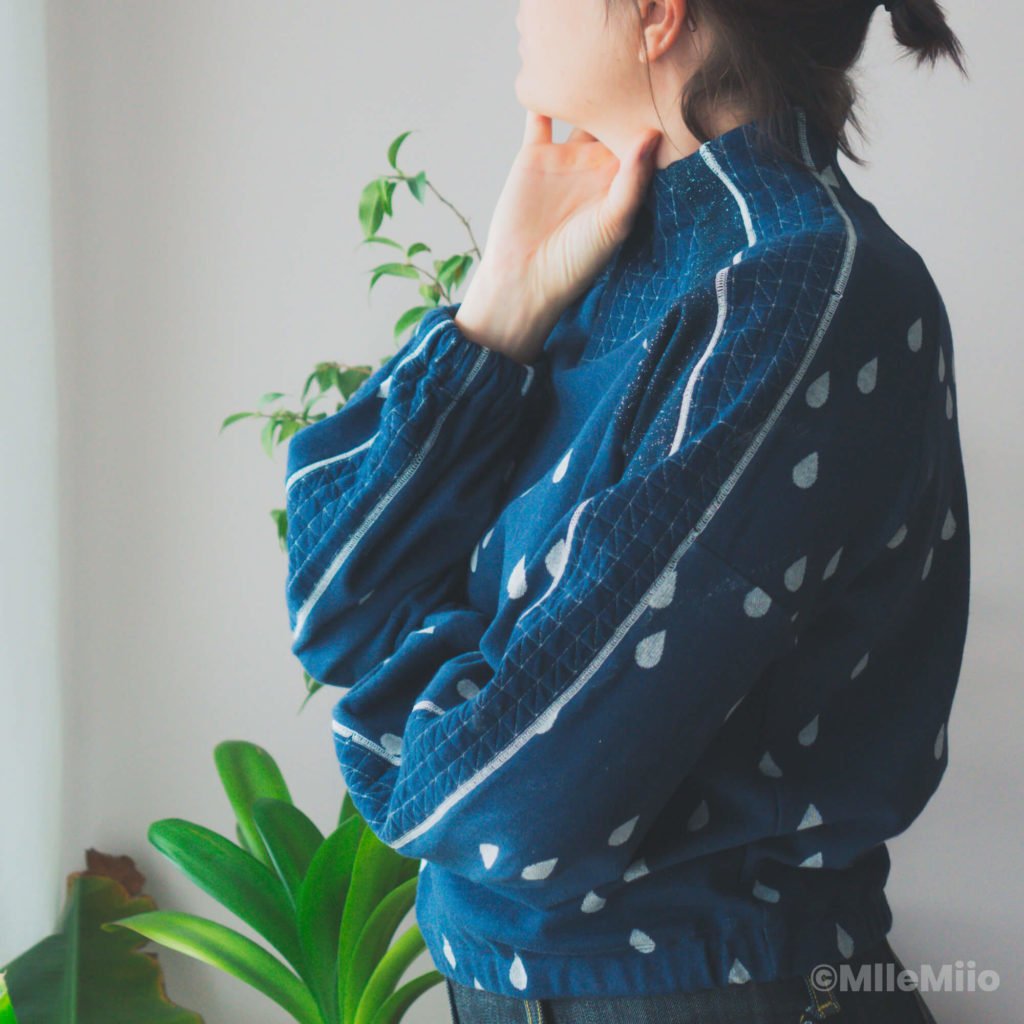 Contrary to my sketch, I finally sewed the cropped elasticated version after the diligent consultation of the versions of the testers.
The Stereo sweatshirt is quite easy to sew if you follow the instructions to the letter. Here, we avoid improvising and going rogue on the explanations.
To sew the point of the collar, I put a fusible interfacing to stabilize and secure the little scissor nip that must be given before sewing the angle (see the extract from the explanations above).
And I must say that I am quite satisfied with my achievement of this technical point.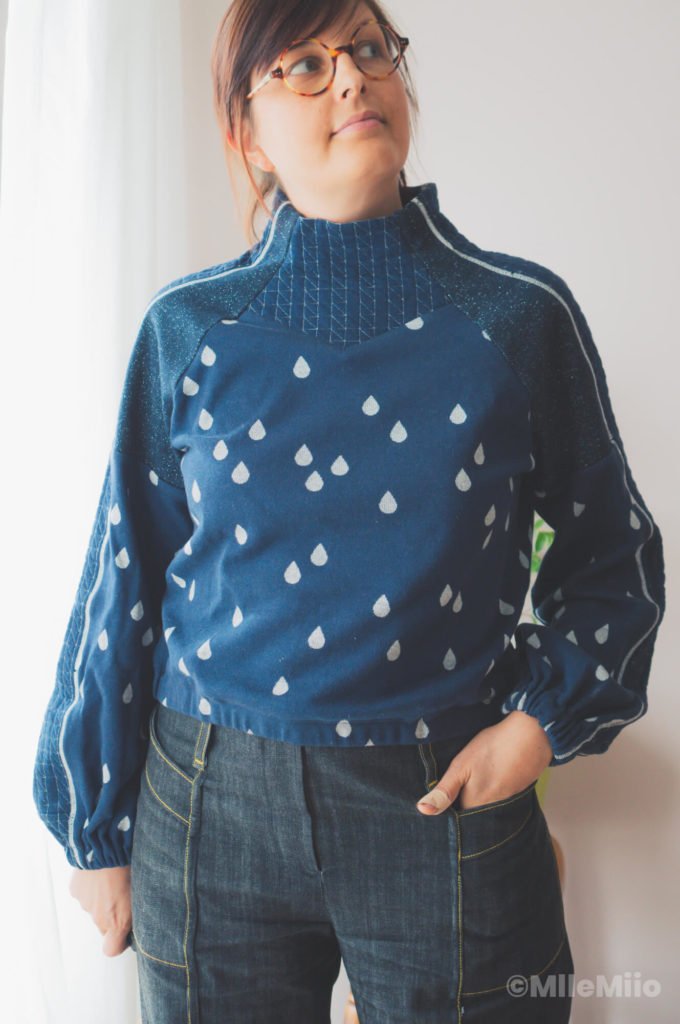 Conclusion
It was a very nice project even if a bit technical. This sweater requires attention and a level of sewing at least intermediate in my opinion and some experience in jersey sewing.
However, the Stereo sweater pattern is really nicely explained. At no point does one tear one's hair out on the explanations (follow my gaze towards Burda …).
I do not think to immediately redo another version (because I do not need 40 sweaters with a high collar) but it will surely happen one day …
Save on Pinterest