Sewing a black and white Juniper cardigan
This Juniper cropped cardigan is the 2nd of the name. I am in a great period of reuse of the good patterns I found in my year and a half of intensive raking of the Internet to find good patterns.
In fact, I planned to make it in plain black (because who hasn't a need for a short black cardigan) but I had a crush on that beautiful jacquard knit … and here we go!
| | | | |
| --- | --- | --- | --- |
| ITEM | SHOP | QUANTITY | PRICE |
| Juniper cardigan pattern | Jennifer Lauren Handmade | 1 | Déjà rentabilisé |
| Black & white gradient knit | Annaka Bazaar | 1 m | 11,20 € |
| Black bias | Petite Étoile | 1,20 m | 1,44 € |
| Buttons | Stock | 4  | 0 € |
| Thread | Stock | 0 | 0 € |
| Total | | | 12,64 € |
The pattern of the Juniper cropped cardigan
I have already done a review of this pattern with my test version in the purple knit. It's a must-have in the pattern library in my opinion, with a short version and a long version, a V-neck and hammer sleeves.
It is wearable both open or closed … on my version the first button doesn't want to remain closed but it ok.
The short version is particularly practical to match with high-waisted bottoms as it's the trend for some time … here, a skirt I'll talk about soon.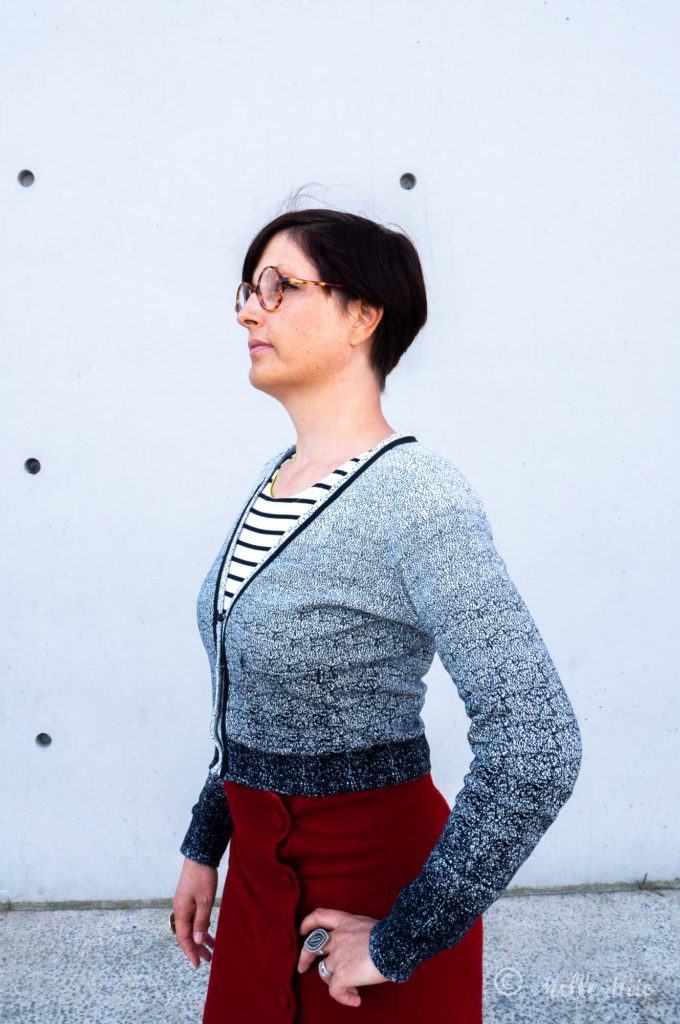 Let's talk 2 seconds about that beautiful jacquard jersey. Bought in sale at Annaka Bazaar, it is still available, but no more sale.
Very comfy and easy to sew, this fabric is sold in panels because of the gradient but with a very wide width… So, I had to pay attention to the placement of the pieces when I cut.
I'm happy with the result. The sleeves are aligned with the top of the bust and it was not easy.
The making and mods of the Juniper pattern
I fully assembled it with the overlocker except for some top stitching with my machine. It's a breeze.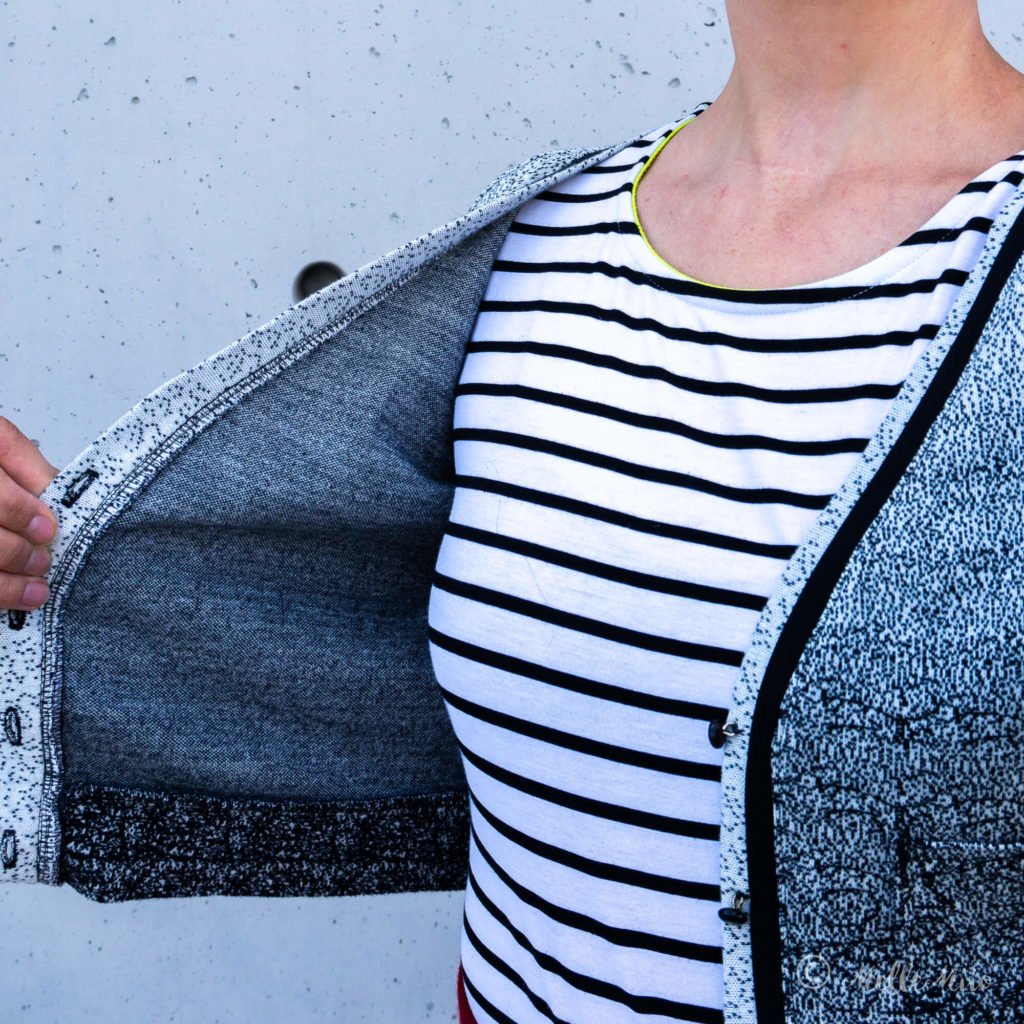 I added a bias on the neckband which has the double advantage of being decorative and to stabilize the band.
As this jersey doesn't have an excellent recovery (the elbow gets puffy at the end of a day to wear it – yes, have a look at the photos), it's not too bad to have a of stabilization on the neckband.
Another addition: a small patch pocket that looks like nothing but can save me to carry my phone or a handkerchief.
To sew a patch pocket on a knit fabric, I recommend the using some washable sticker tape. Like, the Wonder Tape or the equivalent at Clover. It holds the pocket in place to sew (like basting) and it stiffens it a bit to prevent the knit getting distorted during sewing.
A small photo zoomed on the hammer sleeve which is a variant of the raglan sleeve: a type of sleeve created for comfort.
To read: the very interesting article of Julien Scavini (tailor for men) on his blog Stiff Colar!
Final word about the Juniper cropped cardigan
This vest has become a basic of my wardrobe. I wear it regularly. It is easy to match and comfortable to wear. I think I will do others in the future because when sewing ease meets wearing convenience, it is inevitably a pattern to repeat!
Pin on Pinterest