Corduroy Wide Leg Pants (In The Folds • free pattern)
And these 2nd Peppermint trousers are the 2nd piece of my back to school outfit and yay I'm going to show you the pretty pumps! (but at the end)
So to give myself the best chance, I paired a nice pattern with a beautiful fabric and… MAGIC!  I have a nice soft, comfortable and discreet XD pair of trousers for my first day of school. 
All that's left is to write an article where I have many more photos than interesting things to tell…
| | | | |
| --- | --- | --- | --- |
| ITEM | BOUTIQUE | QUANTITÉ | PRIX |
| Wide Leg Pants free pattern | In The Folds x Peppermint | 1 | 0 € |
| Dormeuil 100% cotton corduroy | Sacrés Coupons | 1,50 m | 19,10 € |
| Fusible interfacing | Stock | 0,50 m | 0,50 € |
| Button | La Textilerie | 1 | 0,50 € |
| Zip  | La Réserve des Arts | 1 | 0,30 € |
| Thread | Fil 2000 | 1 | 1,50 € |
| Total | | | 21,90 € |
The wide-leg trouser pattern
And yes, because I already told you about this pattern…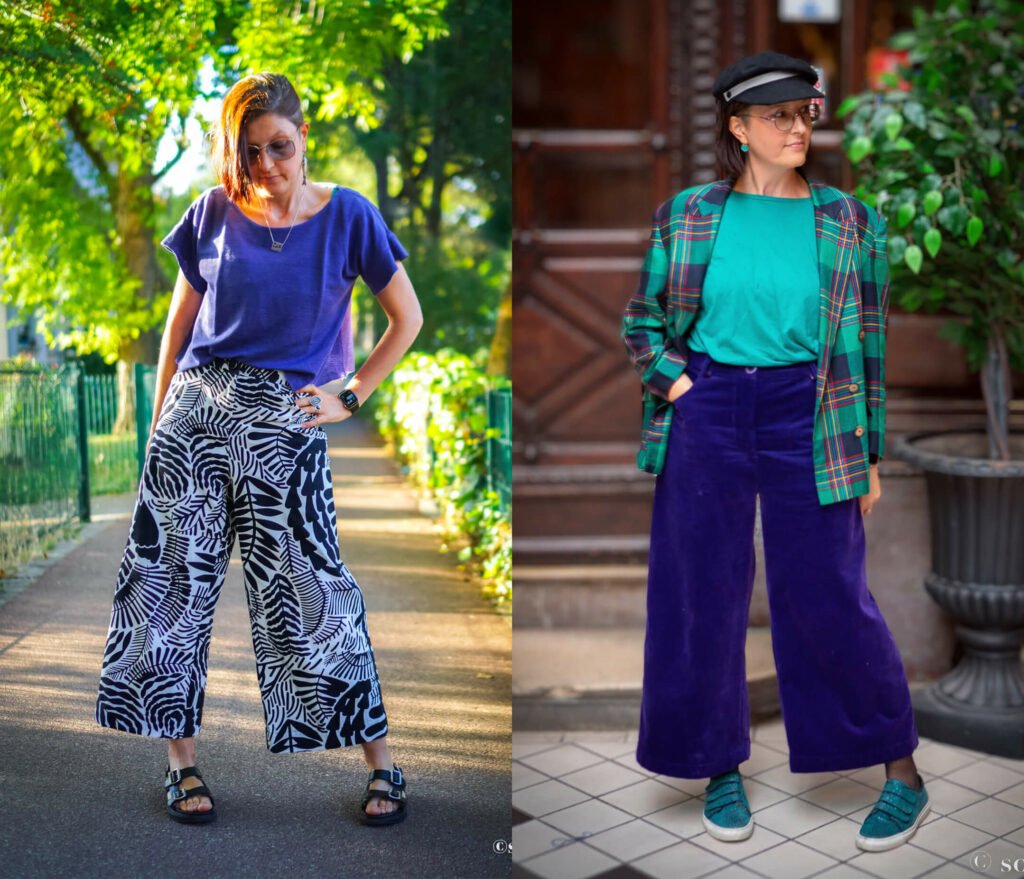 Selenz has found the answer to the mystery (bravo!) I posed to you last week: it's the Wide Leg Pants, a Peppermint x In The Folds pattern that you could see more or less stealthily on the Mandy Boat Tee photos. 
To her delight (or misfortune?!), she has therefore won a coffee with me next week! Wiiiii!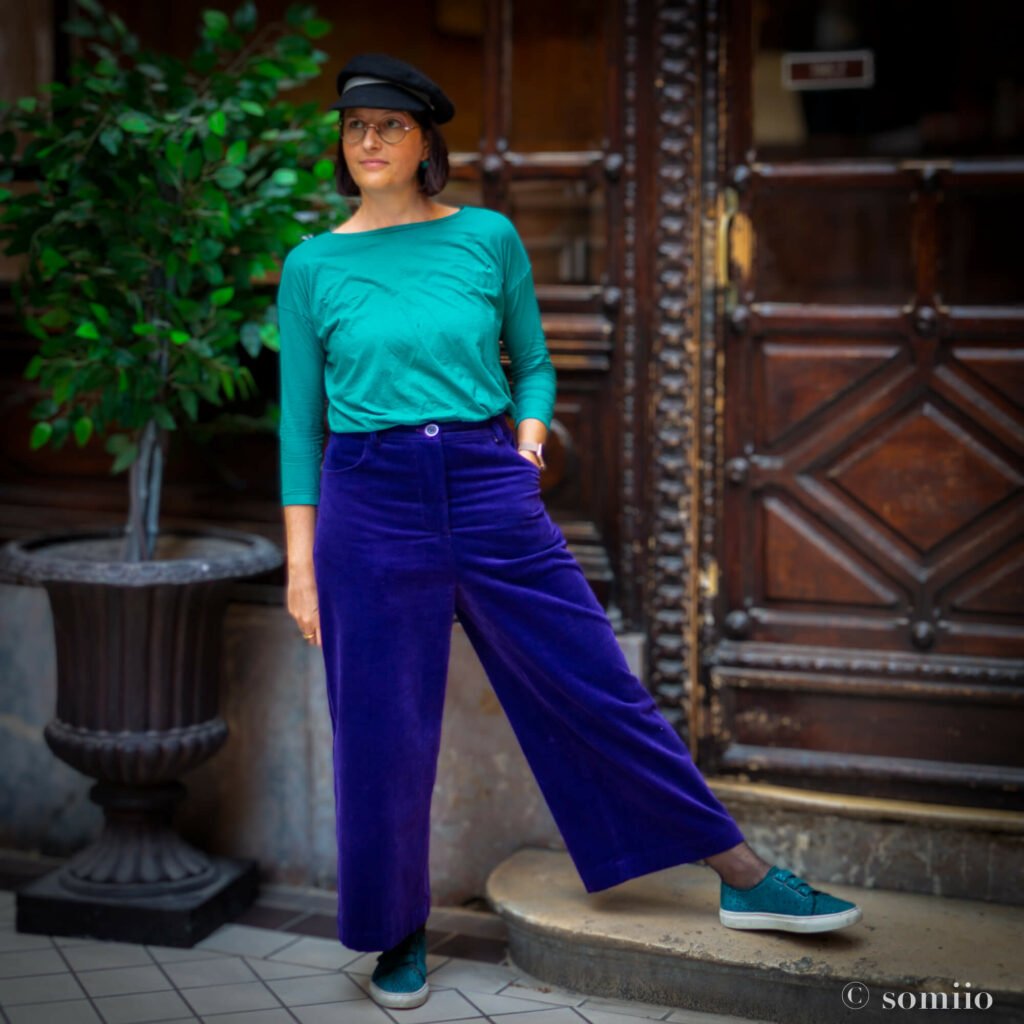 As this is the second time I'm sewing this pattern, I invite you to read the first article on my summer Wide Leg Pants… it saves me rambling.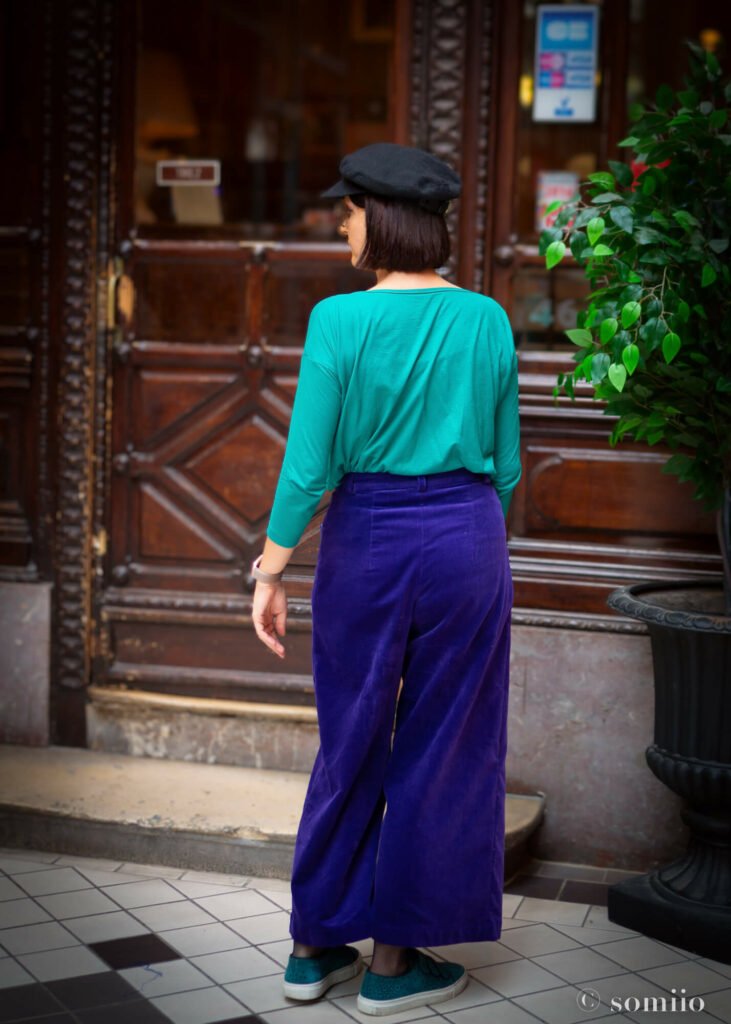 As you can see, my mishaps with the first one did NOT put me off the pattern at all.
On the contrary, I am so happy with the first one that I really wanted to sew a second one soon.
A pair of Dormeuil corduroy wide-legs trousers
As I was leaving the Annabel Winship shoe shop, I thought I'd have a look around, just to have a look (ha ha ha), at Sacrés Coupons.
In the tailor's department, I saw a 3m long purple velvet coupon from Dormeuil (the famous brand of Haute Couture tailor's fabrics, which is quite classic in normal circumstances) and it caught my eye.
I asked to cut it in half and there it was… the idea for the trousers.
Not only is this fabric beautiful, but it's also incredibly soft on the outside and inside. It makes the trousers as soft-soft as a flannel pajama.
Since I was there, I went further into the Sacrés Coupons knitwear & leather shop and came out with this very very emerald green 100% cotton jersey coupon.
And in my head, it was already clear that they would go together, hand in hand, to make up my back to school look.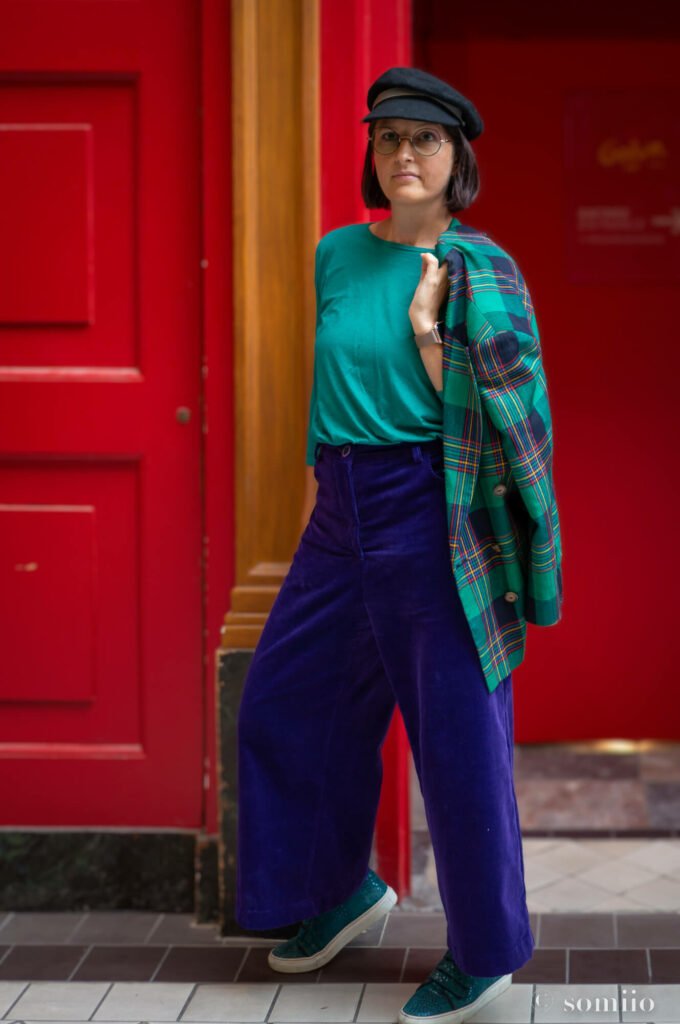 Sewing wide-leg corduroy trousers
After the misery of the first wide-leg pant, I had a pretty smooth experience with this one.
Basically, I was very careful not to use soluble thread for sewing and that was it!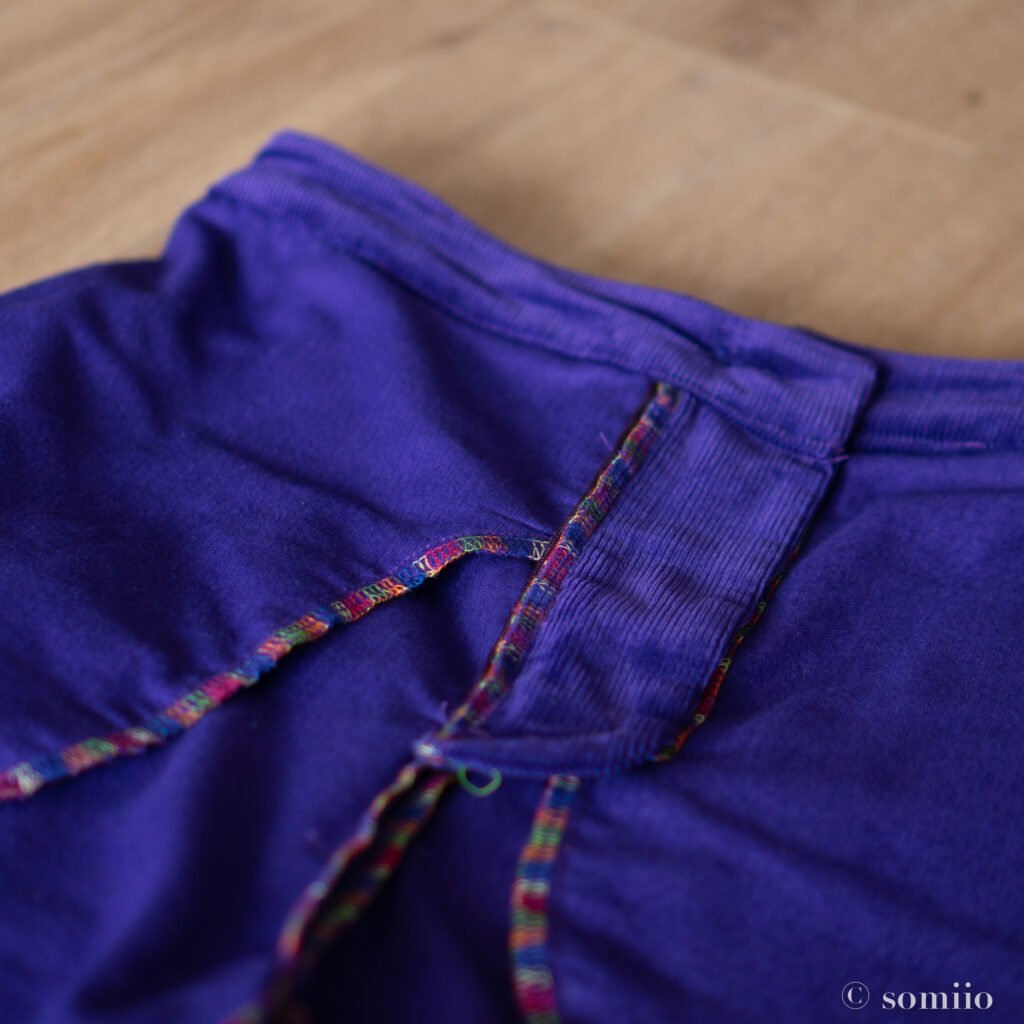 Instead, I used multicoloured thread to overlock the seams (also used for the Mandy Boat Tee).

There's no point. I know it's only me who sees it (well, and you there) but it makes me happy.
So I sewed it in size C without changing the size.
Velvet is a fabric that has a nap.
That is to say that it will not look the same depending on whether you follow the direction of the pile (lighter) or the direction of the nap (darker). To take advantage of the depth of the colour, I chose the nap.
It is also for this reason that you should make sure you have your brain wired before you cut the pieces of a pattern in velvet, so that you cut everything in the same direction, even if there is no obvious pattern to find your way.
Finally, I added 2cm to the side seam from the hip to the hem to emulate the addition of the black band from the previous version.
I like the fullness of the legs. You don't change a winning team.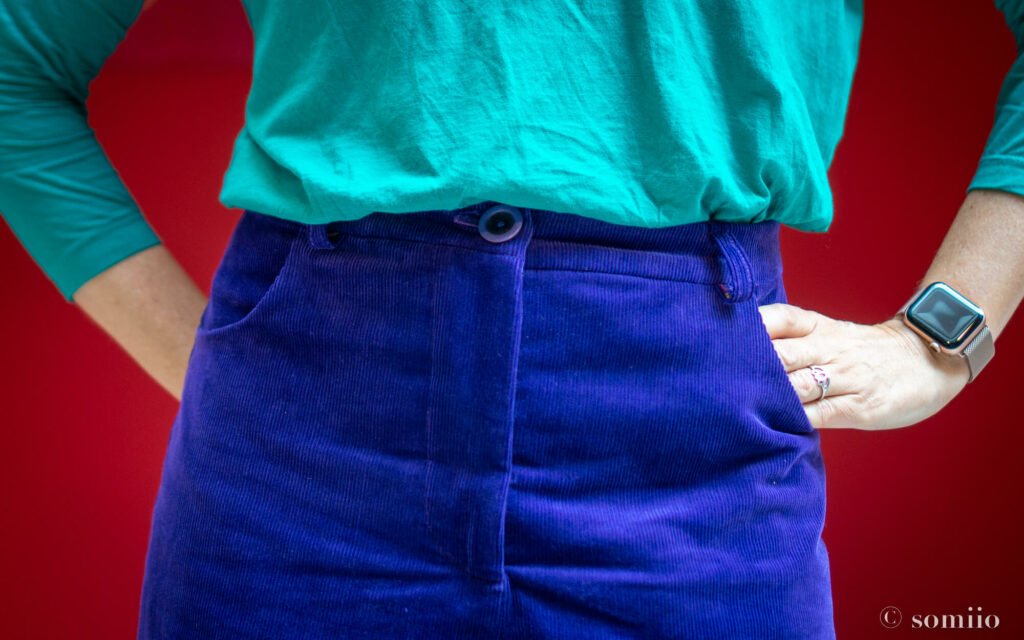 And that's it for the sewing, ladies and gentlemen, there's nothing to see, no nonsense to tell.
Muse pumps
However, by popular acclaim, here is a section dedicated to "pretty pumps". I didn't think this pair of shoes would generate so much curiosity! XD
So, by popular demand… here are the famous pumps: the Diabolik Turky by Annabel Winship.
This is a (BIG) splurge to congratulate myself on my new job.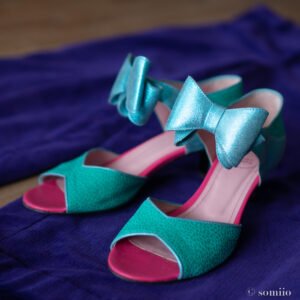 And so it was this "little pair" that inspired the whole outfit below.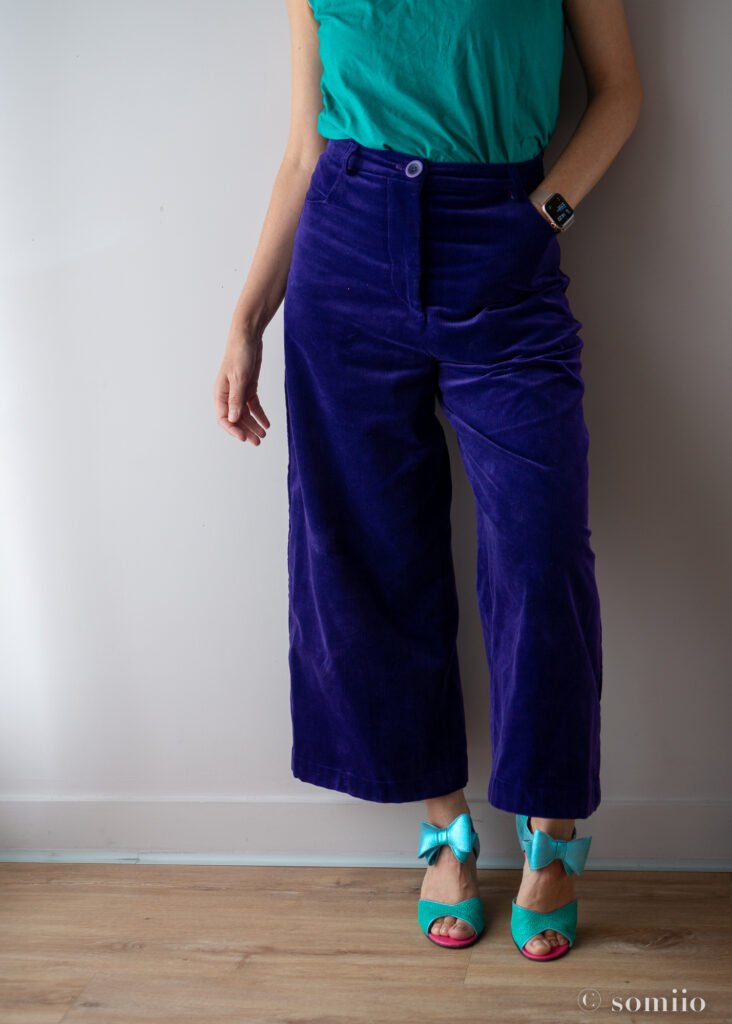 To finish, here's a little video with different looks with these wide velvet trousers. Might as well make the reels' work on Instagram worthwhile… even if with music it's better for the joke!
Bonus, you have the clothes in motion because, as a famous sailor sage from the 20th century said, "there's no point in imagining clothes if you can't do anything in them".
Conclusion
These wide-leg corduroy trousers are typically the kind of piece where I find that sewing makes the most sense.
I would never have found in a shop such a good match between the quality of the fabric, the cut previously tested and loved and my personal taste. 
In short, I love it, I like it, I adore it.
And of course I recommend the pattern which is so well explained and easy to make: a very pleasant sewing if you don't play the ball like me the first time.
Its only "flaw": it only exists in English… An opportunity to learn!
Next week, I'll tell you if Selenz is nice (of course!) and I don't know what else we'll talk about!
Save on Pinterest