Un Pietra Pants en ikat indigo (version B • Closet Core)
The Pietra Pants immediately caught my eye when it came out but I was quite hesitant to buy it. On the one hand, my pattern library is not exactly short of trouser patterns. On the other hand, as everyone has been raving about it (in the English-speaking sewing community at least), I've been a snob.
Because, yes, I'm a contradictory rebel and a bit of a loser like that… But since the pattern was really nice and my heart was terribly divided, I ended up betraying the cause of snobbery in May.
And as my wardrobe was in deficit of trousers in my size… So here is a short & boring account of a success story.
| | | | |
| --- | --- | --- | --- |
| ITEM | SHOP | QUANTITY | PRICE |
| Patron du Pietra Pants | Closet Core | 1 | 14,64 € |
| Coton ikat en 112 cm de laize | Itokri | 1,50 m | 20 € |
| Chutes de chambray | Stock | 0,50 m | 0 € |
| Thermocollant | Stock | 0,50 m | 0,50 € |
| Élastique 5 cm | Stock | 1 | 0,50€ |
| Fil | Stock | 1 | 0 € |
| Total | | | 35,64 € |
The Pietra Pants pattern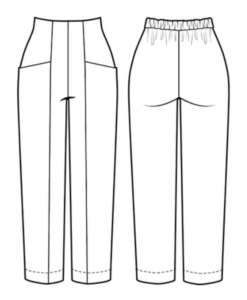 The Pietra Pants & Shorts pattern features a high waisted with a flat front and elasticated back. The legs are in three parts with a seam running down the front and pockets inserted in the side panels.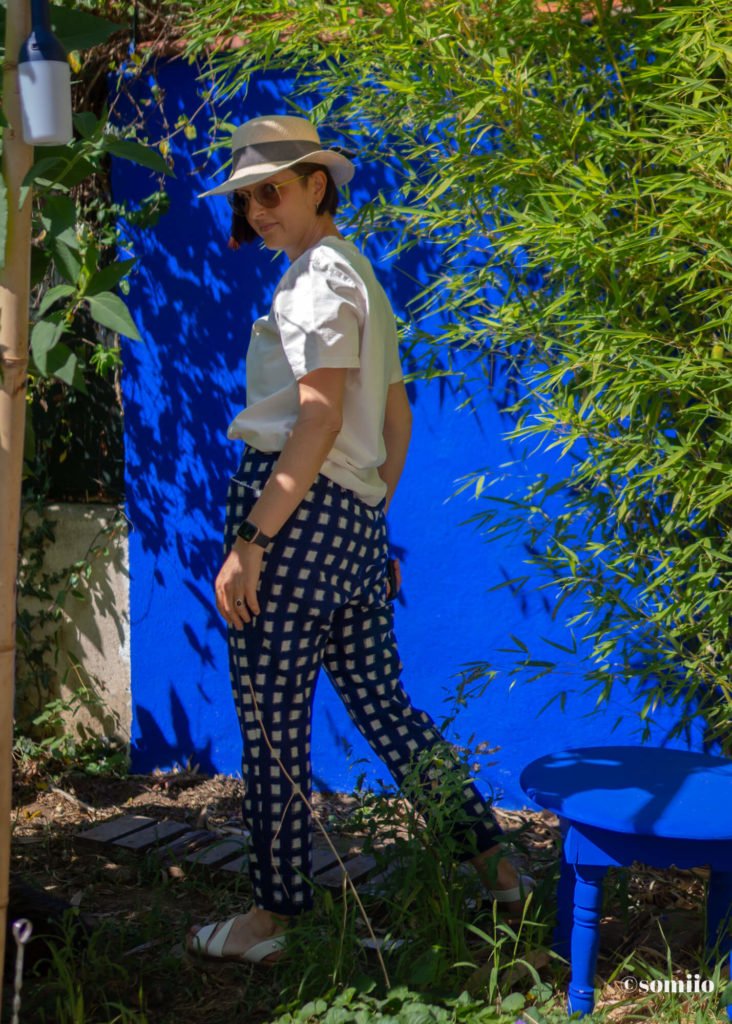 Four leg styles are available: version A with long or 3/4 wide legs, version B with straight and narrow legs, and version C which is a slightly flared short.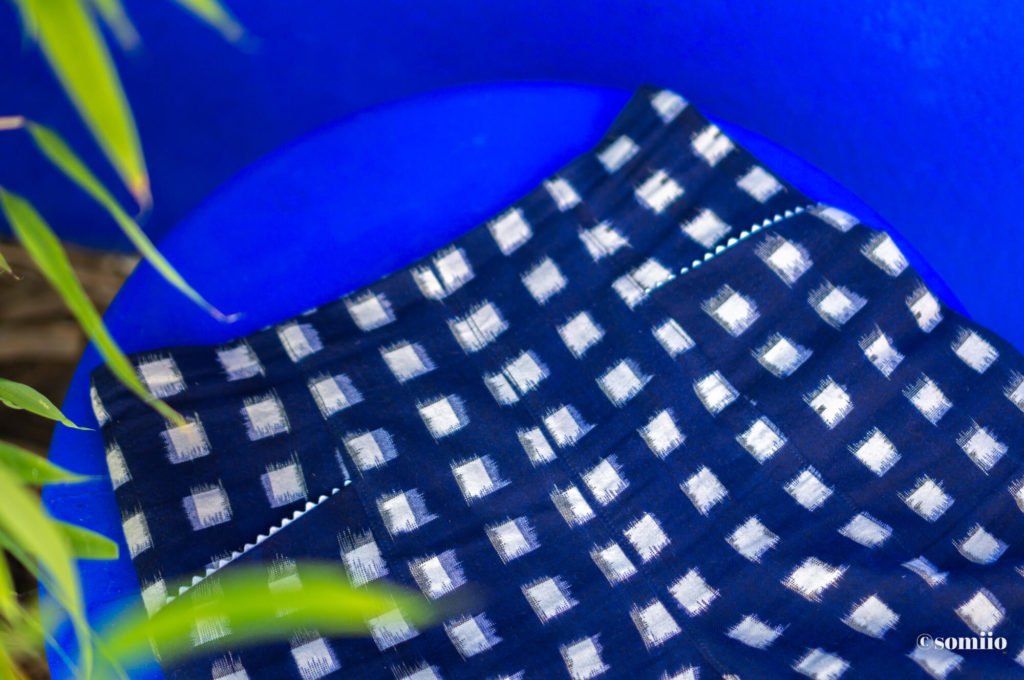 The Closet Core size range is very inclusive. The pattern is separated into 2 size sets: 0 to 20 (61 to 99 cm waist circumference) and 14 to 32 (89 to 134.5 cm waist circumference).
When you buy the PDF pattern, the 2 size sets are provided along with instructions in English and French.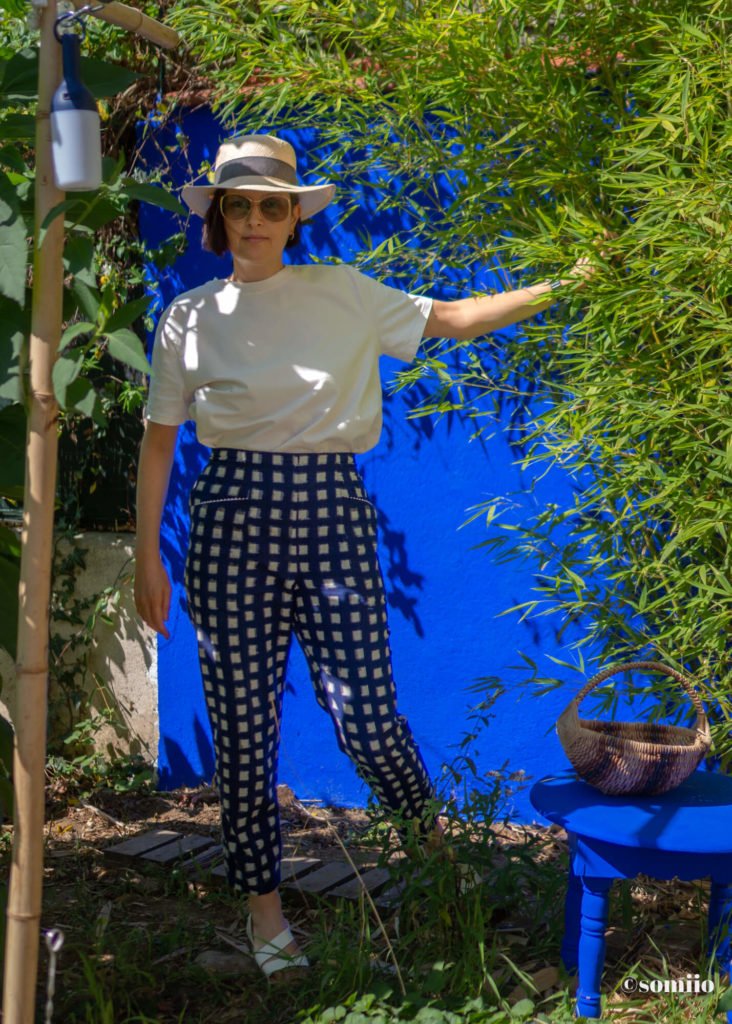 Closet Core's instructions are among the best on the home sewing market in terms of layout, quality of the illustrations and the always very intelligent flow of the steps.
Intermission: I know, this article is a bit of a bore to read… I'm close to falling asleep myself. But let me tell you, it's not easy-easy to make jokes about smooth travel and perfect patterns.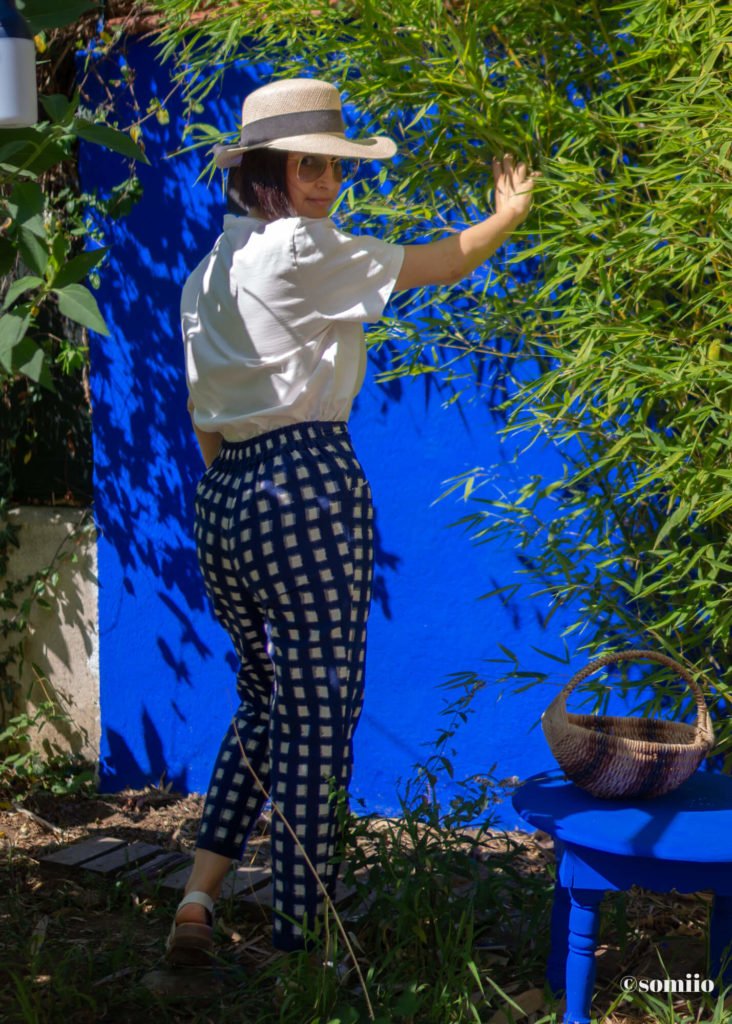 Of course, it contains all the information you could possibly need: measurements of the finished garment, the necessary measurements and cutting plans for each size, the parts to be covered, how to modify the pattern, measurements in cm and inches, etc.
Seam allowances are 1.6 cm unless otherwise stated, so please be careful.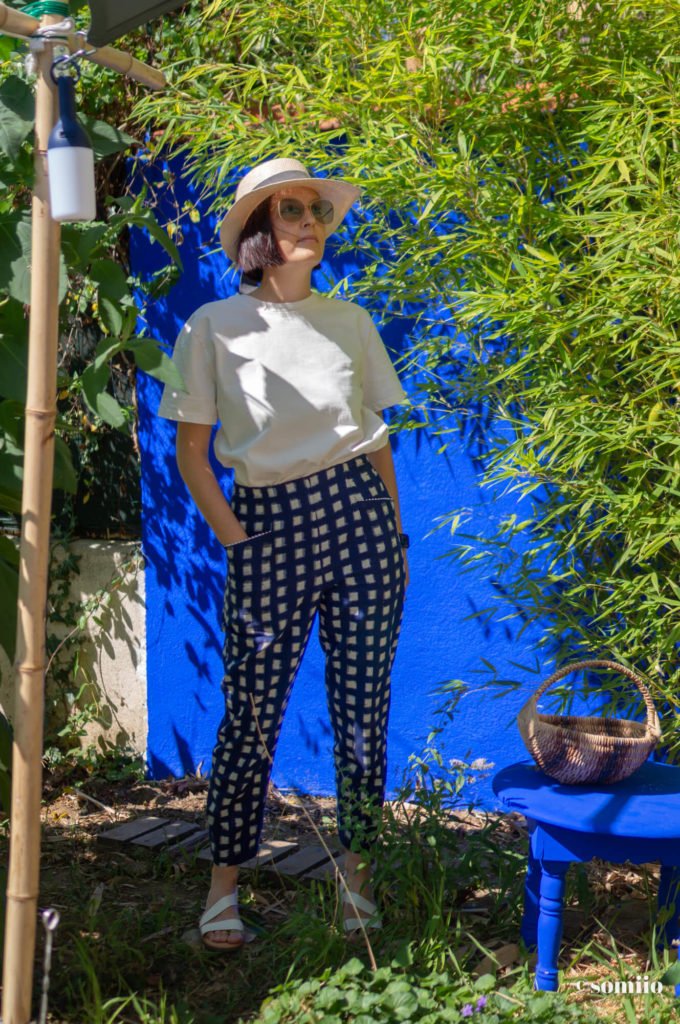 Sewing the Pietra Pants
Unlike the Wide Leg Pants, these trousers were a real walk in the park (even if I have to repeat that the Wide Leg Pants are in no way responsible for my difficulties).
It has to be said that they are also much easier to sew: no fly, no belt and there you go.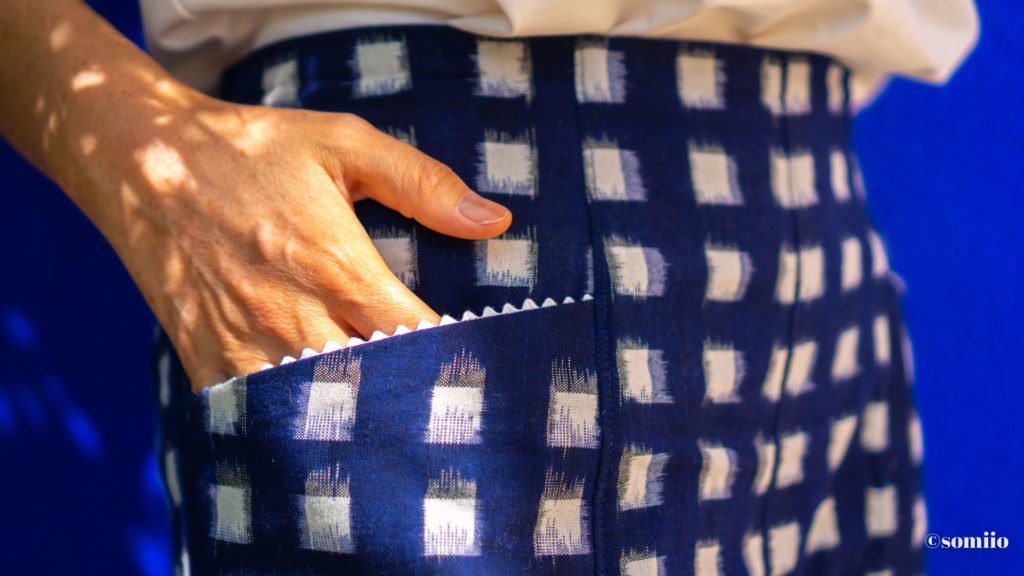 I sewed the size 6 without any modifications. I just added a little white croquet to underline the pockets.
And I managed to fit a lot of the pieces into my 1.5m x 1.12m coupon (instead of the recommended 2.25m x 1.15m).
For this purpose :
the front, back and side pieces were cut in the crossgrain (at 90° to the grainline)
the pocket piece F was divided in two to keep the visible part in the main fabric and the pocket bottom part in a scrap
the centre facing piece was also cut from a chambray scrap
For the rest, I was gently guided by the instructions and it is like a puzzle with numbered pieces age 5-8.
Easy and fast! It only took an afternoon!
Eventually, we could mention ONE difficulty: the belt.
It's not really that complicated, it's more about making sure you're doing something clean.
But as you can see from the photo below, the pattern has everything in place for a beautiful finish.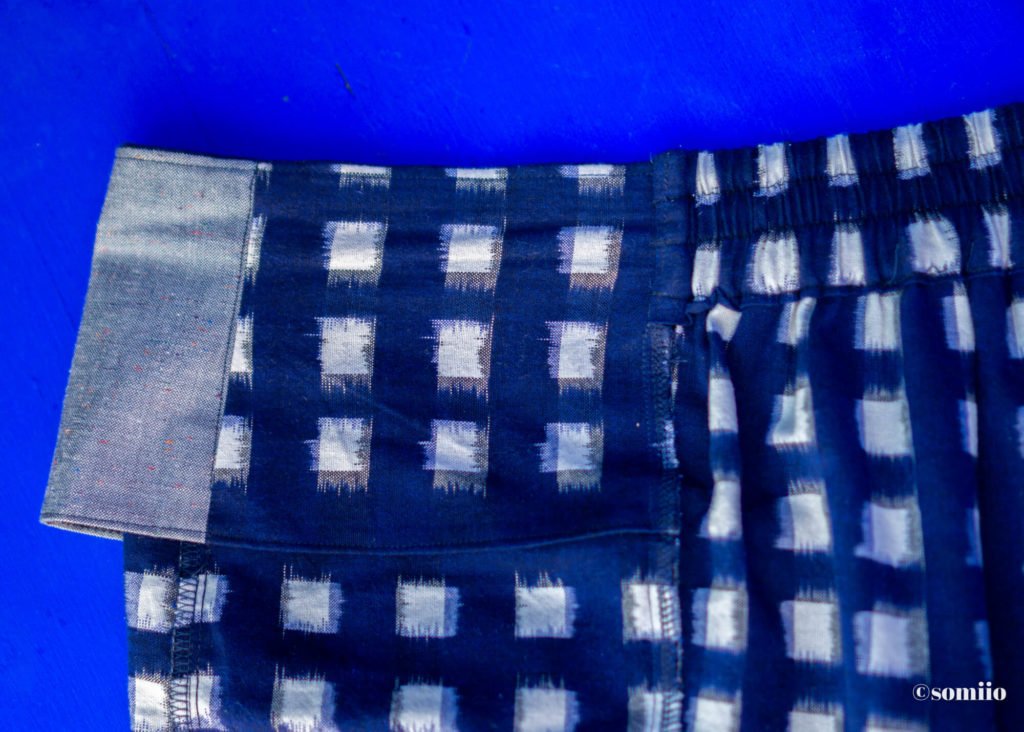 On the front side, the seams were topstitched, on the back side, the inside seams were simply overlocked.
Hey, at the same time, I also bought a serger so I don't have to do French seams or flat felled seams every time!
The high, interfaced front smooth out the tummy and ensure a sleeker silhouette.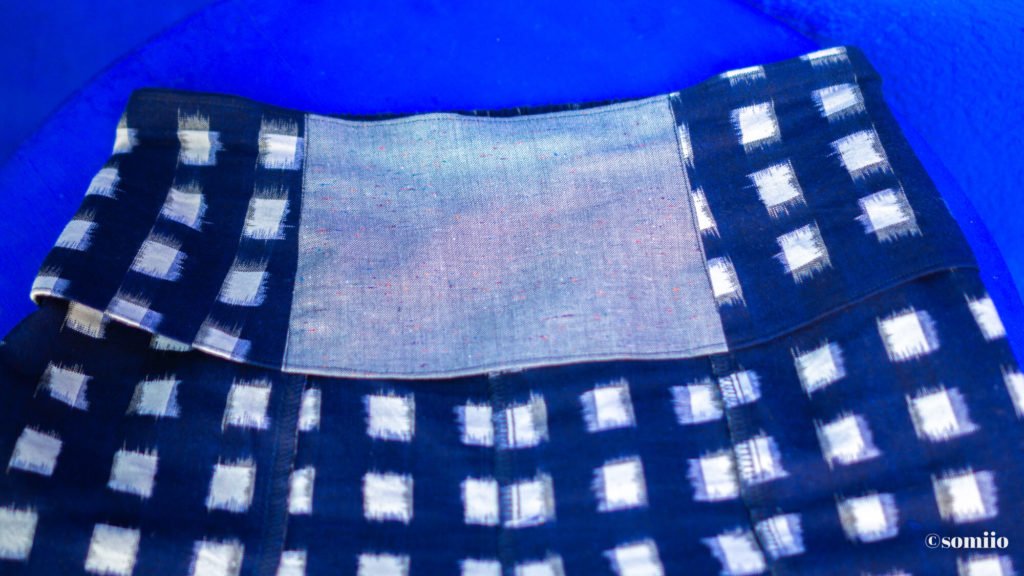 Conclusion
I like these trousers very much but I have a major problem: they only go really well with white tops. I have exactly 2 white shirts, one of which was given to me by my sister, to whom I shared this problem.
Yes, yes, laugh, but as soon as I wear white, I find myself facing spaghetti bolognese against my will and it's a disaster. Anyway, I'm not happy about it.
Anyway, it bothers me because trousers should be able to be matched with more colours. And who says blue trousers don't go with anything?!
Let's say it's an opportunity to sew some more… By the way, I already have a short version all cut out and ready to go under the machine 🙂
Then we should be done with the trousers for a while and vary the menu a bit. Come on, kisses!
Save on Pinterest