Le top Paddington (French Navy x Peppermint • patron gratuit)
The Paddington top caught my eye right away when it came out. It had it all: it's a free pattern, from a collaboration with French Navy that I like, with huge trendy raglan sleeves and looks easy to sew. Like fingers in the nose. Pif, not, poof.
Note that the important part here is "looks".
That said, it took me another 6 months to get into it, so I guess I can't really change!
Interview in Thread & Neddles
Please apologize for a momentary interruption of the program
Today was published an interview of myself by the dear @Sunshine of the Thread & Neddles website and forum.
I tell you about my life, my style, my inspirations and my (maybe) future projects.
I wanted to thank you all, my readers for their comments there or here on this blog. It always warms my heart to read them. It really does. I follow my traffic statistics, but between the numbers and the words, there is no difference!
So kisses to all of you and let's get back to the point!
Let's get back to our usual program
The Paddington top pattern
The Paddington top is a loose blouse buttoned at the back, without darts, with raglan puffed sleeves above the elbow (contrary to what the technical drawing might suggest) and tightened by an elastic in a channel.
The Paddington top pattern was drafted for last May in the 50th issue of the Australian magazine Peppermint.
This magazine is a great one to follow as it collaborates every issue with a pattern designer to offer a free pattern.
Generally, these patterns are of excellent quality since they do not collaborate with just anyone. You can find :
Originally, the Paddington top was intended to de-stress me from a failure on the Black Beauty Bra. Ah ah.
[Note: I thought I had reached my goal for an underwire bra, but no. I'll continue my work to fit an underwire bra when I stabilize my changing size right now].
On paper, the Paddington top seems really perfect for beginners or for a "relaxing couture spa".
However, behind its innocent look, this little blouse presents 2-3 difficulties:
topstitching the facing on a curve
sewing of the elastic channel on a big curve very difficult to resorb
the button placket and its famous buttonholes
Finally, the wide range of sizes goes from 82 cm to 128 cm bust measurement.
Sewing the Paddington top
In your opinion, did I make any changes?
Yes.
The back button placket
First, to make my life easier, I removed the button placket from the back. To do this, just cut on the fold by removing the value of the button placket itself.
My head goes through, no worries.
Sleeves: +4 cm
Then, I lengthened the sleeve by 4 cm to make it go under the elbow using the tutorial provided by Peppermint. Well hey, it's fall anyway!
This tutorial also proposes to make a sleeve bracelet but…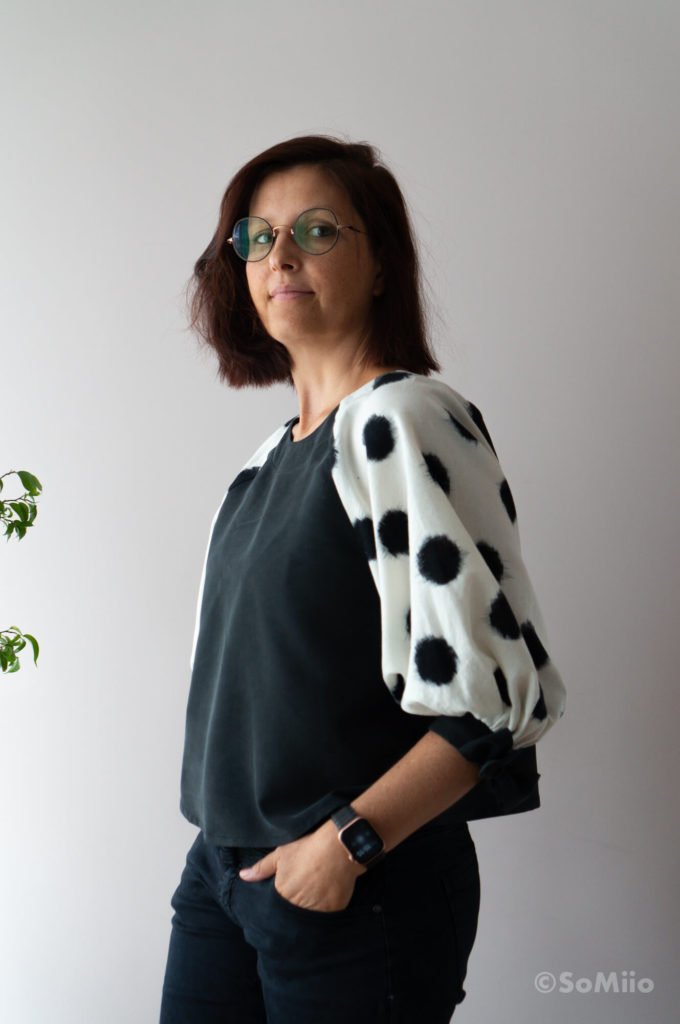 The bottom of the sleeves
…I still tried to create the channel originally planned in the pattern to insert an elastic. No luck.
The designer clearly warns that there will be blood, sweat and tears to create this channel x 2. And boy, did it.

She also warns that mildly perfectionistic people will probably have a hard time with the inevitable puckers (or micro-pinches) on the channel.
You bet. Very difficult indeed, darling.
I finally threw in the towel after 2 days of desperation and switched to the sleeve bracelet version suggested by the tutorial.
But I still added my touch by creating openings (big buttonholes actually) to allow me to pass a tie and make a nice bow.
Finally, I couldn't get what I wanted with the tie, so I used the Fleming Bow Tie pattern from Les Patronnes.
And that's it!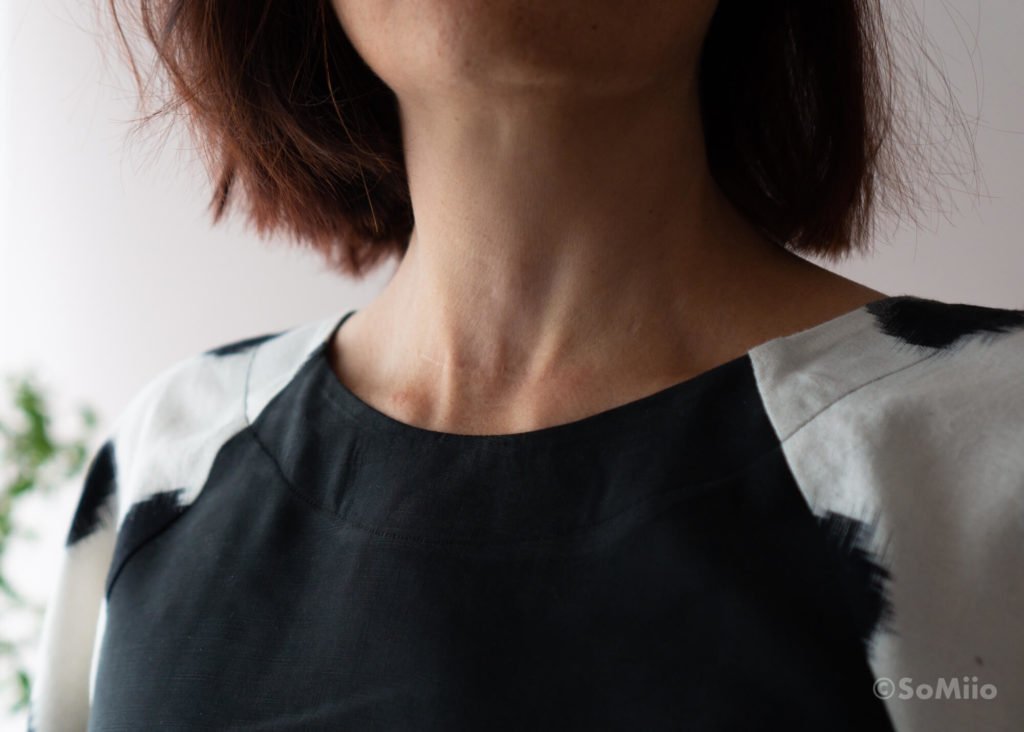 The topstitched facing
Finally, the neckline facing also decided to be a pain in the ass.
To begin with, it had to be notched at the shoulders to sit properly. Like a dart in fact. You can see it slightly on the picture below.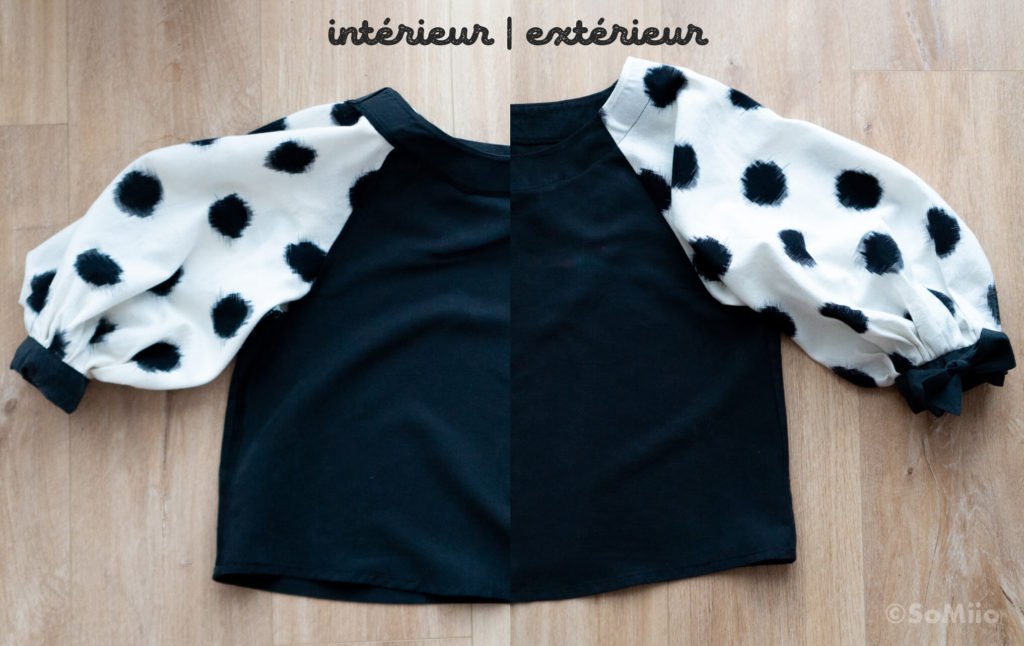 I also had to do it 3 times to get a clean topstitching that takes all the layers properly.
Topstitching on the facing is always difficult to get a clean result on the right side AND that takes all the facing in the seam on the wrong side.
Conclusion
As far as "an easy, quick and relaxing sewing project" is concerned, it's a flop.
In terms of style, class and comfort, we are at the top of the happiness dear readers!
Honestly, I am absolutely delighted with the result. The proportions of this Paddington top are perfect. It will certainly be worn a lot.
Will it be sewn up? As a summer dress maybe, or as a Christmas gift if anyone is interested?
Save on Pinterest