Quilted Duffle Bag (free-pattern • Sew4Home)
The Quilted Duffle Bag is a need I have often felt when going on holiday where my small carry-on suitcase was often too small.
But it's either that or my mega backpack. Class in Dallas.
On the other hand, a big suitcase is not an option either. I have a policy of not taking a suitcase that I can't lift. So, better 2 bags, or a bag and a suitcase, than one heavy suitcase.
Anyway. I had to sew the Quilted Duffle Bag to complete my suitcase. A necessary necessity I tell you.
| | | | |
| --- | --- | --- | --- |
| ITEM | SHOP | QUANTITY | PRICE |
| Quilted Duffle Bag free pattern | Sew4Home | 1 | 0 € |
| Striped cotton upholstery fabric | Stock | 1 m | 0 € |
| Geometric cotton canvas (remnants) | Stock | 0,40 m | 0 € |
| Yellow cotton cloth (remnants) | Mondial Tissu | 1 m | 0 € |
| Green cotton poplin (remnants) | Stock | 0,30 m | 0 € |
| Iron-on fleece | Rascol | 1 m | 11,40 € |
| Pink piping | Aliexpress | 4,5 m | 2,28 € |
| Pink webbing | Rascol | 3 m | 5,97 € |
| Pink bias | Stock | 3 m | 0 € |
| Upcycled zip | Stock | 1 | 0 € |
| Gold rings & snaphooks | Aliexpress | | 6,50 € |
| Magnetic closures | Aliexpress | 2 | 0,20 € |
| Thread | Stock | 1 | 0 € |
| Total | | | 26,35 € |
The Quilted Duffle Bag free pattern
The Quilted Duffle Bag is a travel bag designed to fit over the handle of a wheeled suitcase and extend the carrying capacity.
This bag also has carrying handles, an adjustable and removable 1.50 m shoulder strap, a generous front pocket closed by two magnetic buttons…
…and patch pockets on the inside for the mess.
The Quilted Duffle Bag measures approximately 30.5cm high x 46cm wide, with a bottom and sides of 21cm. 
Clearly, the size is generous, almost equivalent to 3/4 of the suitcase I would say.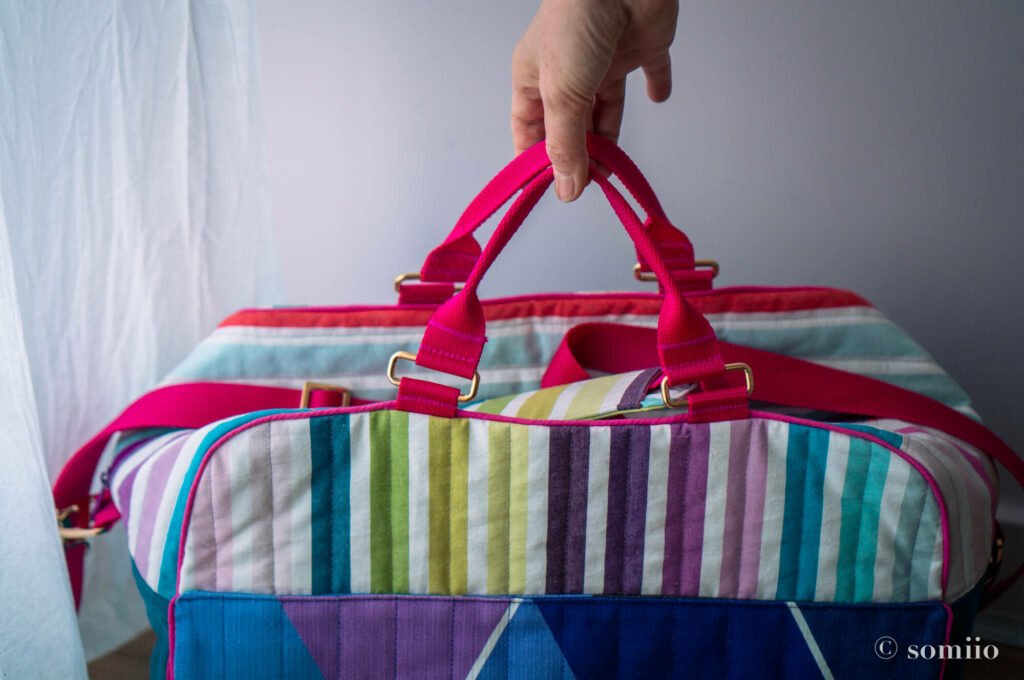 The suitcase handle sleeve is approximately 20cm wide, which fits most suitcase handles with wheels. The sides of the case also have two handy outside pockets.
The pattern is in English on an American website with all measurements in inches. The sewing margins are therefore 1/2 " or 1.2 cm.
And I also used Sacôtin's shoulder strap pattern to make the shoulder strap more comfortable.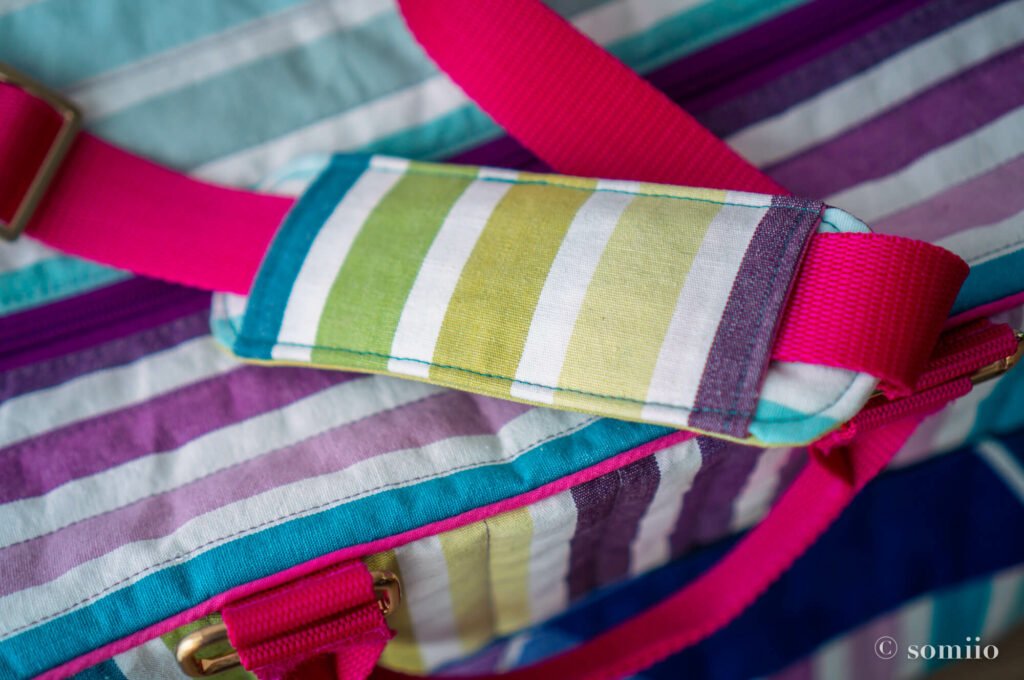 Sewing the Quilted Duffle Bag
Just as my suitcase is red so that I can spot it easily, this bag was sewn in a bright and colourful harmony so that it would not go unnoticed. So I dipped into my stock of colourful fabric remnants again.
Personally, I create a small pdf for myself to keep in my archives, but everyone has their own little obsessions.
As you may have noticed in the supply chart, the Quilted Duffle Bag requires a certain amount of specific yet essential equipment: interfacing fusible fleece, rings, carabiners, webbing, etc.
The sewing itself does not contain any technical points but as always with bags, the difficulty lies in managing curves, corners and thicknesses.
Otherwise, of course, it takes a little time to sew since you have to start quilting the large pieces.
Finishing inside seam allowances with bias is probably one of the hardest steps to get a clean result, with all the sewn bag embarrassing you at every turn you make on the machine.
But remember, no one is going to check these seams with a magnifying glass…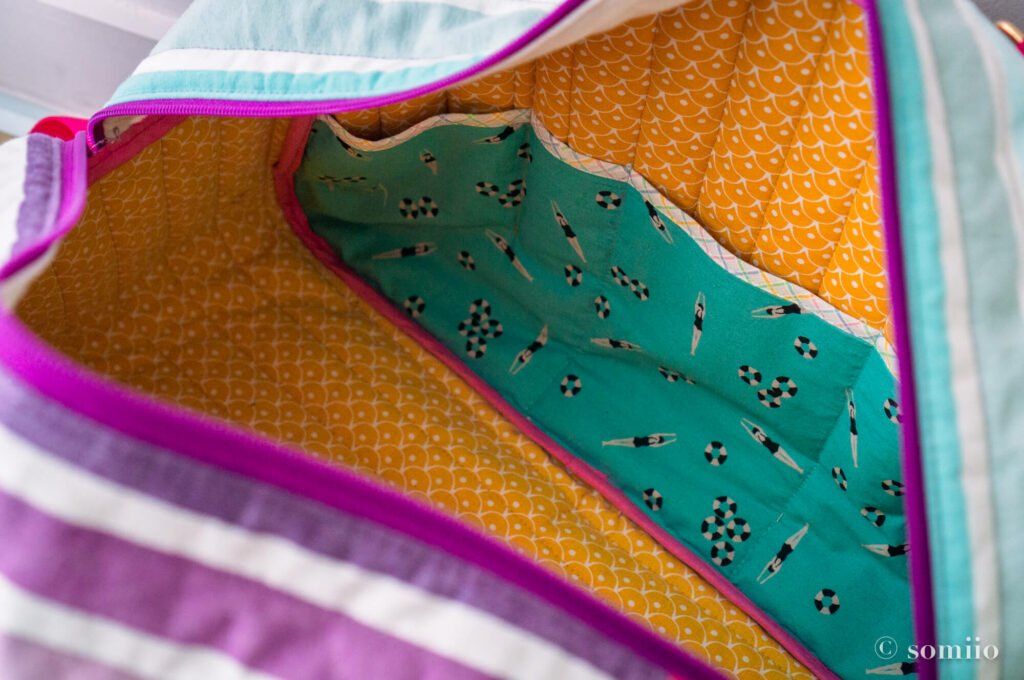 Conclusion
I am very happy with this Quilted Duffle Bag. The pattern, the dimensions of the finished bag and the explanations are really great!
And I must admit, I love the colours and the combination of these colourful and cheerful fabrics.
I was really pleasantly surprised by the quality of the step-by-step instructions for assembling the bag. With free tutorials, it's always Russian roulette but this one is worth a shot.
I was supposed to take it out this weekend to go to the Thread and Neddles meetings but the covid got in the way (༎ຶ⌑༎ຶ) (⋟﹏⋞)
I am disgusted in more ways than one and hope to have another opportunity to meet my fellow seamstresses in not too long. Think of me!