Shacket Ingrid (Vikisews): Christmas edition
The Ingrid shacket is a Christmas project, arrived totally out of order in Santa's workshop todo-list.
Having learned that my niece was freezing when going to school, in need of a coat, and knowing what she was longing for since I follow her on Instagram, I took the plunge… and warned her that I would probably not be in time for Christmas.
All that was left was to find the pattern and especially the fabric for this non-little person (she's outgrowing me!) who has very specific tastes.
| | | | |
| --- | --- | --- | --- |
| ITEM | SHOP | PRICE | QUANTITY |
| Shacket Ingrid PDF pattern (in russian) | Vikisews | 1 | 3,42 € |
| Black wool twill coating | Tissus de Rêve | 1,2 m | 14,90 € |
| Wool flannel with red & black checks | Tissus de Rêve | 1 m | 9,90 € |
| Black wool (remnant) | Tissus de Rêve | 1 m | 0 € |
| Wool check (V9288 cape remnant) | Tissus.net | 1 m | 0 € |
| Polyester lining | ? | 2 m | 8 € |
| Black pearly buttons | La Réserve des Arts | 5 | 1 € |
| Black buttons | My sister stash | 5 | 0 € |
| Thick fusible interfacing | Fil 2000 | 2 m | 6 € |
| Thread | Stock | 0 | 0 € |
| Total | | | 37,22 € |
The Ingrid shacket pattern
Hop, pim-pam-poum, a search on the internet later and I had the pattern. The coat, or rather the Ingrid shacket (jacket+ shirt) is a pattern from Vikisews, a Russian pattern brand.
The Ingrid shacket is a fully lined coat with the style of an overshirt with dropped shoulders.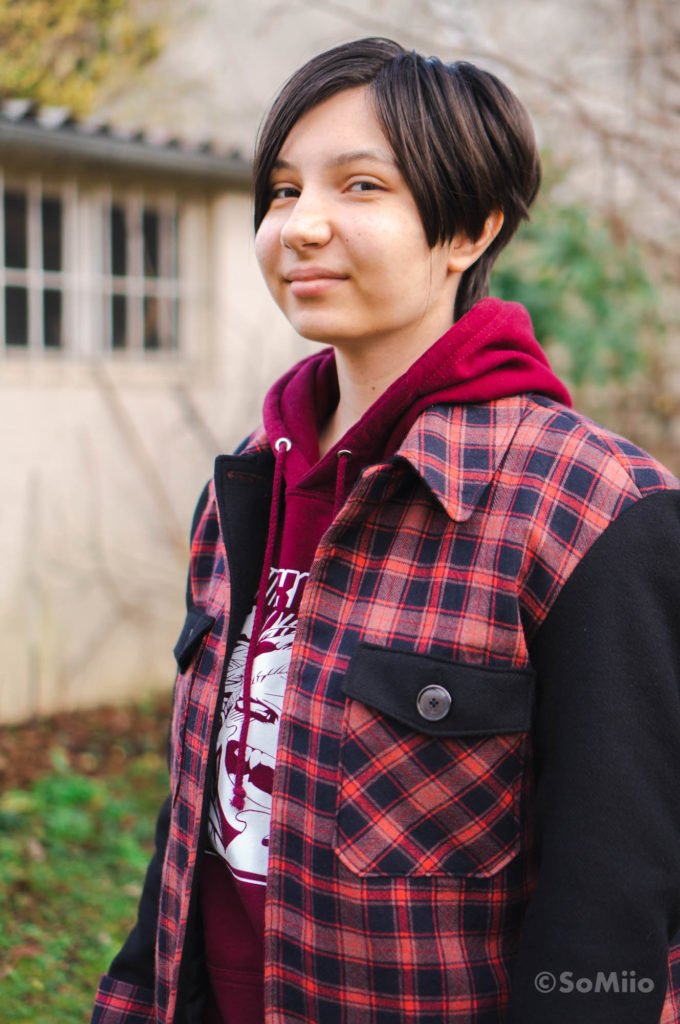 If the coat has the style of a shirt, in the pattern it is a real coat pattern with different pieces for the top and bottom of the collar, hem and placket facings and even for the lining of the patch pockets.
Vikisews started to translate its patterns into English, and at the same time aligned itself with the European prices.
Once a cheapskate, always a cheapskate, I bought the Russian version, thinking I could translate the explanations.
But the Russian Vikisews PDF patterns are copy and paste protected for translation.
Oh, you can copy, but when you paste, you don't have Russian anymore, but weird special characters. So it's no longer a translatable language but gibberish. Nice.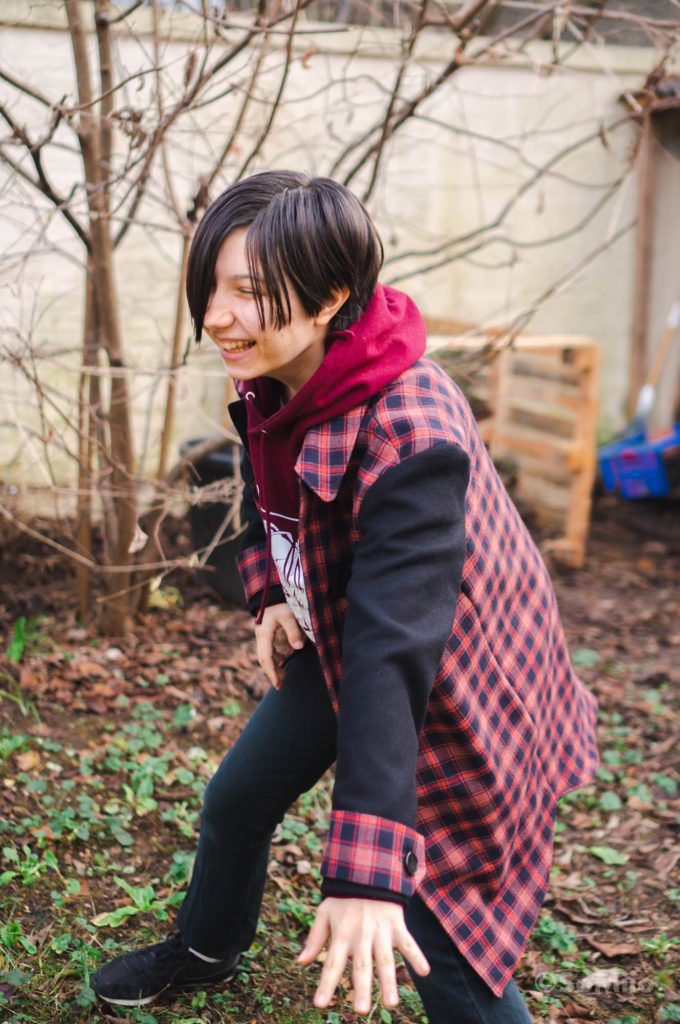 Ah, feint but counterfeit on my part: I turned the pages (of the points that questioned me the most) into images and used a translator that takes images as input. Na.
In reality, it takes time and it's not very practical but it helps.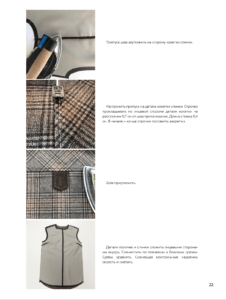 Fortunately, the explanations are illustrated with very professional photos and enhanced by including a few lines to show the seams.
From what I could see, these explanations are really complete, with a comprehensive and generic booklet on pattern adjustments that may be necessary.
There are also indications of where to insert and stabilize the seams: armholes, neckline, collar, shoulders, side seams, sleeve heads, etc. Just about everywhere!
And there are even instructions on what, when and how to iron.
Sewing of the Ingrid shacket
Where I had to cheat again, it was for the fabric. Because my niece has a particular (and I hope not too fleeting) passion for red & black checks.
After scouring a relatively large number of fabric store websites, the best match was this wool flannel at Tissus de Rêve.
So I knew that flannel was not the best choice.
However, I absolutely wanted 60 to 100% wool content so the fabric wouldn't go pilling after 2 hours. And also because I wanted her to be warm. And it was her favorite.
In the end, not only the flannel was definitely too thin but there was only one meter of it left. Anguish.
I completed with 1,20 m of black wool twill and I crossed my fingers hard on my hands and feet.
The idea was to use fusible interfacing AND interlining on the flannel for the bust and using the sleeves & other facings in the beautiful thick black wool.
And guess what? It worked.
So yes, there's not much left of the flannel but it worked.
However, as the flannel was distorting quite a bit, I cut the front and back pieces in the fusible interfacing that I carefully pinned onto the flannel to "straighten" it. I was more or less successful since on one side my seams are OK, and on the other side they are not.
How come? → Mystery. 
But the back & collar, the most visible, are matchy-matchy.
Then you have to fusible interface everything else too, all the other parts.
It's a bit long.
OK, so with the woolly fusible interfacing, we have a first layer.
And I added a second layer – or rather an interlining, as it's called – with leftover wool drape.
At first, I tried to assemble with a double-sided woven fusible interfacing found at Fil 2000. Total failure. Then I tried with hemming tape. Failure again.
Finally, I assembled with large herringbone stitches, like tailor interfacing. But more complicated to do invisibly because the flannel is thin.
It's also a bit long.
I even flattened over the open darts with a catchstitch to get a neat result on the outside.
Because there comes a time, why count the time.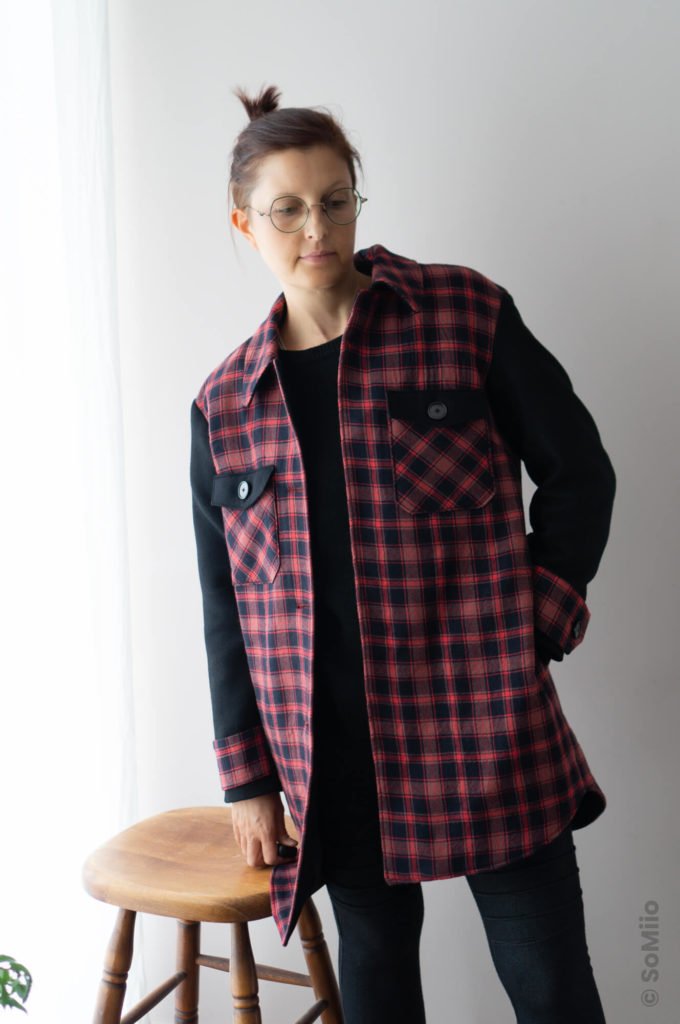 Now, did I change the pattern? Of course you did!
To add pockets? Bingo!
I added 2 pockets in the side seams and an inside pocket specially cut for a phone.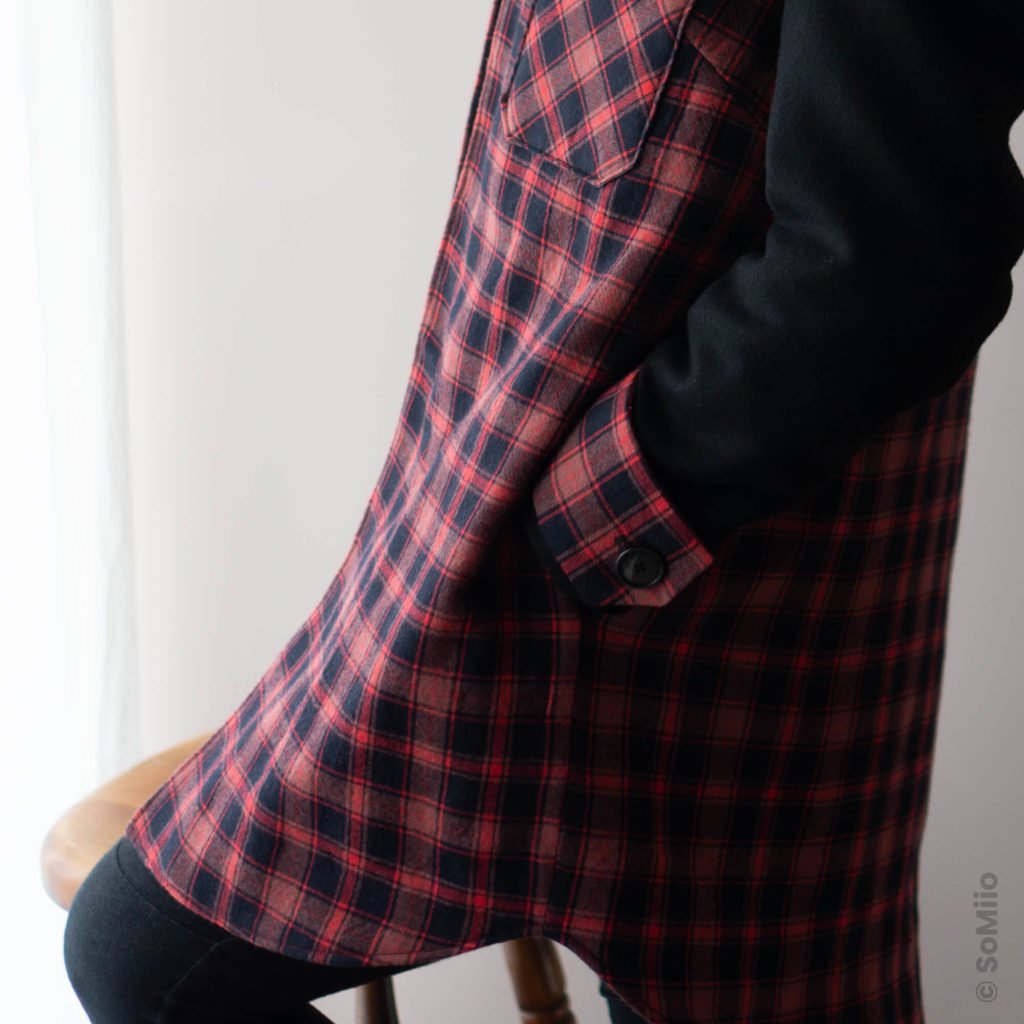 The side pockets are finally too far back to be really comfortable but they will hold a handkerchief and a pair of gloves without problem.
They are also made in the rules of art with pocket linings and all.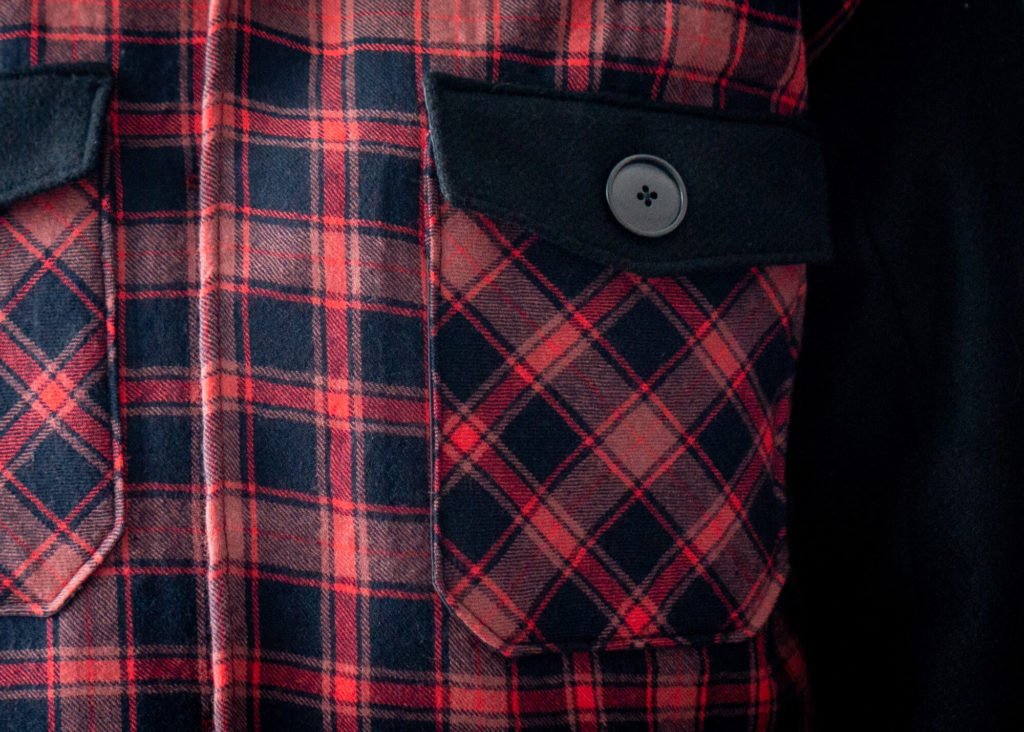 The patch pockets were cut on the bias because I didn't have enough to match the pattern (and not to bother either). They are totally functional and lined in a very well drafted pattern.
And also, why put patch pocket if it's to hide them in the pattern?
The pattern also includes some nice details with the little back tab and the tabs on the sleeves.
Finally, there is still the lining to attach, the hem and placket facings to catchstitch, the buttonholes to make and the buttons to sew.
The buttonholes aren't that great, but they're okay for the untrained eye.
I finished sewing the buttons directly at my sister's house, and I even dipped into her stock since I needed 10 when I had 5…
And my niece got her Ingrid Shacket 1 week AFTER Christmas, just before the cold weather hit us.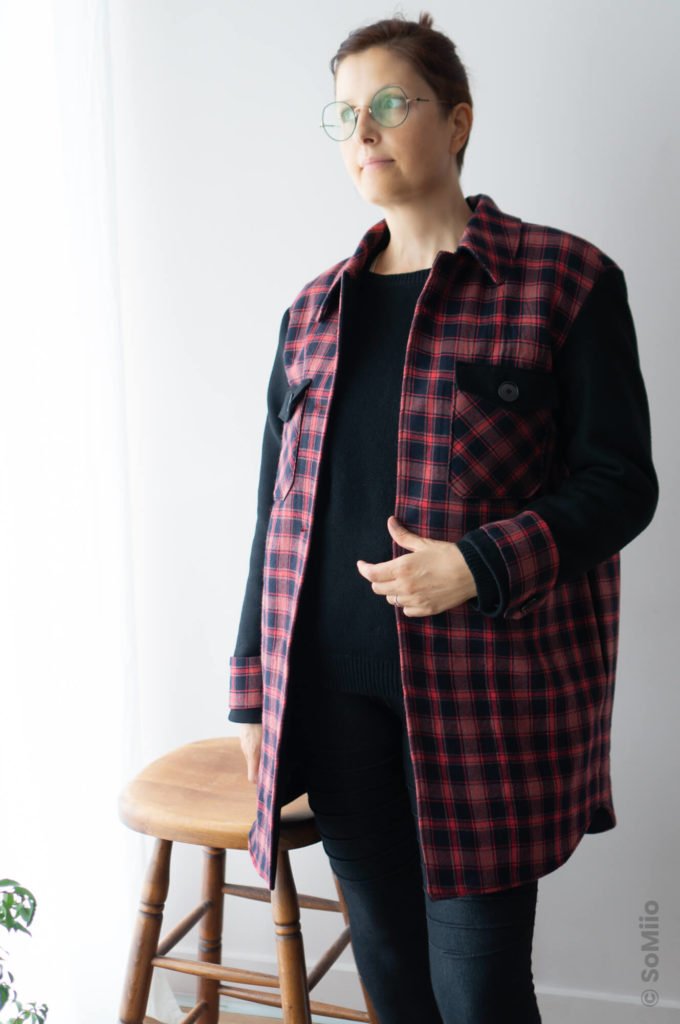 Conclusion
In the end, having a deadline (even a missed one) motivated me to finish this challenge project as soon as possible. Even if I admit that I was a bit fed up at the end. Like the last month of a pregnancy: "Nah, it's nice but I can't wait for it to be over".
But I'm proud of myself and the shacket.
And the recipient loves it, which is an important detail too 😉
I am very favorably impressed by the quality of Vikisews' pattern: drafting & explanations really take us on the path to a high level of realization.
I had hesitated for a while with the Rya overshirt from Fibremood and I don't regret my choice. The Fibremood pattern is not lined and I'm sure the pattern is not as thorough in its drafting and finishing explanations.
So there you go! Next week's program: we continue on the Christmas gifts.
Save on Pinterest