I AM Sunshine jeans: slouchy pants (I AM Patterns)
The purchase of the I AM Sunshine jeans, for once, was a direct result of the influence of a fashion influencer.
Usually, my slight spirit of contradiction takes directly in reverse any attempt to make me adopt a trend. Especially when it's a cool girl who's showing off and suggesting it to me.
But there you go. The confession is made. I've climbed on the slouchy trousers or balloon trend wagon.
| | | | |
| --- | --- | --- | --- |
| ITEM | BOUTIQUE | QUANTITÉ | PRIX |
| Patron du jean I AM Sunshine | Mamzelle Fourmi | 1 | 15,00 € |
| Denim brut | Les Coupons de Saint-Pierre | 1,50 m | 7,50 € |
| Viscose jaune | Chutes récupération | 0,40 m | 0 € |
| Zip | Stock | 1 | 0,50 € |
| Rivets | Aliexpress | 10 | 1,00 € |
| Bouton | Aliexpress | 1 | 0,50 € |
| Fil | Stock | 1 | 1,50 € |
| Total | | | 26 € |
The I Am Sunshine jeans pattern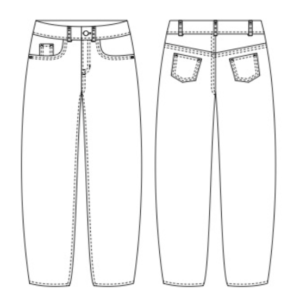 It's partly because it's a "trendy" pattern rather than a "timeless" one that it hasn't gathered dust for years in the pattern library.
I don't really guarantee its stylistic durability so let's make the most of it.
Bought in June 2022, I sewed it in September. Here I am, almost transformed into the Speedy Gonzales of sewing. Almost.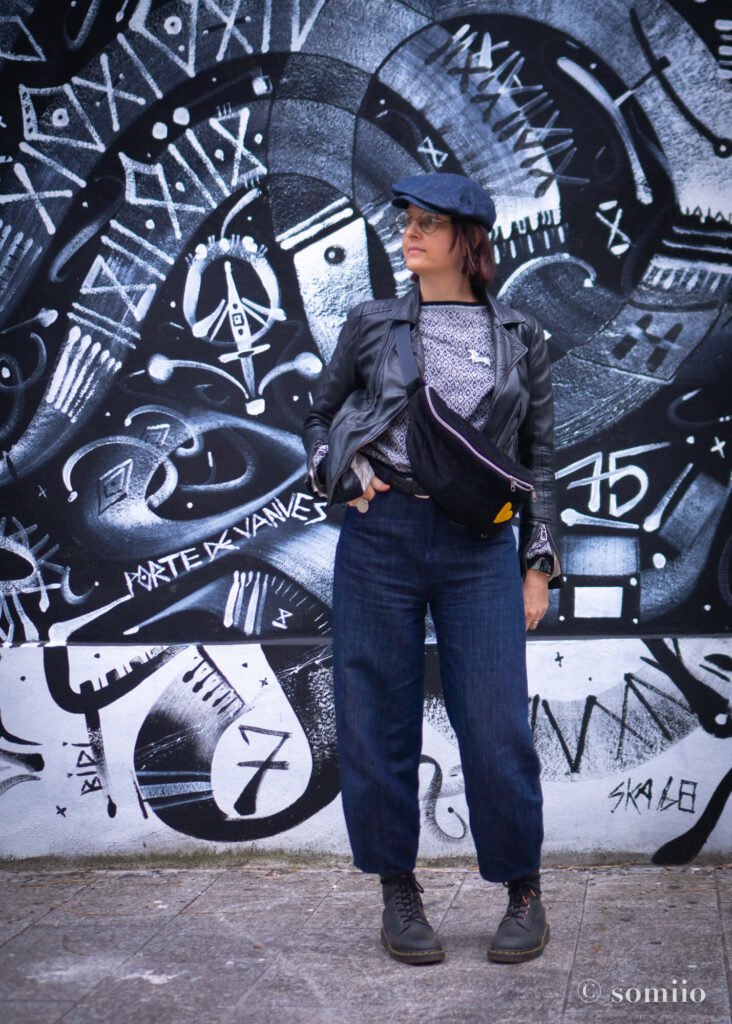 The I Am Sunshine jeans pattern is available in 2 versions: a slouchy cut or a straight cut.
All the details of a classic jean are present: back yoke, Italian pockets, watch pocket, patch pockets on the back, rivets, fly, belt with loops and topstitching.
The size range varies according to the pattern format 34 to 52 for the PDF and 36 to 46 for the paper pattern for a height of 1.65 m.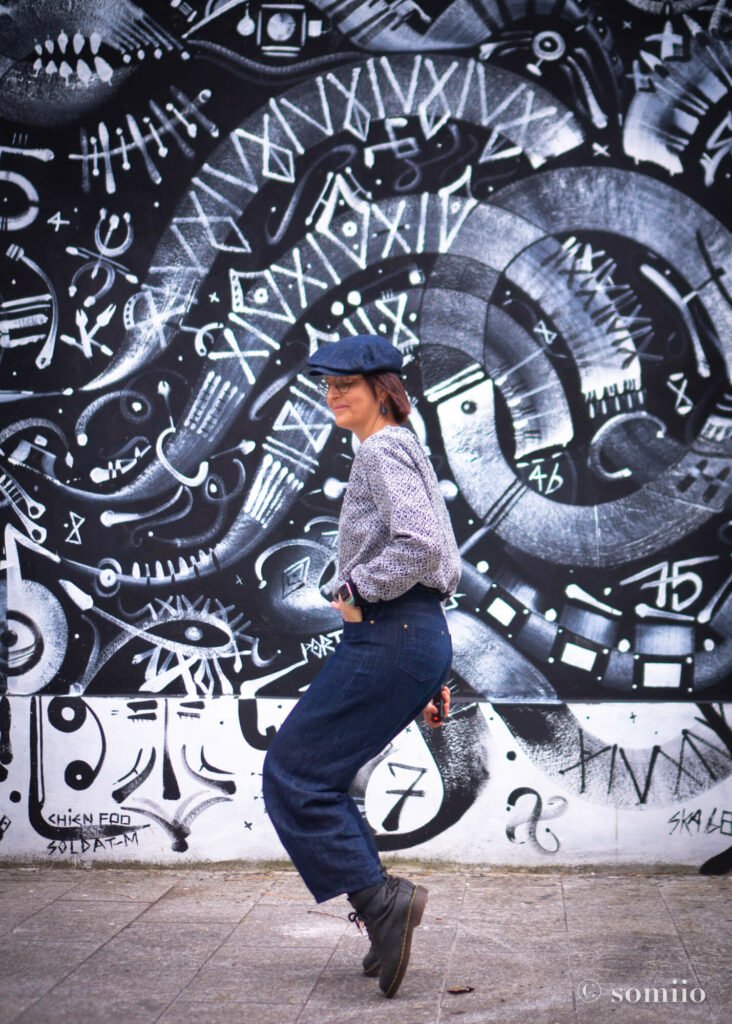 Negative points:
the paper envelope sucks, I couldn't open it properly despite my efforts. It is half torn.
the pattern pieces overlap. So the pattern has to be traced. Well, I don't really care, that's what I do anyway.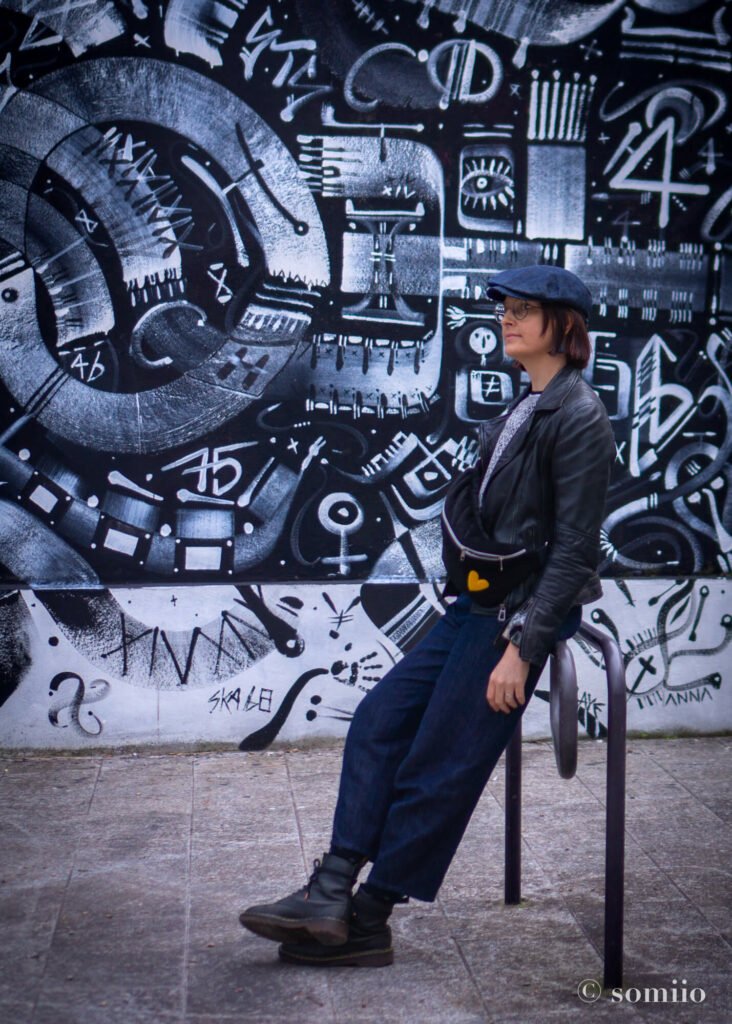 Otherwise, the explanations in the paper booklet in French and English are complete without being overwhelming, illustrated with diagrams and measurements of the finished garment.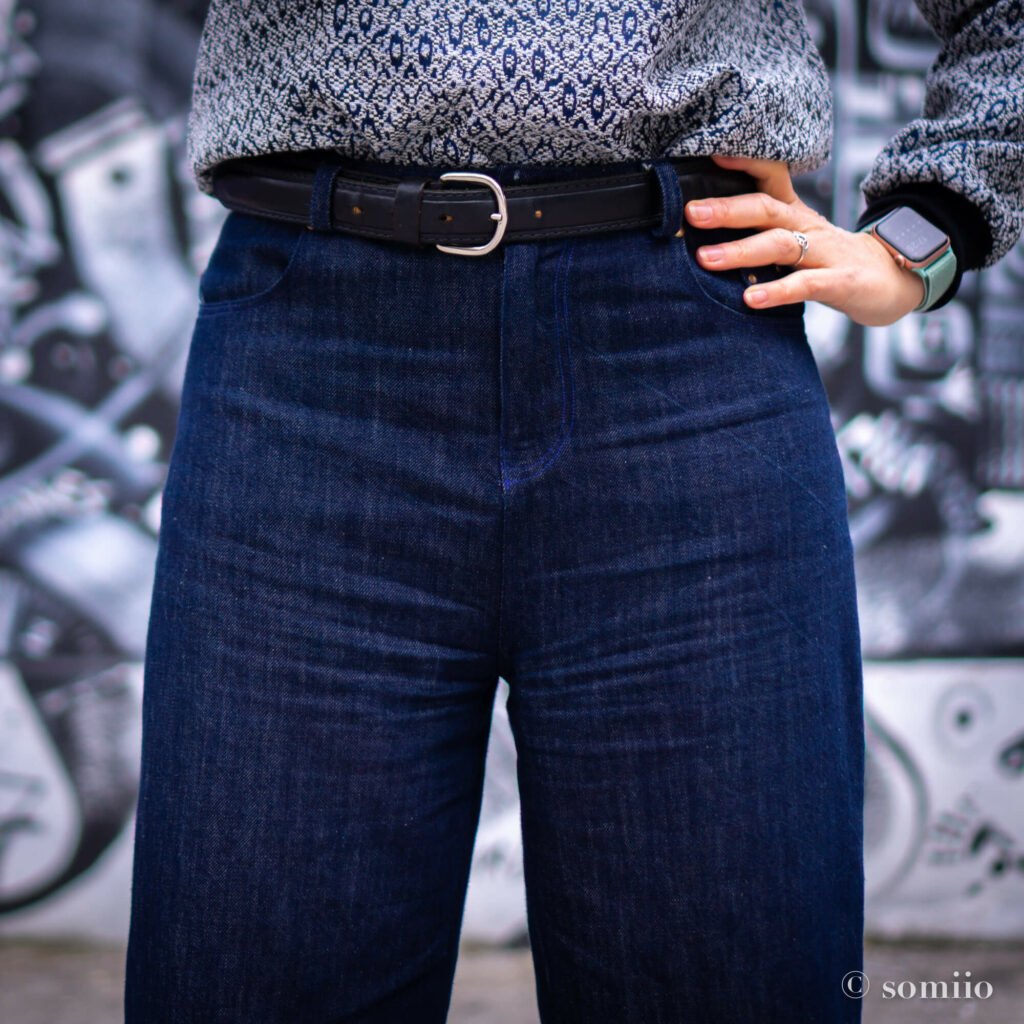 There is also a step-by-step video available. I haven't watched it to be honest… I often find videos a bit painful to follow when I'm sewing and then again, I didn't need to.
Sewing the I AM Sunshine jeans
Following the measurement chart, I sewed the I AM Sunshine jeans in size 40.
So, you might ask, "How was sewing the second pair of jeans of your life?" (indeed, it was!)
Well, quite well in fact. So good that I could only find 2 lines of report on this project.
No worries with the belt, no worries with the fly, no worries with the fit… In short, no worries.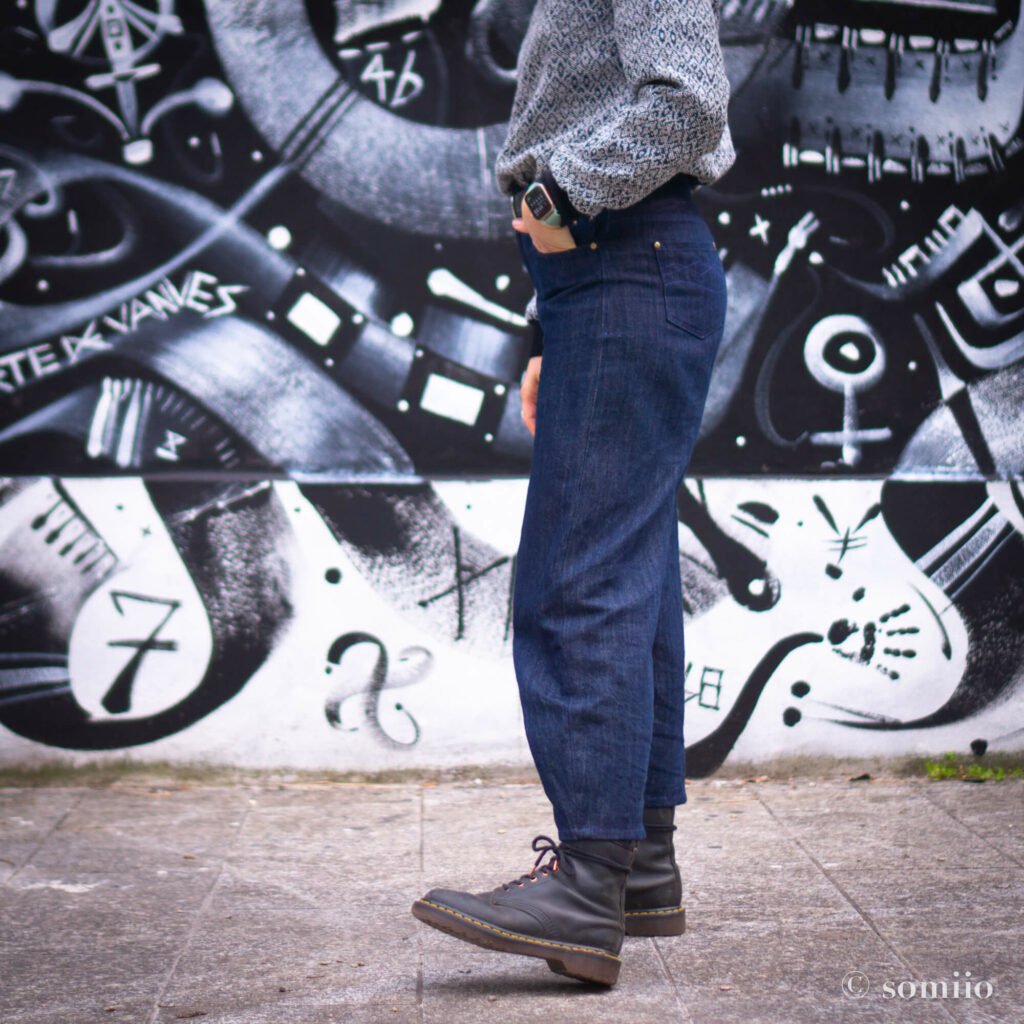 And to make sure that this sewing went well, I basted my fabric pieces and tried out the pants before continuing to the final sewing.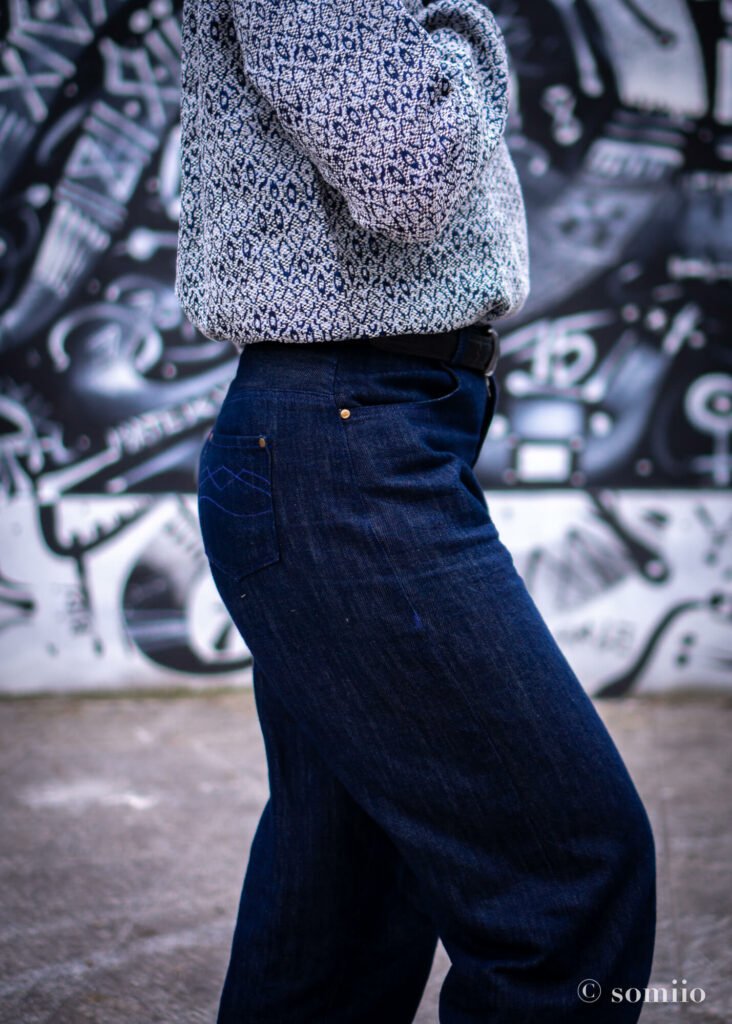 At the end of the fitting, I only had to remove 2 cm from the middle back. And I can still tuck my jumper into my jeans without stopping to breathe, or digest.
But I also had a lot of questions about the length of the pants.
In the end… I decided to remove 3 cm in height on the lower leg.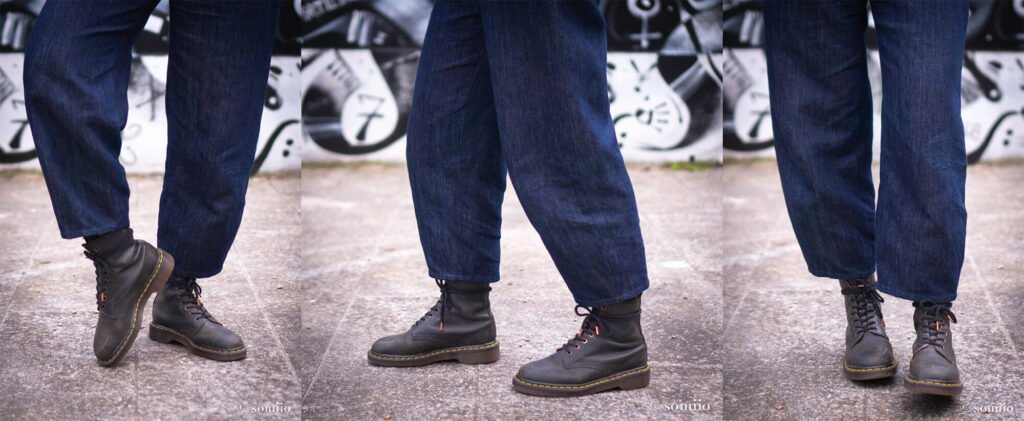 But be careful, neatly, by folding the pattern over the straight part of the leg rather than just cutting down.
And then, these modifications were transferred directly to the pieces in order to precisely reproduce the side seams. Pif, pouf.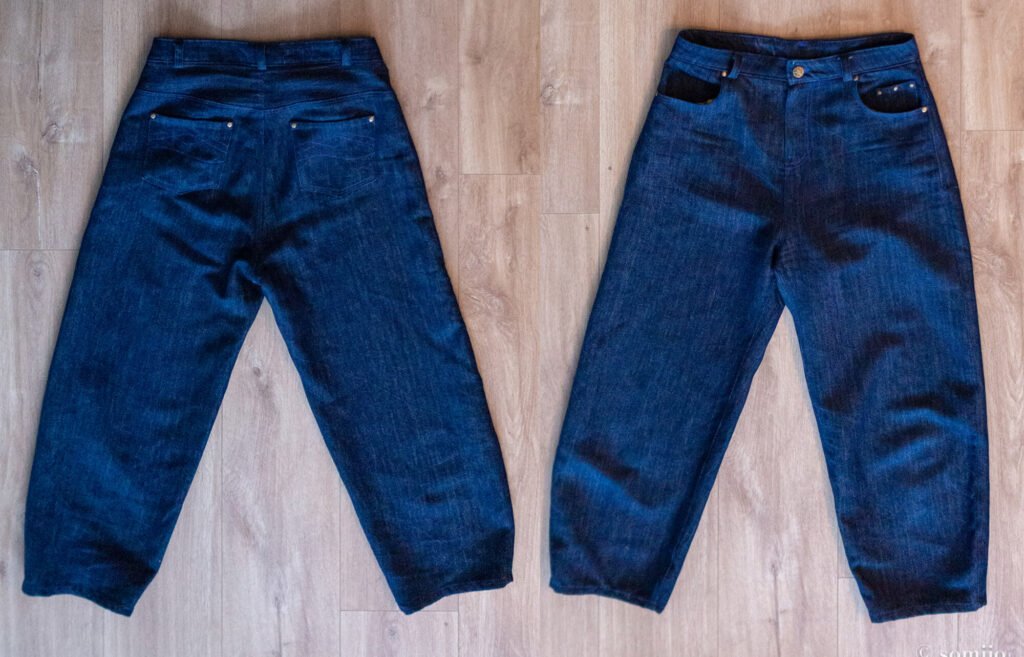 This is to keep the shape of the lower leg of this balloon version of the I AM Sunshine jeans. Otherwise, I would have completely screwed up the balloon leg.
Sinon, j'ai réutilisé le même design sur les poches arrière que pour mon jean Dawn.
Ce qui revêt une certaine logique, puisque c'est un des designs de poche mis à dispo par I AM Pattern.
Otherwise, I reused the same design on the back pockets as on my Dawn jeans.
Which makes sense, as it's one of the pocket designs available from I AM Pattern.
Les finitions sont un bête surjet avec une petite surpiqûre sur la couture d'entrejambe.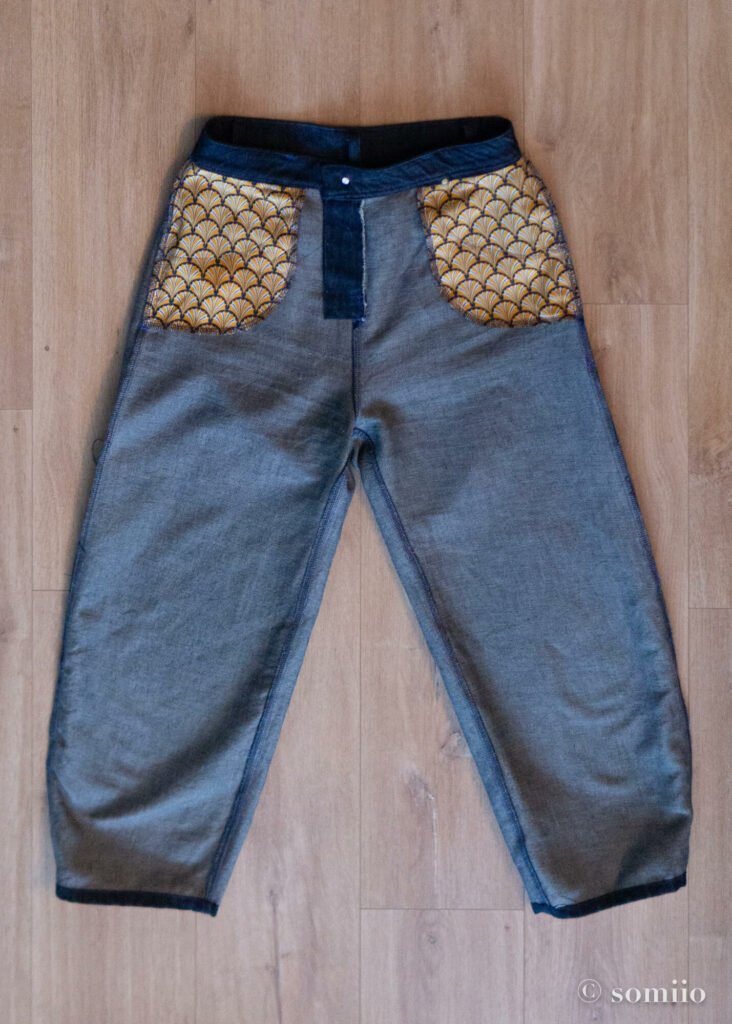 J'ai aussi utilisé le même denim assez léger et de qualité discutable des Coupons de Saint-Pierre d'ailleurs.
Le seul truc qui me chiffonne est ce petit snaffu sur les côtés au niveau des poches (à voir ci-dessous). Je ne sais pas trop pourquoi. 
A priori, ce n'est pas une histoire de taille puisque je suis plutôt bien à l'aise. Est-ce le rivet ?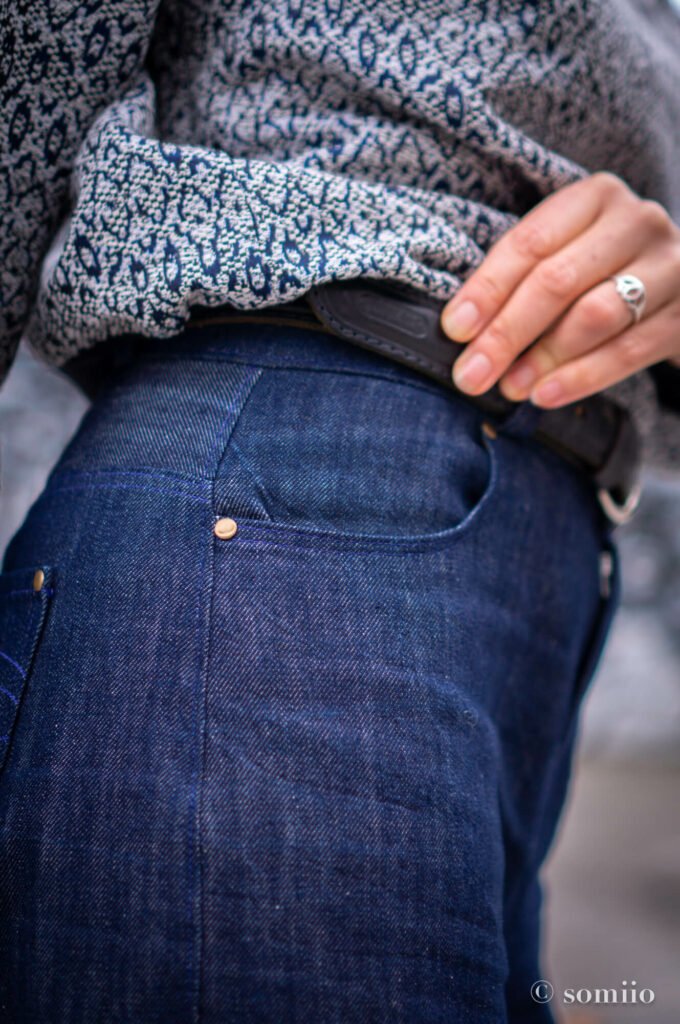 And the rivets come from a big kit bought on Aliexpress in all colours.
So I have enough to sew jeans until the end of time. At least.
Finally, I used scraps of a dress converted into a top for my mother. The right side of the fabric was used on the outside of the pocket as I see the outside more often than the inside. Like here, below for example.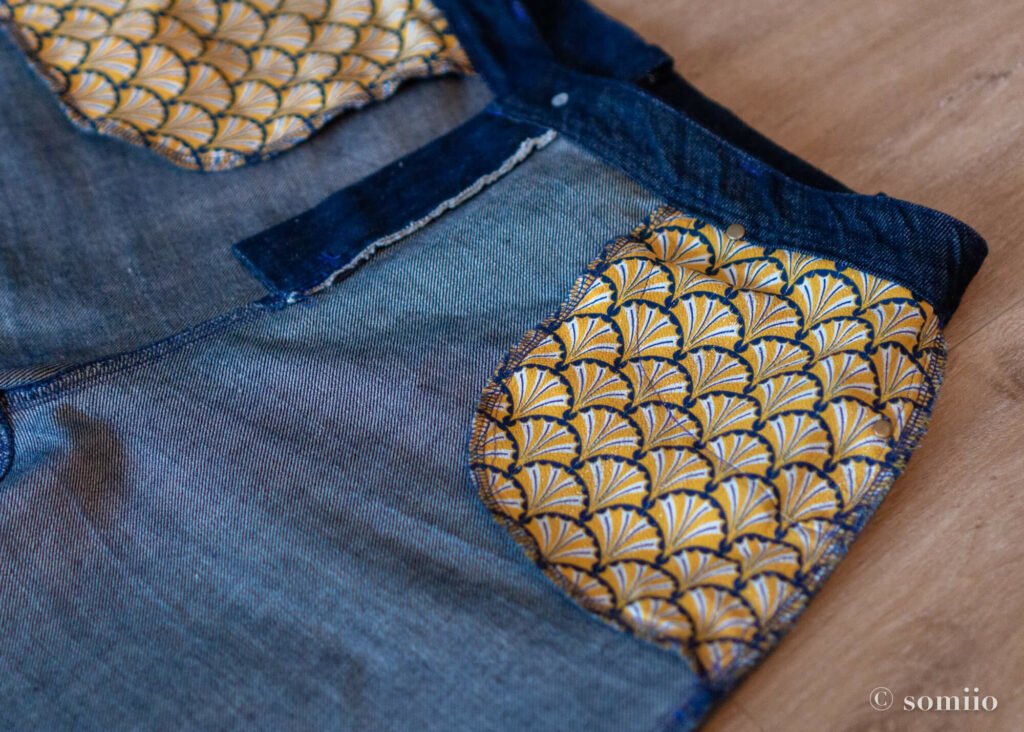 Conclusion
Today, I really like these jeans. But right after I sewed them and the weeks that followed… I wasn't quite sure.
Wasn't it a bit too wide? And a bit too short (sic)? Shouldn't a cuff be added to tighten up the bottom of the leg? Am I trendy enough to wear this thing?
In the end, I like it the way it is. I finally managed to style it to my liking with my Docs and leather… and even other pieces I have yet to show you.
Finally, it's as comfortable as my Wide Leg Pants and that's saying something. Maybe I'll even sew another one for the summer or the straight version… Mmmmh, I hesitate.
Share on Pinterest