Cutie Booty Brief: comfort 4x (Patterns for Pirates)
Yes, yes I know. The Cutie Booty Brief is not exactly the sexiest piece of the lingerie drawer… but damn! It's so comfortable! It's almost indecent.
It's really the perfect panty for those days when you're peeling your ass, those days when even a pair of panties that fit in your groove would be too much of a burden.
So, here are 4 of the 5 sewn ones (the last one being the first one offered).
| | | | |
| --- | --- | --- | --- |
| ITEM | SHOP | QUANTITY | PRICE |
| Cutie Booty Brief pattern | Patterns for Pirates | 1 | 10 € |
| Cotton & élasthane jersey knit remnants | Stock | 1 m | 0 € |
| White elastic | La Textilerie | 0,9 m | 1 € |
| Thread | Stock | 1 | 0 € |
| Total | | | 11 € |
The Cutie Booty Brief pattern
The Cutie Booty Brief is one of my favourite pieces of underwear even though, let's face it, I wasn't exactly sold when the pattern came out.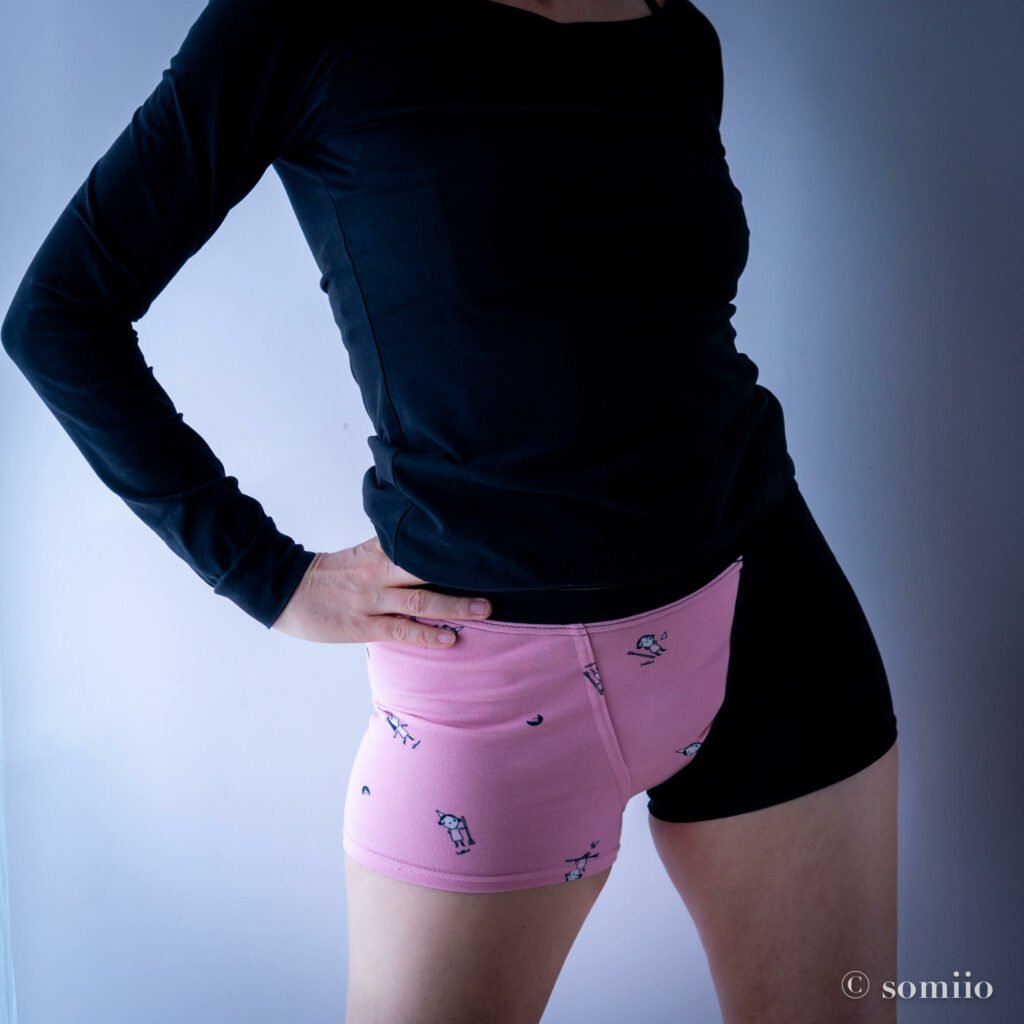 And then, my neiph (= nephew-niece for non-binary people) pointed out to me that any man's boxers are terribly more comfortable than any woman's shorty. 
It never gets in the buttocks and the waist is more covering and comfortable. Hm, that's something to look into!
So, for their birthday, I sewed them one. But before I gave it to them, I tried it on. And even with the big size difference, I could see that there was something for ME to try.
The Cutie Booty Brief is a kind of hybrid, a boxer for people without three pieces service, so to speak.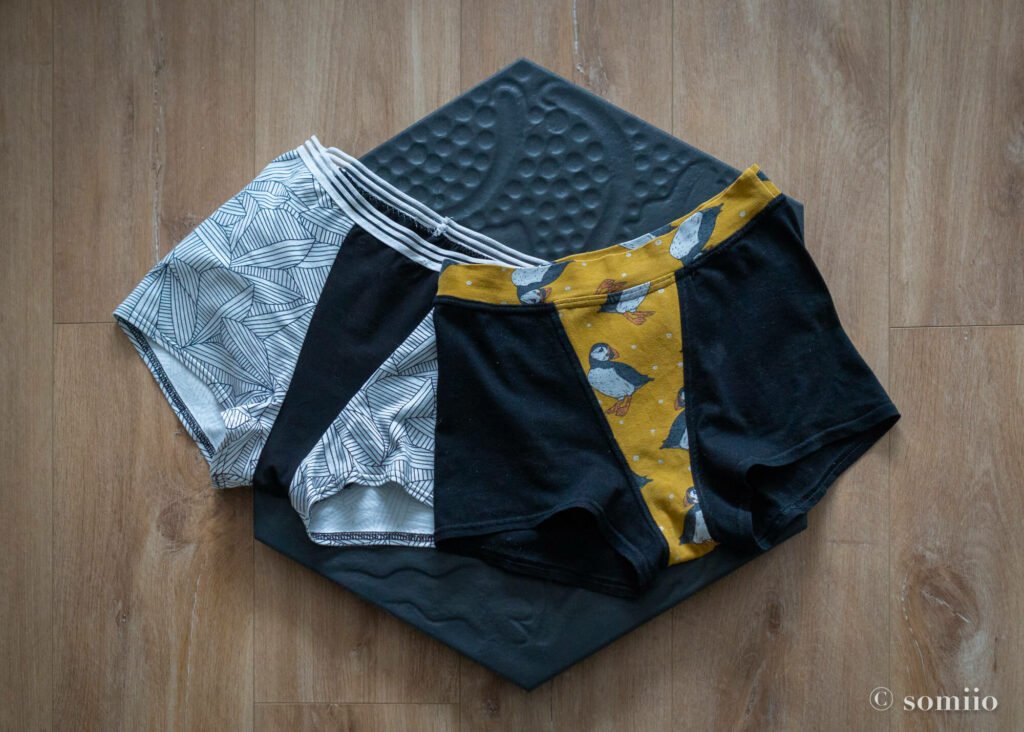 Furthermore, the Cutie Booty Brief is a pattern with multiple variations:
3 waist heights: low, midrise and high,
2 waistband options: stretch lace or jersey,
3 leg lengths: short, midrise and long,
3 thigh options: hem, stretch lace or jersey.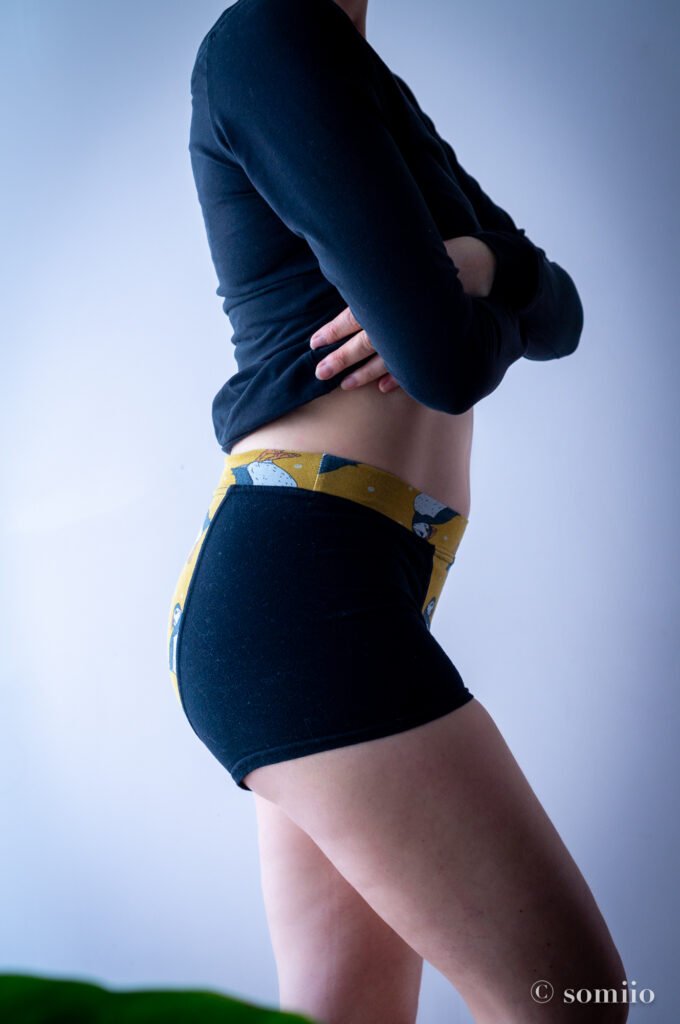 The size range is super inclusive from XXS to 5X. The American pattern is in English but the measurements are given in imperial and centimeters.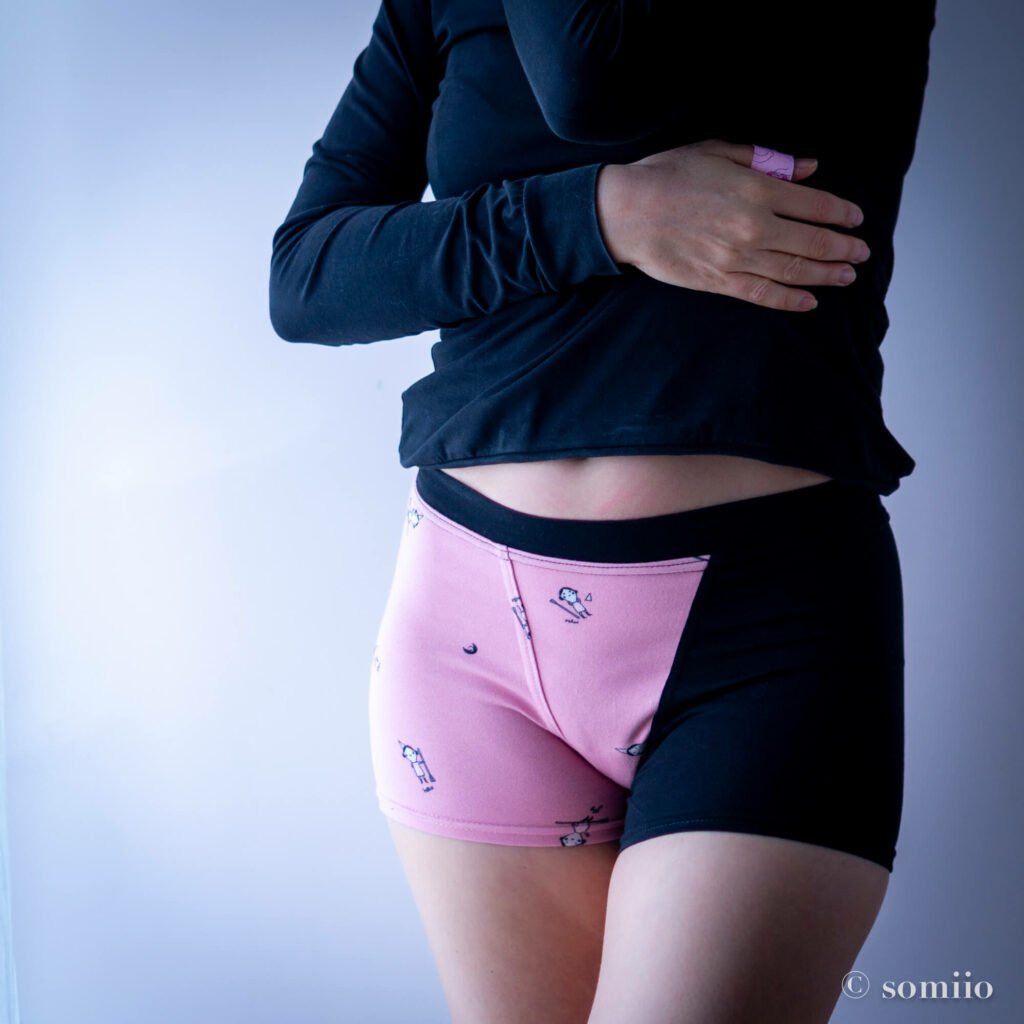 The Cutie Booty Brief would also probably make a great pyjama bottoms. Or a dance shorty for rock or Lindy Hop where the twirls quickly flash the underwear. Hellooo!
The pattern is designed for very stretchy jersey (in 4 directions) like cotton/elastane jersey. This is indeed the ideal fabric, but it also works with a low-stretch jersey, at least for the legs (yellow and black version).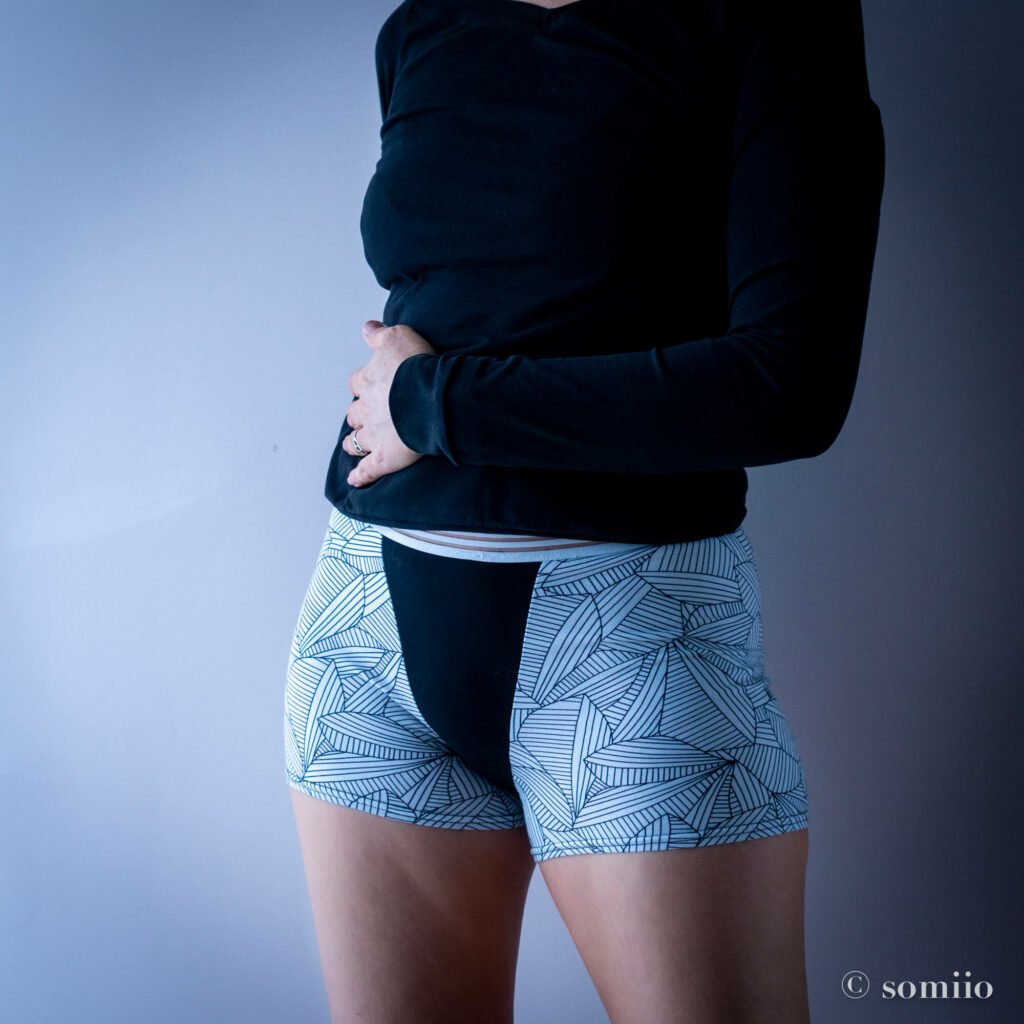 The pattern pieces are both colour coded and stroke style coded (bravo for accessibility and ink cartridges!) on pages with layers that fit together with no margins to cut.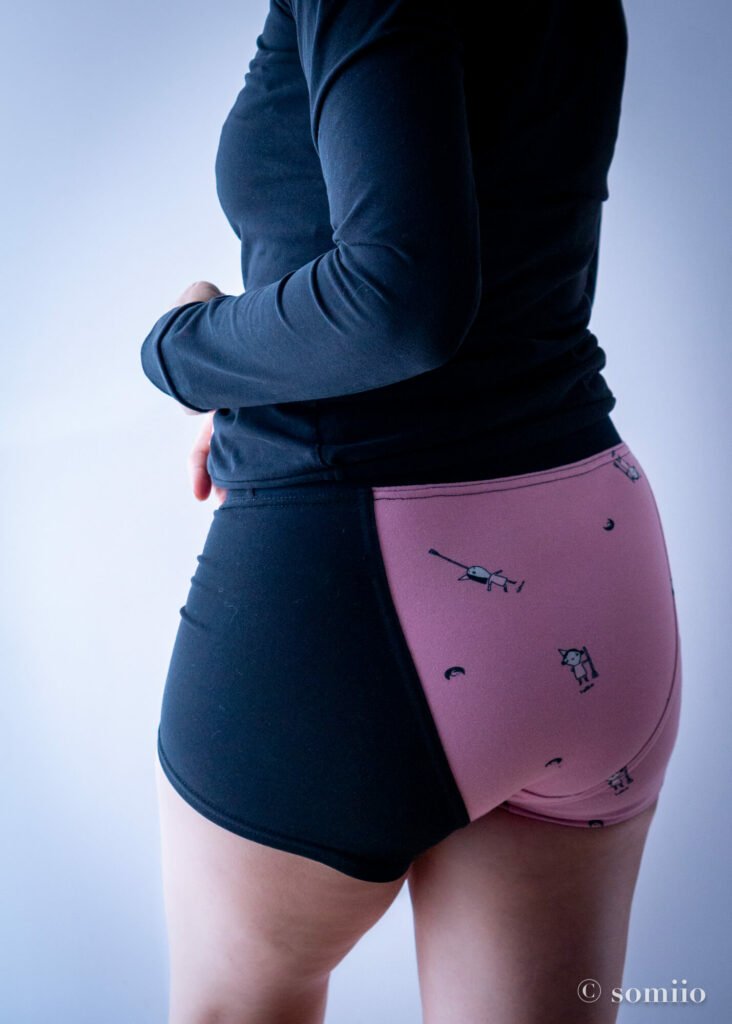 Even though I found the step-by-step tutorial super ugly, it is very easy to follow, in colour and with photos augmented with diagrams.
In addition, there are several videos available throughout the tutorial even though I didn't watch them.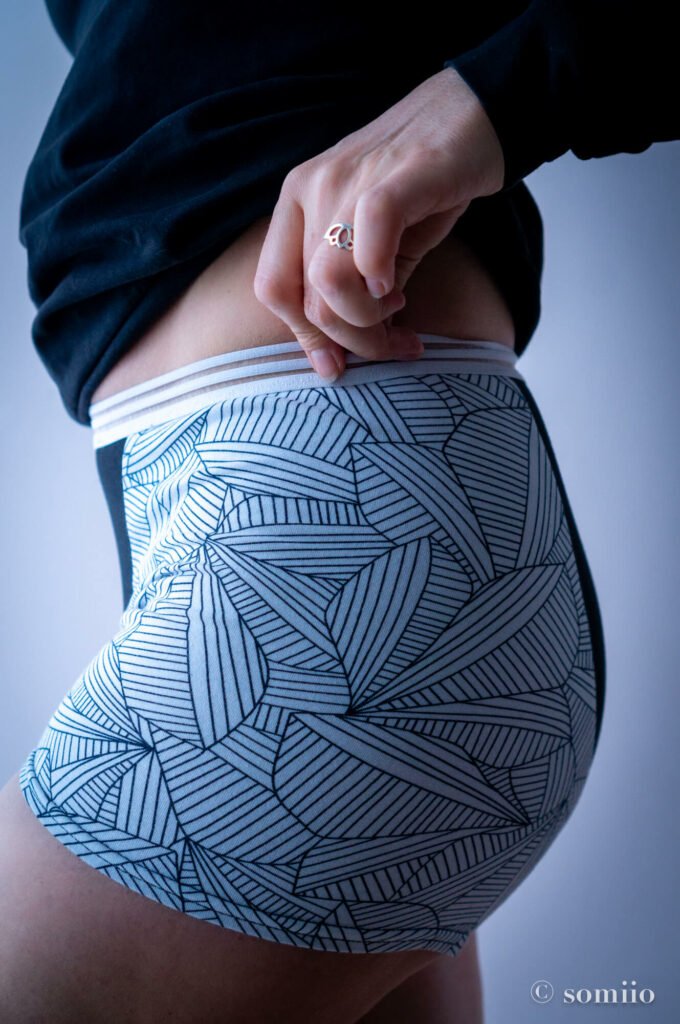 Sewing the Cutie Booty Brief
For my first version, I went for a size S with a midrise waist height with a medium leg length too (must be my Norman upbringing).
For the waistband, I took the cotton jersey option.
I found it a little tight when I was passing my bum, but otherwise it works well… perhaps I could make it slightly bigger.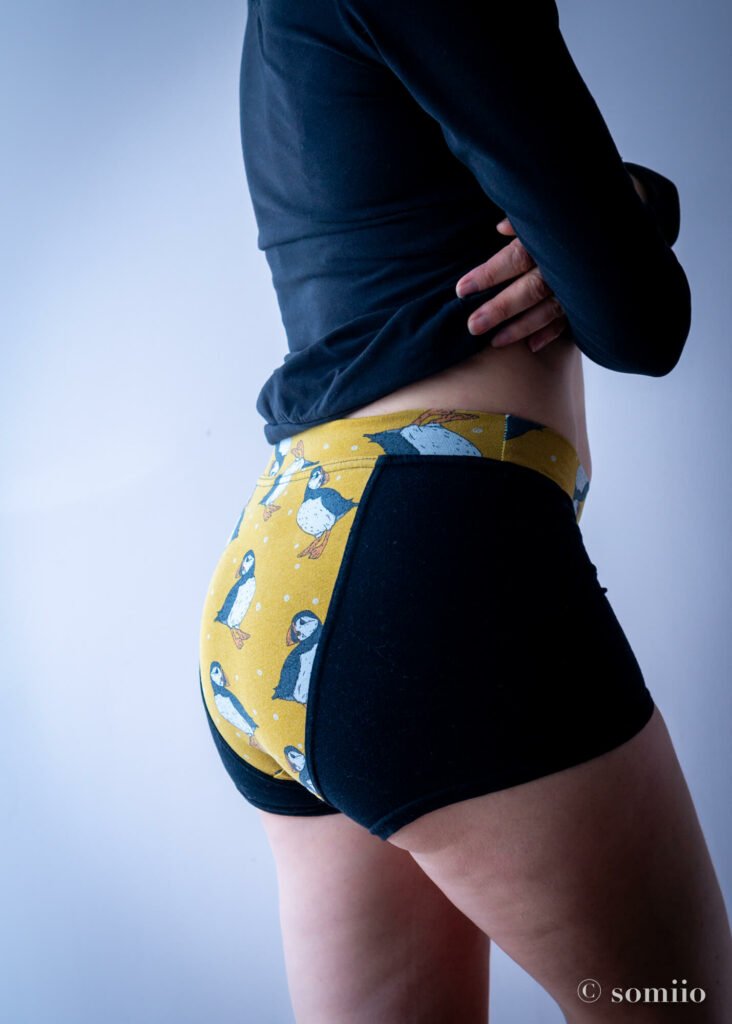 For the second version, I used an openwork elastic but found it a bit tight on the first few wears. It seems to have improved though.
And for the third twin versions, I went back to an elastane jersey belt without changing the pattern. It works better on these ones.
It really requires a good quality elastane jersey, with good elasticity and stretch.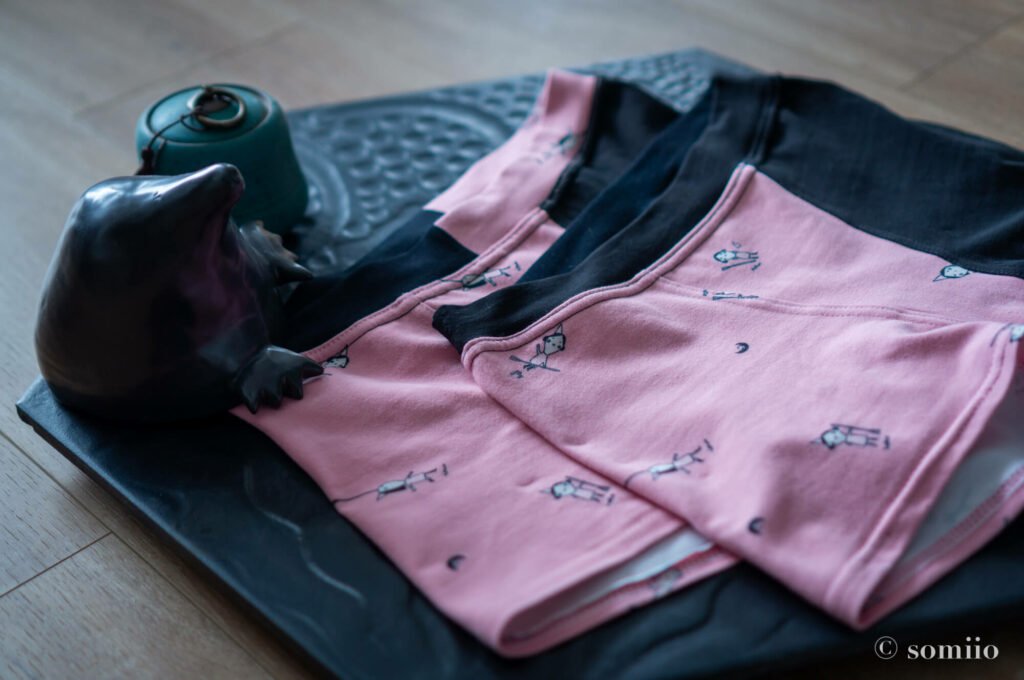 On all 3 versions, I topstitched and hemmed them with a coverstitcher. It looks great.
When I think of the saleswoman at the machine maintenance shop who asked me if I used the coverlock function of my overlock machine a lot… Well, I do!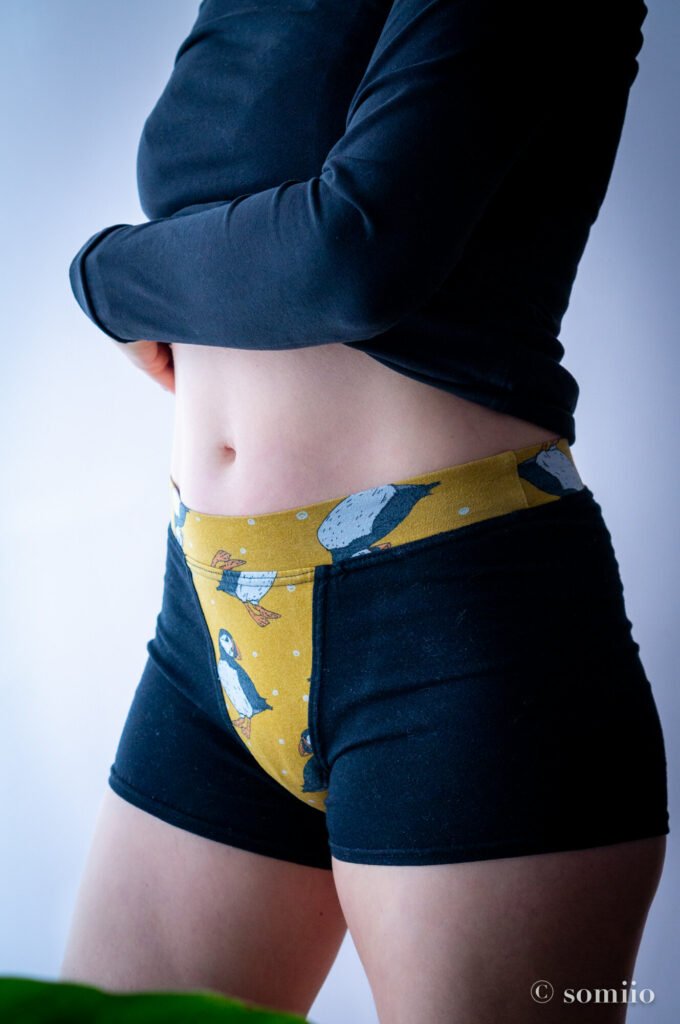 For the yellow and black version, the legs were made from remnants of a large t-shirt with little stretch in height. It works, but they tend to sag at the end of the day.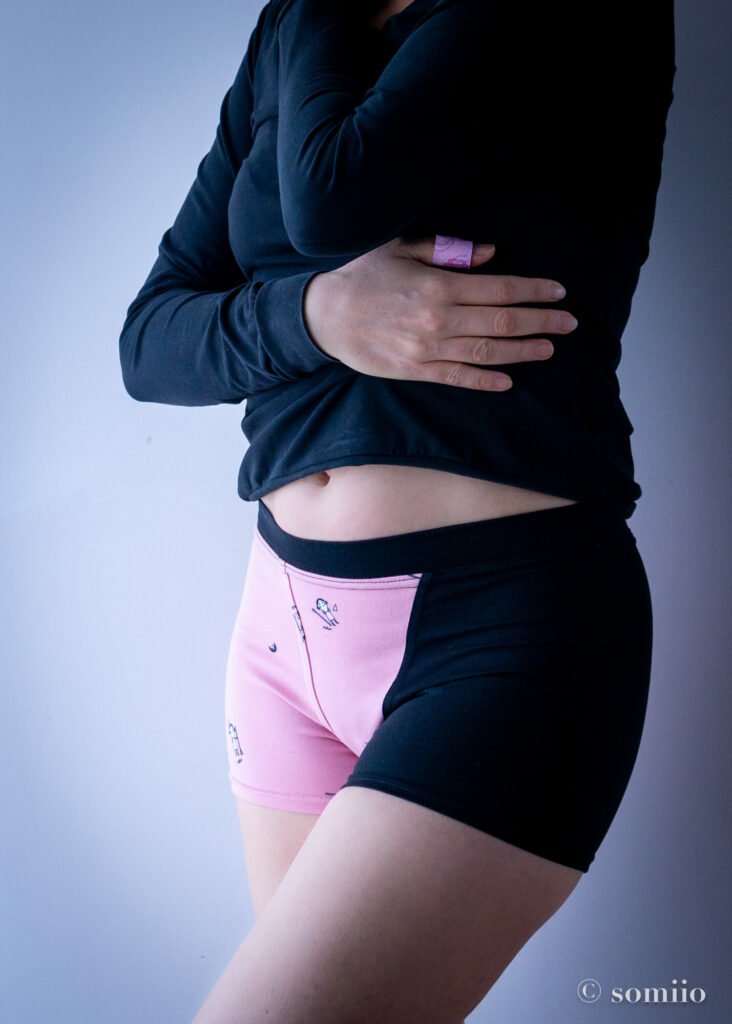 In the end, I validate the verdict: people with a 3-piece service wearing boxer shorts are much better served in terms of daily comfort than us in shorties.
In addition: the Darcey x Paola ensemble
As I still had a few remnants left, I continued into lingerie with a Darcey bra (I don't even count the versions at this point)…
… with a pair of Paola panties from Petit Patron. As much as I don't trust the tutorials of this brand, the pattern of these panties suits me particularly well.
The Darcey is fully lined in soft powernet to ensure support and durability over time.
This also allowed me to enclose all the seams for a very soft result on the inside.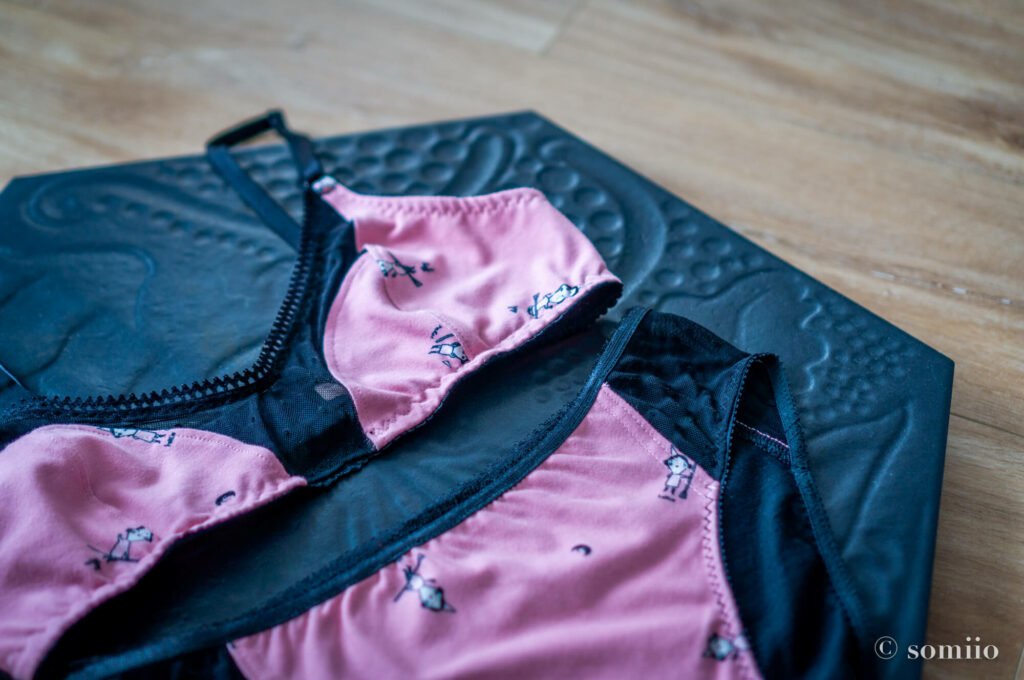 Finally, I combined the jersey with a polka dot fishnet to add a touch of sexiness.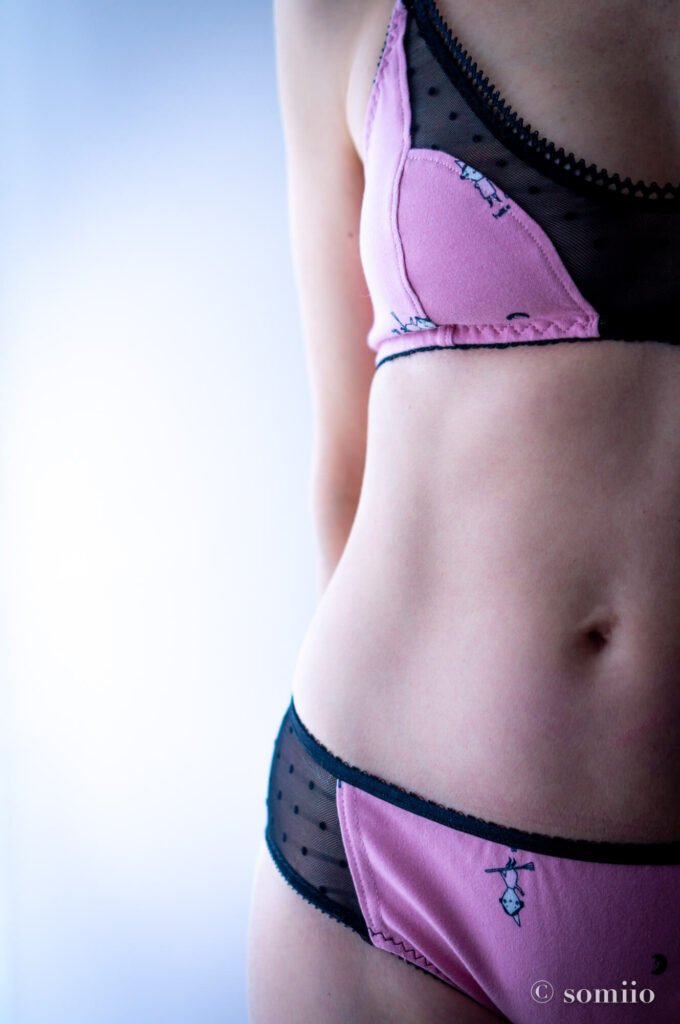 Conclusion
4 versions in a few months… I think that tells you everything about my opinion of this pattern. The Cutie Booty Brief is the best friend for chilly mornings.
Sure, it wouldn't be my first choice for a date… but there are days when comfort comes first. And frankly, I think there's a lot of fun to be had with this pattern.
So I came out with a good opinion of Patterns for Pirates even if the design of the explanations is really ugly (yes, I'm a graphic designer, I have my quirks).
I'm also very happy to have completely finished this jersey with the complementary set. Hop, finito!
Otherwise, on the news front, my machines are being serviced for a few weeks. So… well, it doesn't change anything for you (I've got quite a list of projects to post anyway) but for me it means a bit of a holiday anyway… it's crazy how much pressure I put on myself to sew my projects. In the end, it's a bit of a relief to be out of work!