Sewing the Calvin jumper for mens (Fibremood)
Sewing a men's sweater is a first for me… And of course, it's for a present: my popa's birthday.
Well, a sweatshirt is a sweatshirt, you might say… and that's true even if the Calvin model has some details and a particular assembly method.
| | | | |
| --- | --- | --- | --- |
| ITEM | SHOP | QUANTITY | PRICE |
| Calvin jumper pattern | Fibremood n°3 – 2019 | 1 | 12,50 € |
| Organic Navy & Silver Hamburger Liebe Knit (Stereo sweatshirt scraps) | Tissus.net | moins d'1 m | 0 € |
| Fleece sweatshirt (scraps recovered from a failed) project | France Duval Stalla | ≈ 1 m | 14 € |
| Jersey bias | Stock | 30 cm | 0,50 € |
| Thread | Stock | — | 0 € |
| Total | | | 27 € |
The men's Calvin jumper pattern
This model spotted for a long time is from Fibremood n°3.
The Calvin men's sweatshirt features special seamless side pieces and a front yoke that allows you to play with different fabrics… and that's what I did.
There are up to 9 pieces for this pattern but it allows for an easy use of sweater/jersey/knit scraps.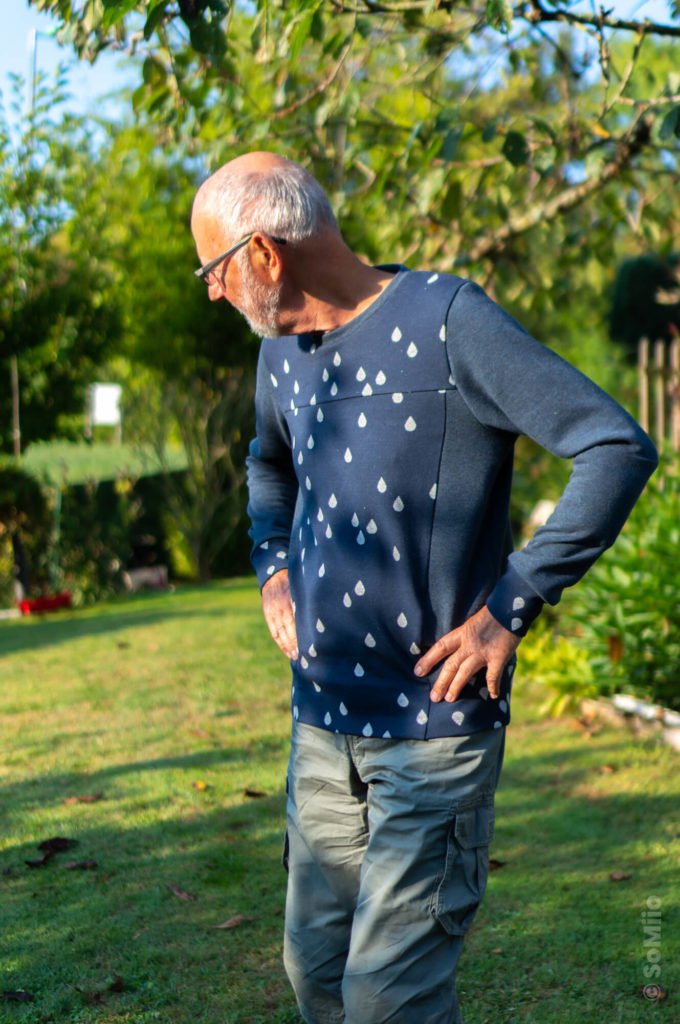 The sizes offered range from XS to XL, i.e. chest circumference 80 to 116 cm.
Finally, a word about Fibremood: it's a magazine that is about 3 years old and comes out every 2 months at a price of €12.50. It seems to me that it is the most expensive.
Created by the former founders of La Maison Victor, the magazine is close to it in certain aspects: the contemporary but relatively simple style of the models, fairly readable 70g paper sheets, women's, children's and men's models (in order of quantity of patterns) and some knitting patterns.
The sheets are 84 x 58 cm and my sweater fits in 1 sheet.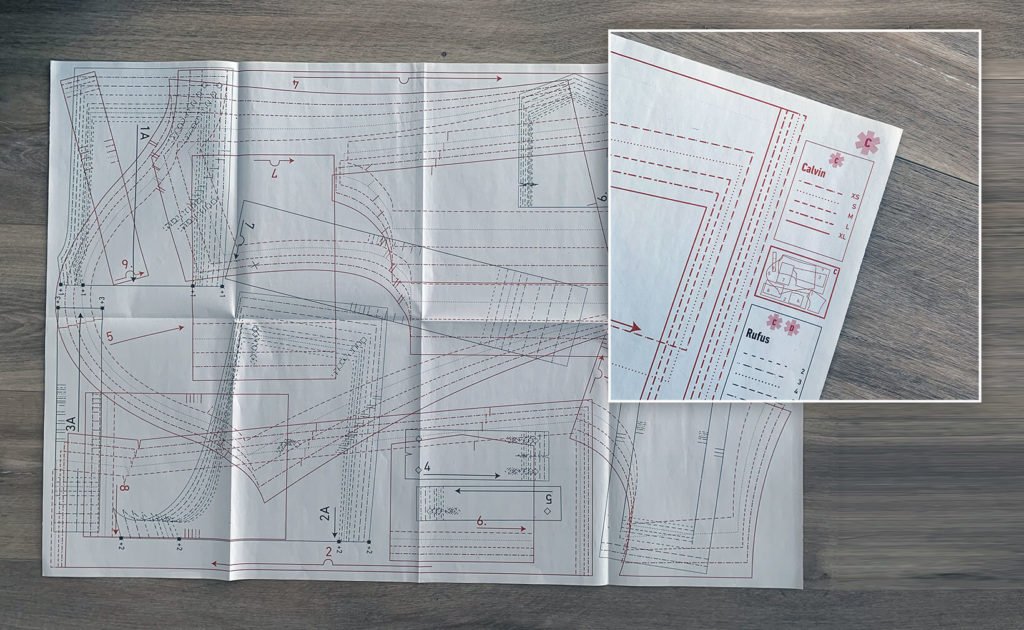 On the other hand, in the magazine, you will only find the – very clear – drawn parts of the explanations: the complete procedure to follow with the texts can be found on the site as a free download for anyone (subject to creating an account).
Practical or not practical, the debate is open but it allows you to go and see the procedure and to get an idea before buying the magazine or the pattern in PDF.
As often, sewing allowances are not included.
The sewing of the Calvin men's jumper
The sewing of this sweater went very well with just the drawings of explanations.
The assembly of the middle front with the waistband is unusual but very easy to do for a great effect.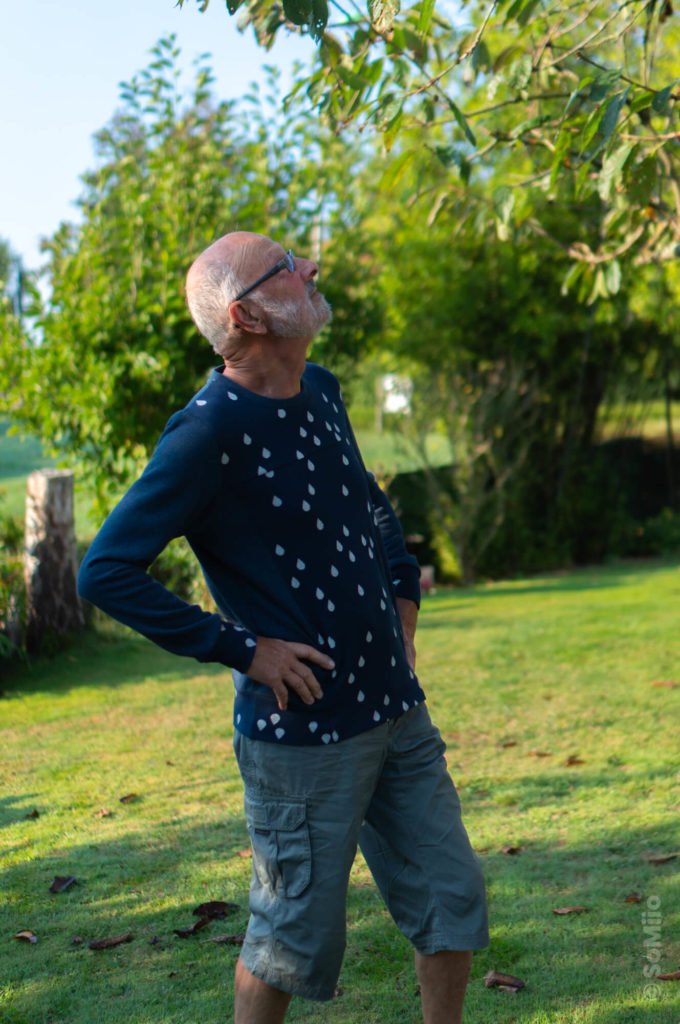 Choosing the size of a men's jumper
My big doubt was on the size to choose… the eternal question when you sew for someone you don't have on hand!
In the end, after a very complete sending of measurements by my agent in the place ( thus my mother), I made a size M to which I did not add any sewing allowances …
And I sewed in 6 mm on the overlock machine.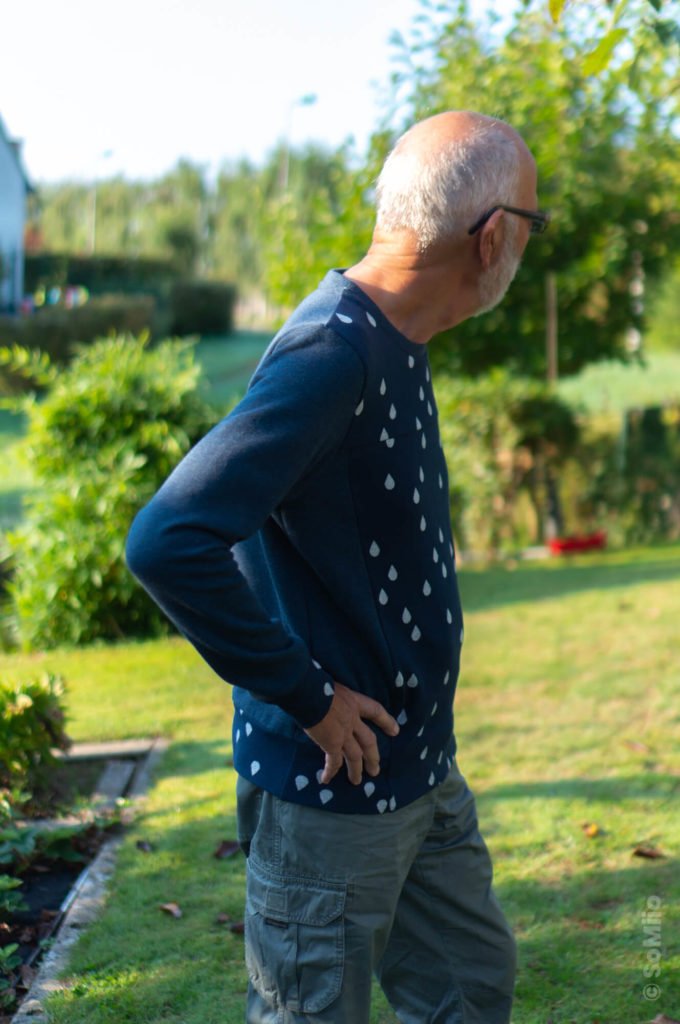 The jumper fits perfectly for a mid-season sweater or a cool evening sweater in summer … Basically, a t-shirt underneath is fine. Otherwise, it would be tricky.
But it fits just right in shoulder width and arm length.
Good to know.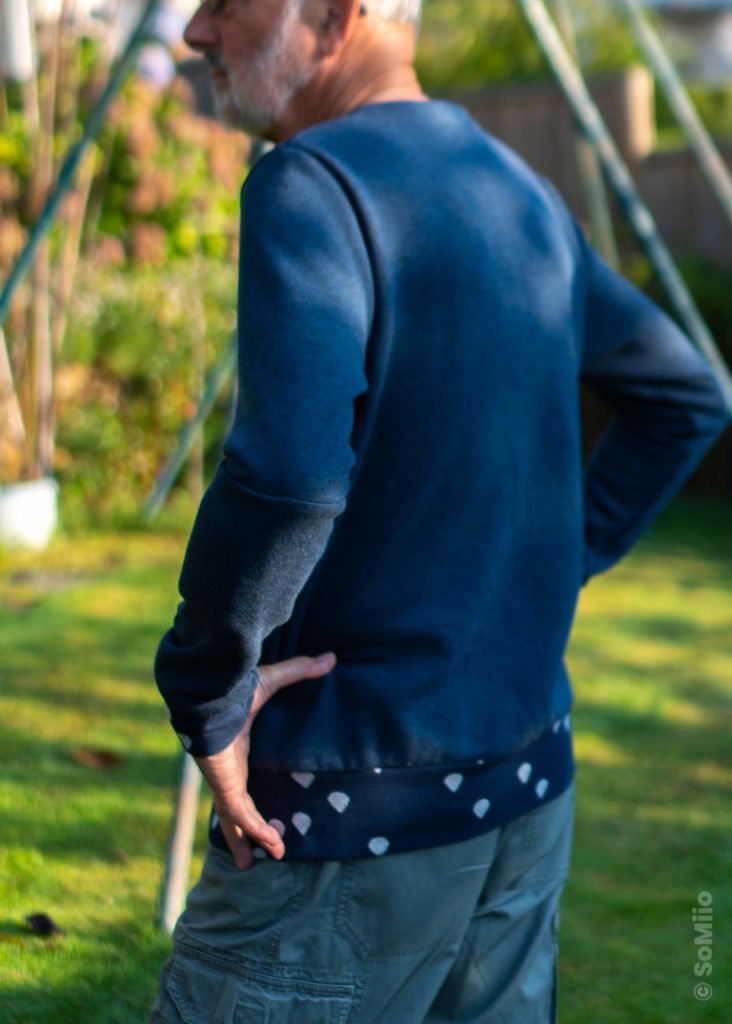 Fabrics for a men's sweatshirt
For this men's sweatshirt, I took apart a messed-up Burda sweater-dress project (model 119 of the Burda 208 from April 2017: 15 times too big) and finished the scraps of my precious GOTS knit used for my Stereo sweatshirt.
I'm very happy with this combination of those soft fabrics. AND I'm delighted to have freed myself from the mental burden of that aborted project that was lying in the drawer of shame.
And no, I don't necessarily make a difference between fabrics for me, a woman, and fabrics for "man". No to gendered marketing.
The modifications
For a very clean finish of the neckline, I put a jersey bias strip on the seam allowance.
You can find a tutorial for the clean neckline finish here or another one there.
And then, I found myself too short on fabric for the second sleeve. Or rather, I had enough but not in one piece.
But creativity is born from constraint.
In the end, I used the 2-piece cut of the sleeve to create a small vertical pocket in the seam to slip a transport card or, like my father, a pack of tissues.
Conclusion
I think I made a happy guy with his new jumper. Soon, we'll be able to take matching father-daughter pictures together!
The Calvin men's sweater is a model that I clearly recommend. Even for a man with conservative tastes, it works very well!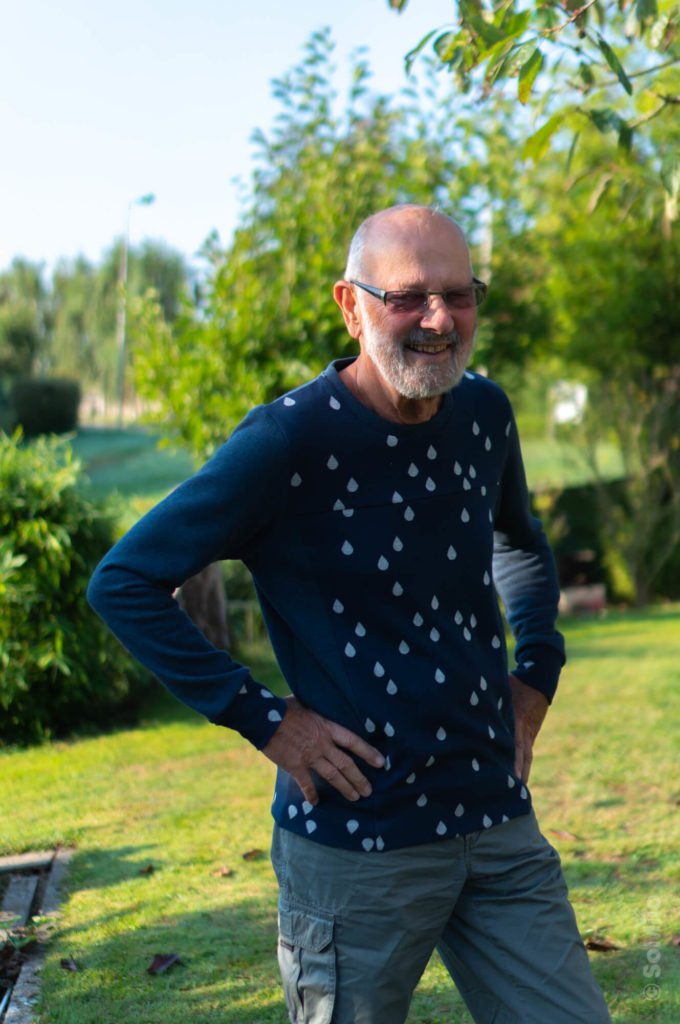 Save on Pinterest