Sewing the Sunset shorts (La Maison Victor)
La Maison Victor's Sunset shorts were released last summer. I immediately tilted on it but my project list is already well populated, I only sewed it this spring finally … And modified my initial mistakes at the beginning of the summer.
| | | | |
| --- | --- | --- | --- |
| ITEM | SHOP | QUANTITY | PRICE |
| Sunset shorts pattern  | LMV july/august 2018  | 1 | 0 € |
| Stretch blue twill (remnants) | Metermerter.dk | 0,8 m | 0 € |
| People poplin (remnant) | Mondial Tissus | 0,4 m | 0 € |
| 2cm elastic | Stock | 1 m | 1,20 € |
| Thread | Stock | 0 | 0 € |
| Total | | | 1,20 € |
The Sunset shorts pattern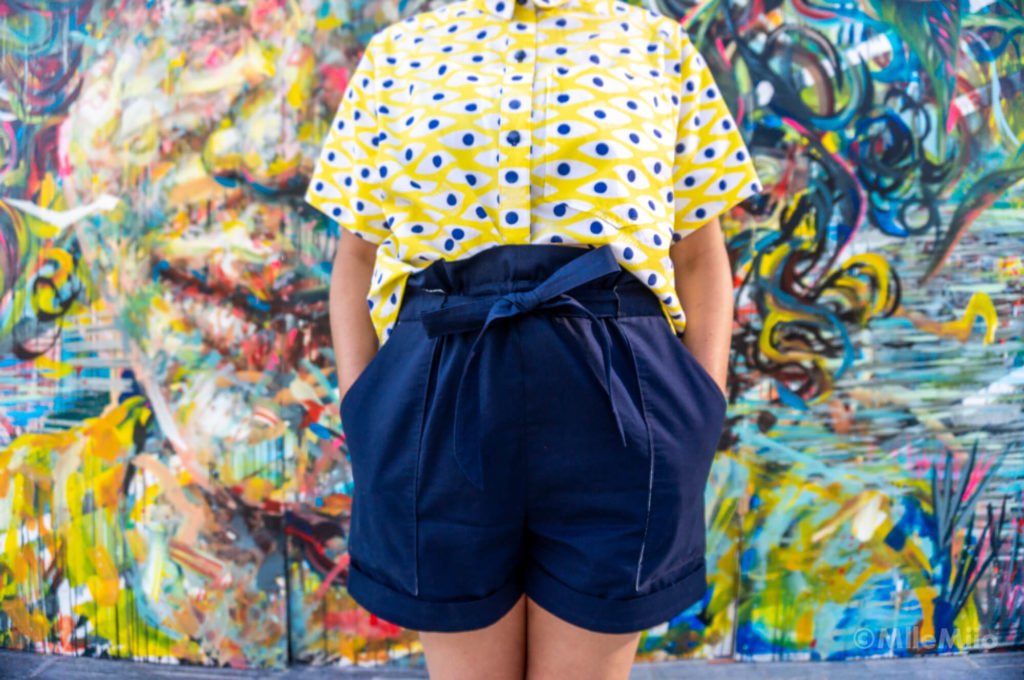 The boss of the short Sunset comes from the magazine La Maison Victor from July-August 2018. I think it is the 2nd pattern from the magazine (excluding PDF of the Lora dress) that I sew after the Maya top of the same issue  (#realization).
The feature that made me love it at it's release is the large pockets that combine with the belt loops.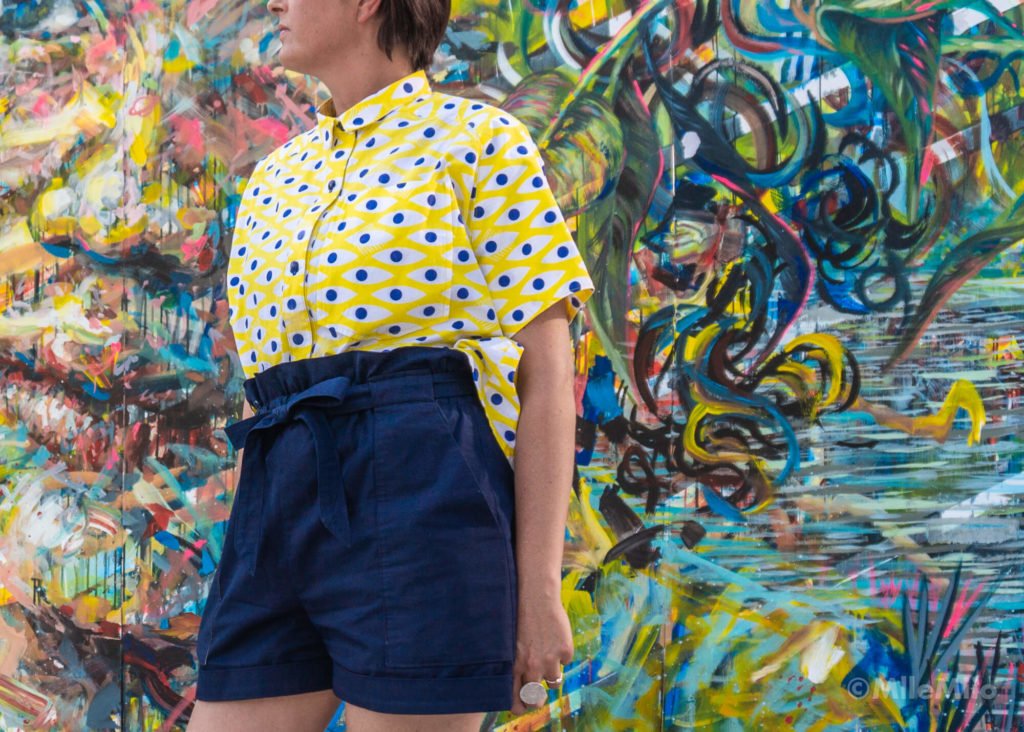 The sheets of LMV magazines are not very large, A2 format I think. As a result, the pattern's pieces are often cut into multiple bits when they exceed the sheets's size … but then, I admit that I did not understand why some pieces were cut.
It's just shorts, not like there are long legs or long sleeves to put on. A little painful to assemble.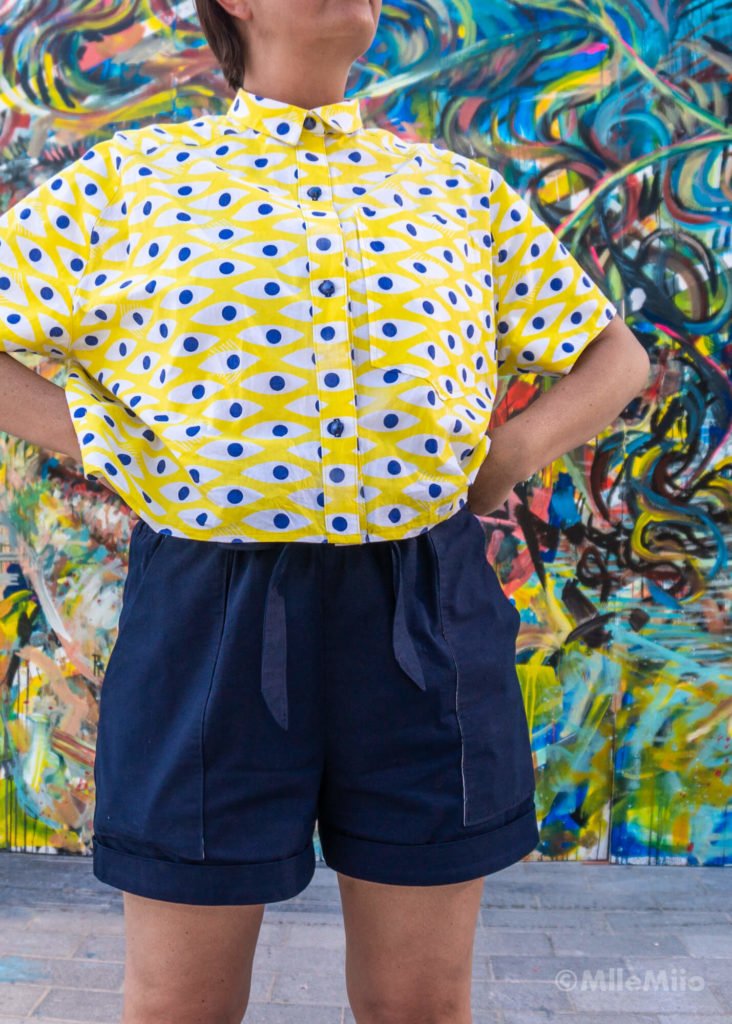 Otherwise, the step-by-step to sew it is clear as usual and the proposed finishes are clean. There is even a sew-along video available.
Sewing Sunset shorts
The length
No big surprise or problem sewing those shorts. I found it a little too long for my smallish legs so I shortened it about 5 to 10 cm (I do not know too much) once all was assembled. I then used the cut strips to make a false cuff. False setback that crumbles a lot to wear as you can see.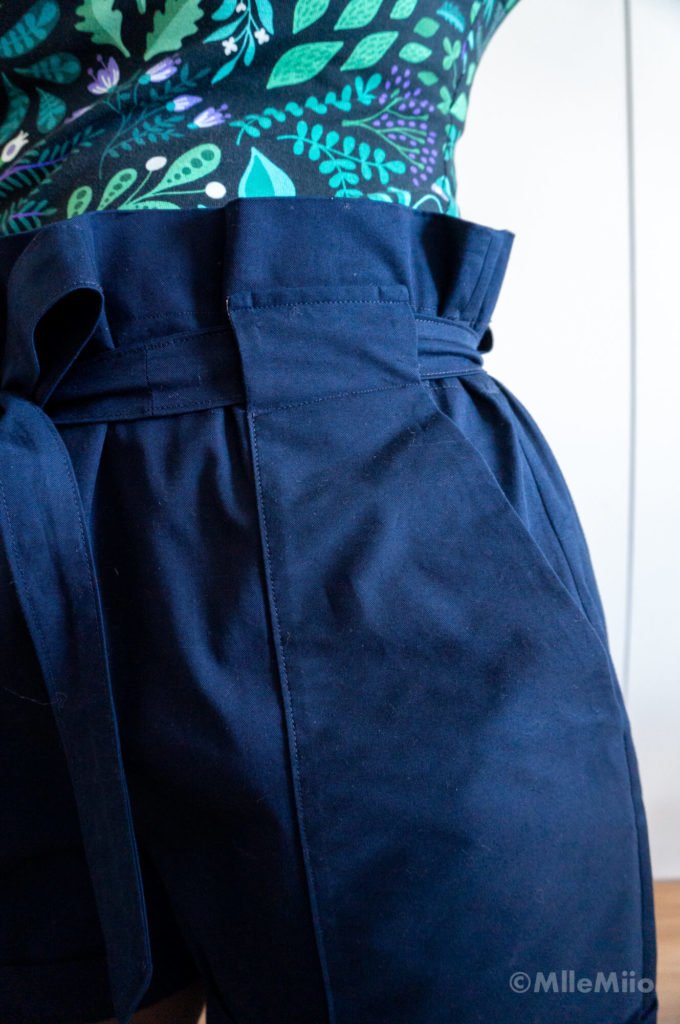 Paperbag waist & belt: stay focused
I had to redo the paperbag waist twice, however. I did fold back the waist correctly the first time and when I topstitched from the outside, the inner layer wasn't sewn everywhere. And so I also caused an offset of my stitching on belt loops integrated pockets (photo above).
So, the elastic tunnel was incompletely sewn, I thought I could go without any elastic. Nope. Tightening the waist just with the belt on the outside is not pretty.
A point that make it necessary to take time and be precise … without there being any real difficulty.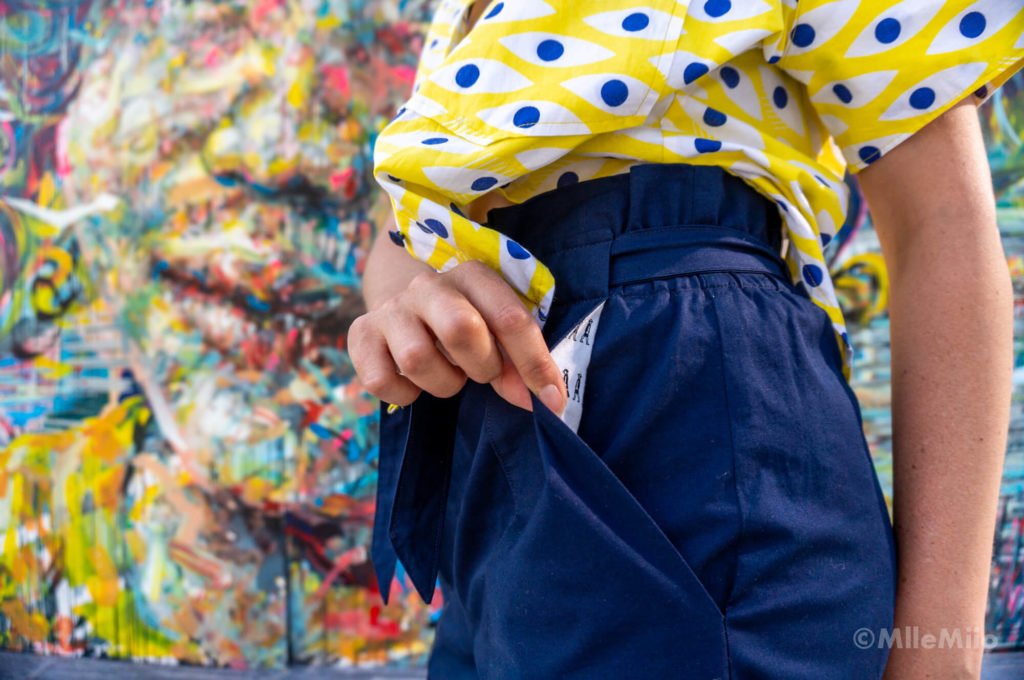 The pockets are doubled (hurrah for remnants).
The pockets are spacious.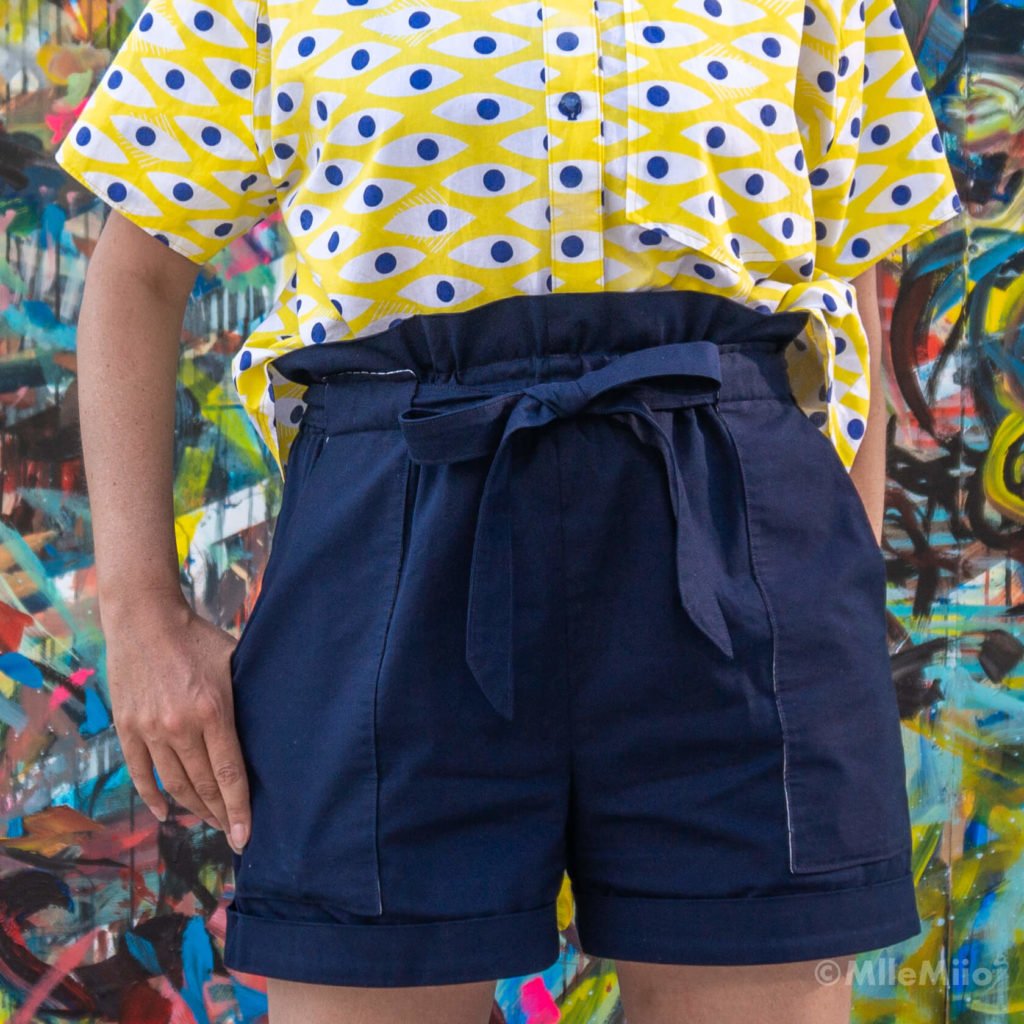 The organic fabric that gives me a rash
The fabric is a lightweight organic cotton twill with stretch purchased from Metermeter. He just has the right weight but crumples a little.
On the other hand, I made Bruges pants with the same fabric that I cannot wear because it triggers a rash on my thighs … I do not know why. Friction? With the Sunset shorts it's OK. But the Bruges pants, even after washes, triggered me a rash after 1 hour or 2 wearing it.
I admit to being very disappointed given the care I took to choose an organic fabric, which was not cheap.
And every time I go to the wa-wa, my obsessive side makes me lose 5 minutes to tie a nice belt knot. * SIGHS *
Last words on that shorts pattern
This pattern is very nice, quite original and quick to sew even if it probably size a little big like all the La Maison Victor's patterns. On a paperbag short it is not really a problem and I rather enjoyed having a little air circulating during summer.
Now, the question is "does the paperbag style really suit me?" … not sure. I also have the Harper pants waiting to be traced but I'm wondering.
This being so, I find that these shorts are good enough for me to wear regularly, especially since I think it will be really nice for the fall and probably winter also, with tights of course.