Clyde Work Pant (Elizabeth Suzann • free pattern)
The Clyde Work Pant is exactly the kind of pants I like to wear in summer, and especially when traveling: relaxed fit, elastic waist, large pockets.
Practical for all the days of transit, in plane, train, bus or boat, it must be light, comfortable and easy to maintain.
Da, da, da… Will it fulfill the contract?
| | | | |
| --- | --- | --- | --- |
| ITEM | SHOP | QUANTITY | PRICE |
| Clyde Work Pant pattern | Elizabeth Suzann | 1 | Pay what you can |
| Lightweight black cotton jacquard with a border | Itokri.com | 3,5 m | 8,80 € |
| Elastic | Stock | 80 cm | 1 € |
| Thread | Stock | 0 | 0 € |
| Total | | | 9,80 € |
The Clyde Work Pant pattern

Okay, let's start by looking at the promise on paper.
The Clyde Work Pant is an elastic waist, carrot leg pant with large crescent shaped pockets (POOOOOCKETS !) on the side of the leg.
The leg is made of three panels. So there are seams on the middle front and back of each leg (but not on the side), in addition to the crotch. 
American ethical clothing brand Elizabeth Suzann made the pattern available last year during the start of the Covid crisis.
For free and a little on the wild side at first and now with a "pay what you can" contribution directly on its site.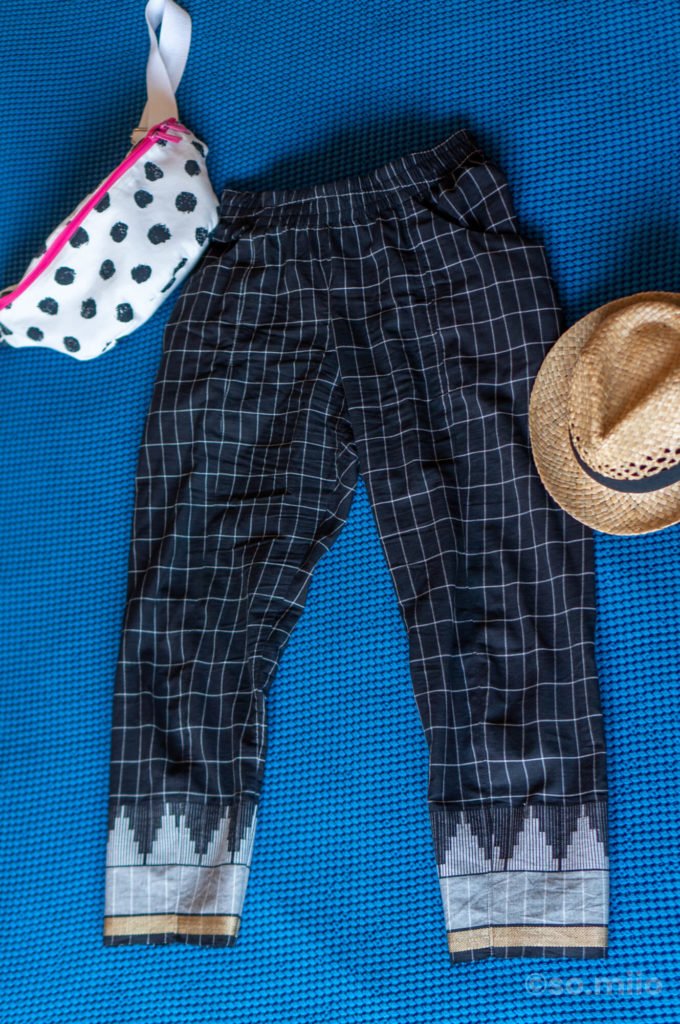 So my version of the pattern is a kind of bootleg version: in A0 only without explanations, nor even a measurement chart.
I printed it in "Poster" mode but it was clearly not a pleasure to assemble.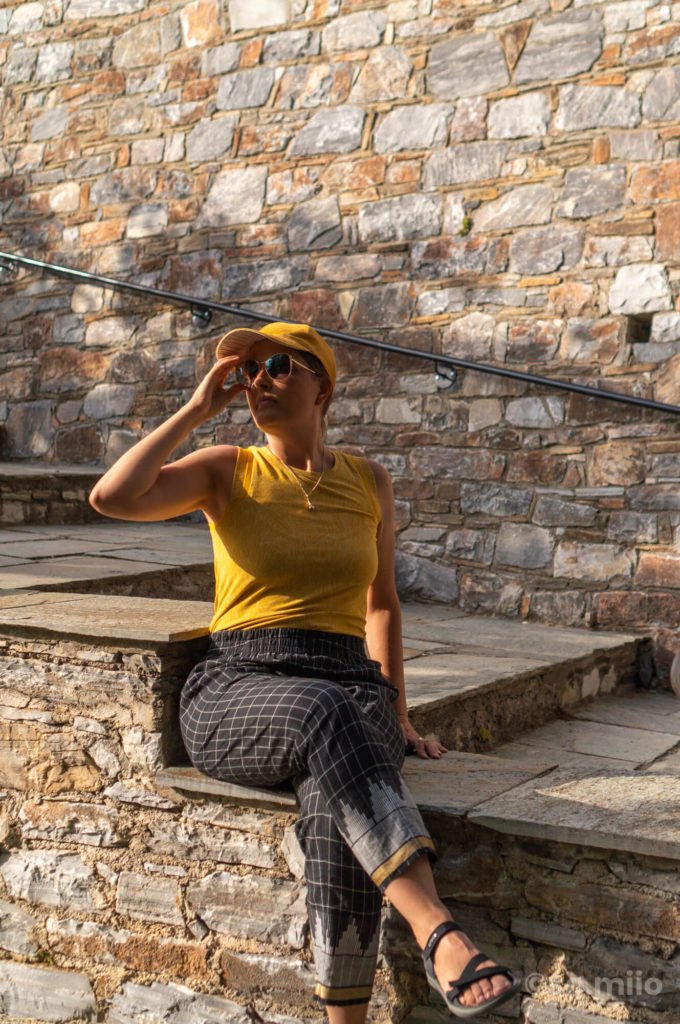 For the construction's explanations, I referred to 2 videos: 
Sewing Therapy's video which I do not recommend. In my humble opinion (ok, not very humble on this one), it misinterprets the pocket piecing by planing them and thus spoiling one of the nice little details of the pattern. 
Stitch Collective's video: very clear and accurate on the construction that I 100% recommend
Otherwise, the pattern is available from 000 to 12 (American sizes) in 3 heights : short, regular and tall.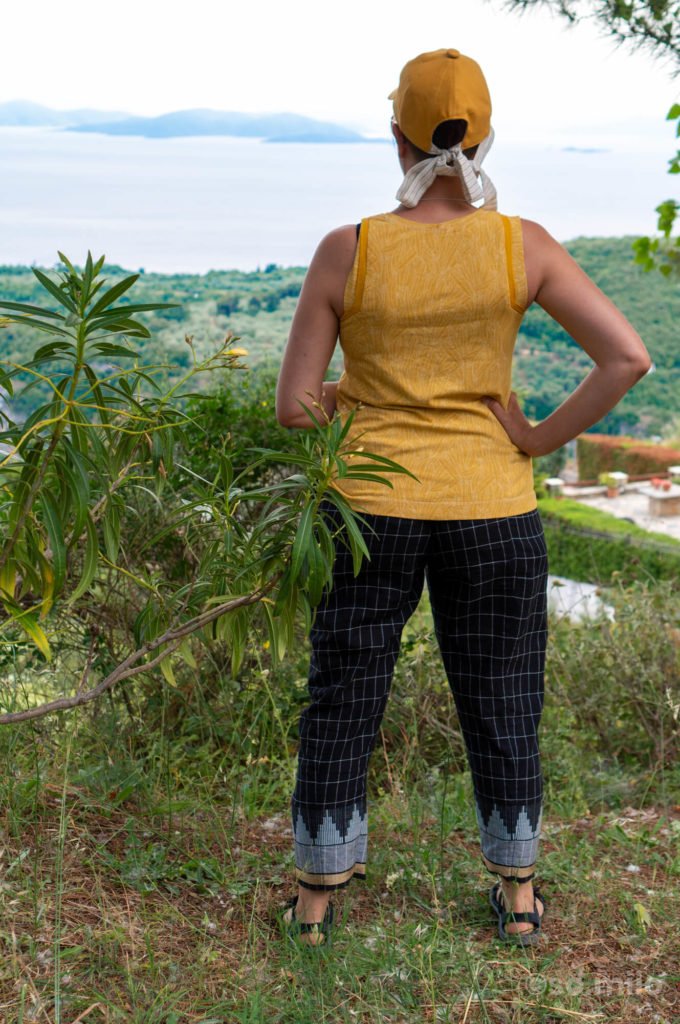 Sewing the Clyde Work Pant
Sizing & Fitting
The measurement chart is available online. Following the hip measurements, I sewed my Clyde Work Pant in size 10 and regular size.
Neither was the right choice. Fail!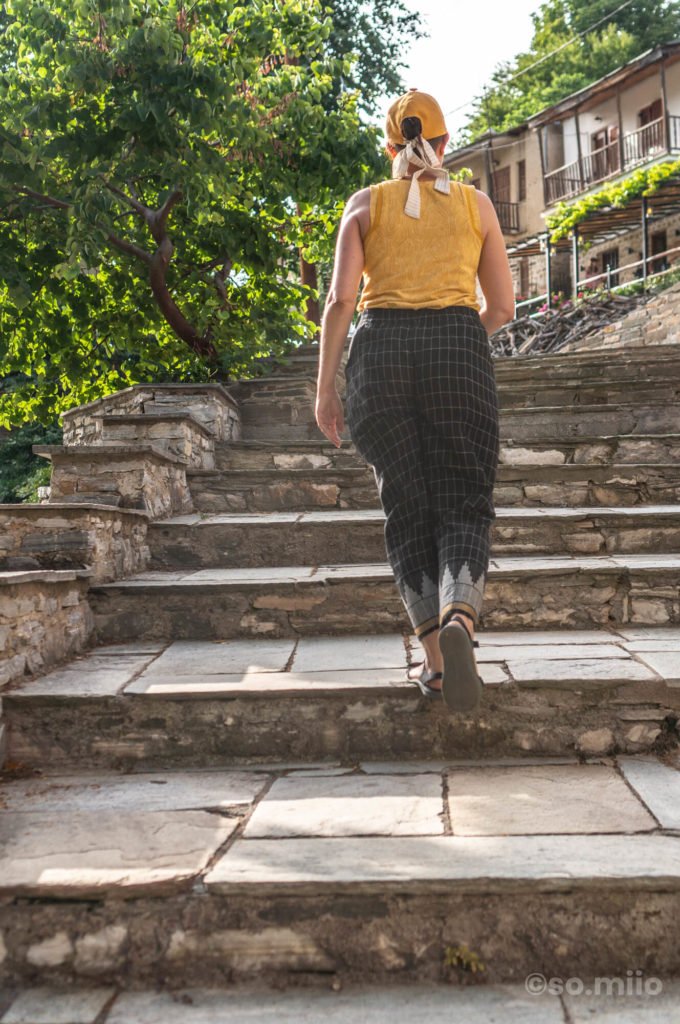 After patiently putting it all together and carefully sewing the belt (using the excellent Stitch Collective method), the fitting was ruthless. Too big, too wide, too long.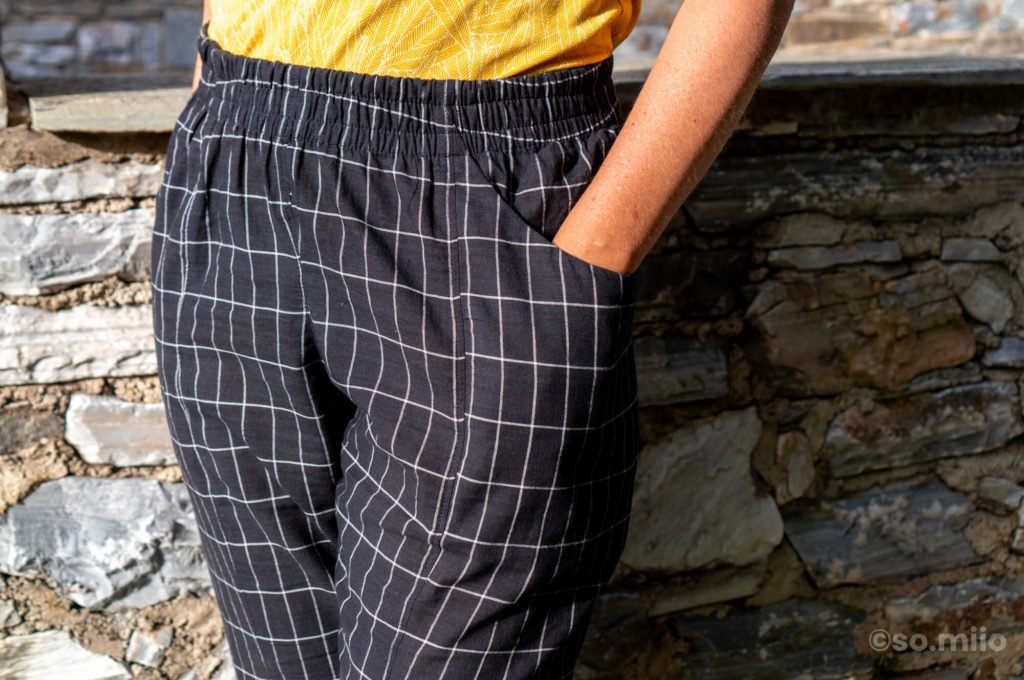 So I took the middle front and back of 4 cm and turned in the waistband to gain 5 cm on the fork.
It's still a bit baggy, especially the side panels which are too wide and add unnecessary bulk on my hips.
The fabric
Just like my Ramona dress, this fabric is from Itokri.com. It is described as a cotton jacquard. 
It's a light, soft, slightly translucent fabric that is identical on the right side and the wrong side except for the decorative band on one of the selvedges.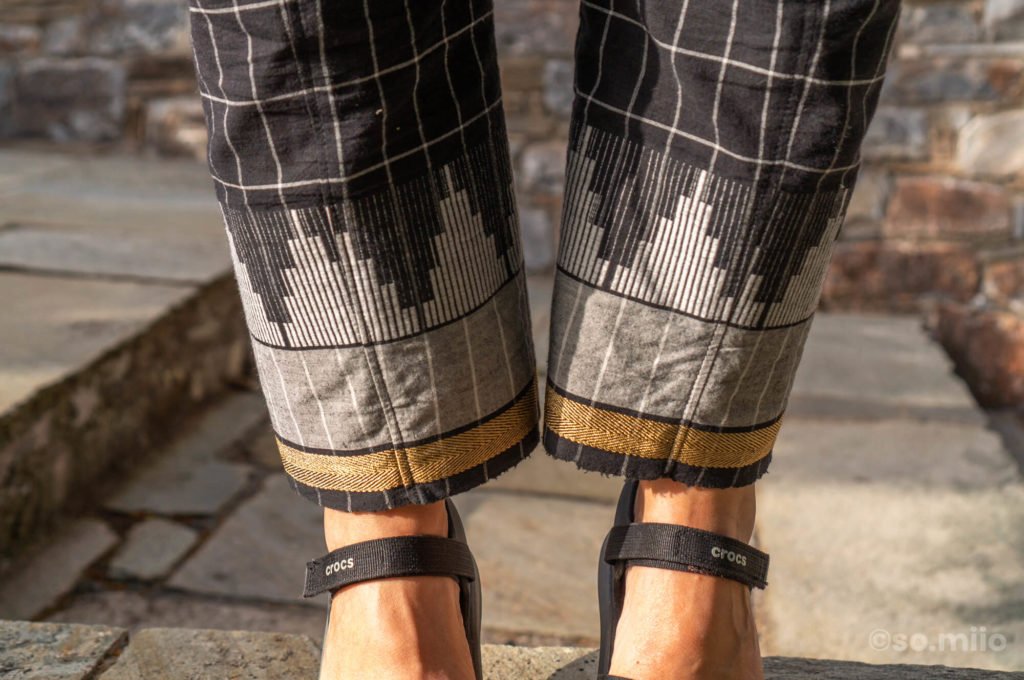 To use this selvedge, I cut the fabric in the cross grain.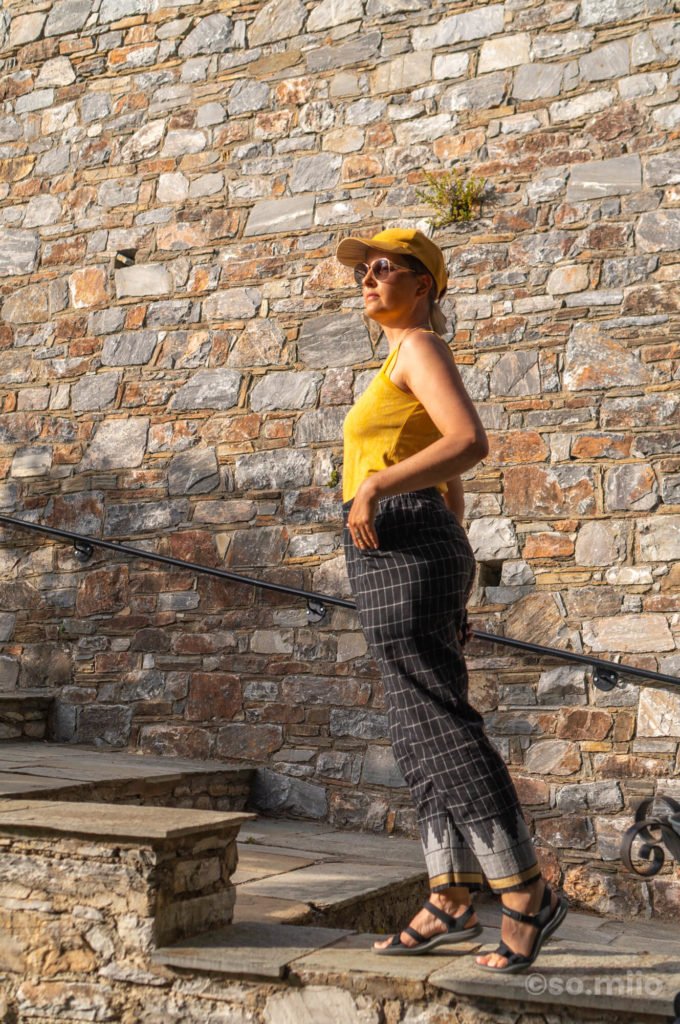 Besides, I spent a lot of time and care to align the tiles as much as possible by pinning like a madwoman and cutting the pieces on a single thickness…
In vain.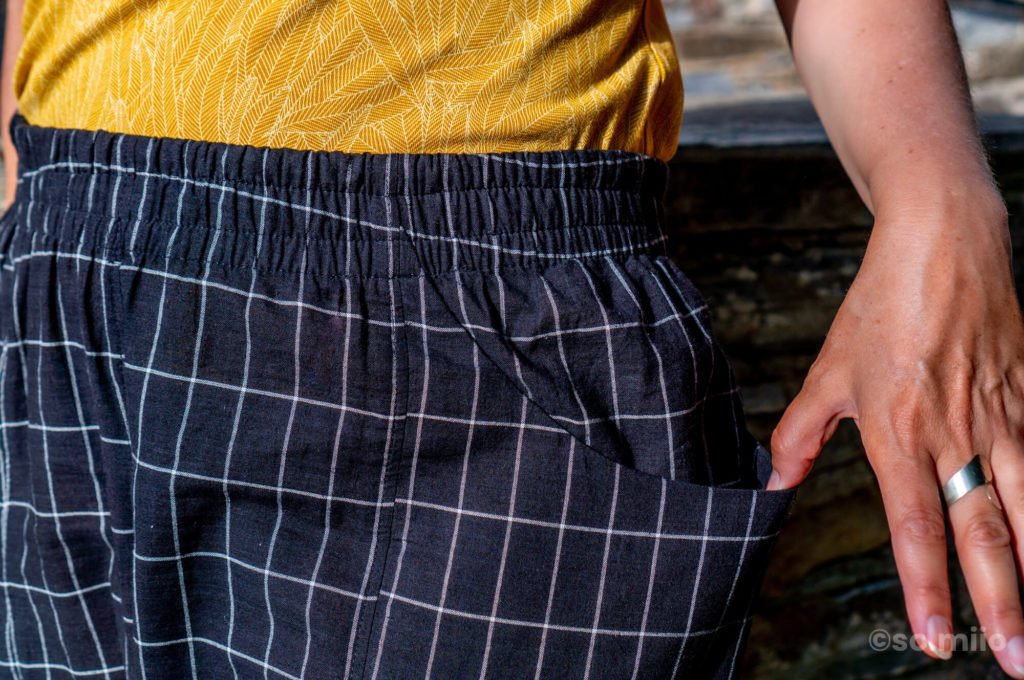 Despite all my efforts, the fabric is not at all regular. The price of a handmade fabric rather than an industrial one…
Well, from a distance, it's an illusion.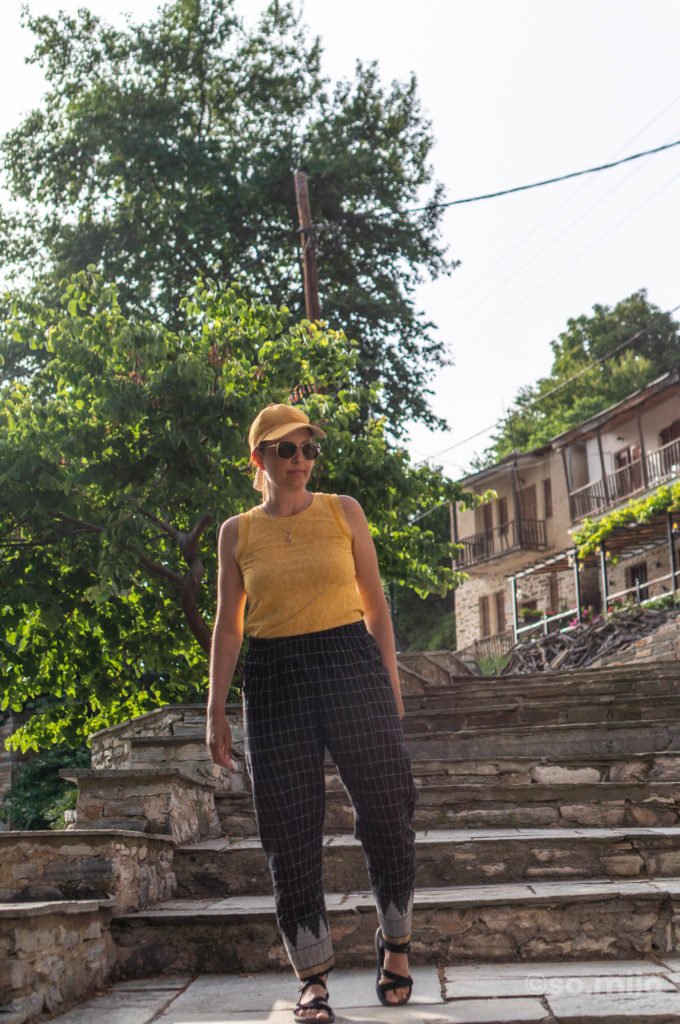 Bilan
Even though I was skeptical when I finished it, I ended up putting it in my bag for Greece…
…Where it totally fulfilled its contract. It is comfortable, light and practical. The fabric is perfect for this type of pants.
However, if I were to ever make this pattern again, I would have to seriously re-study the sizing to get a more fitted fit. I think I could have done at least one size down easily.
But I will more likely try another pattern to be honest.
Save on Pinterest